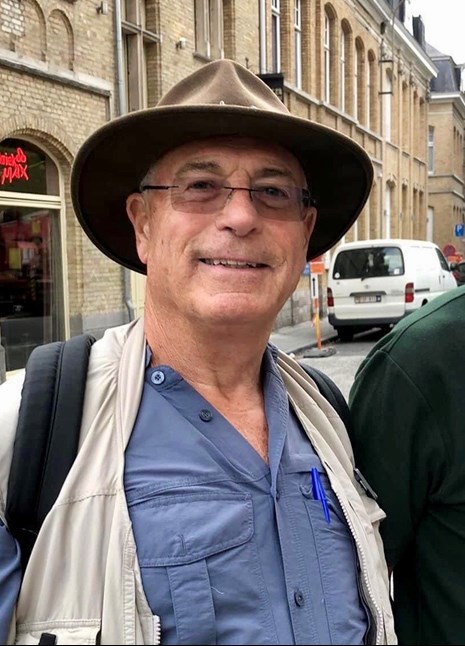 Andy Thompson 1948 - 2022
It is great sadness that we announce the death of the Surrey branch chairman, Andy Thompson, on Saturday 7th May 2022. Andy had been a long standing member of the WFA and his sudden and unexpected death has been felt far beyond the Surrey branch where he has held the position of branch chairman for nearly a decade.
Hailing originally from Leicestershire Andy entered the teaching profession where he specialised in history. He arranged many tours to visit the battlefields of the western front with his students where he was able to use his talents to educate them on the history of the period. Eventually becoming a head teacher, he continued visiting the battlefields with the students of the schools where he worked.
A keen amateur footballer in his younger days he was an avid Leicester City supporter when his playing days were over. He was also an active member of his community in Dorking where he took on the role of a community coordinator for the road in which he lived with his wife Sue. Beyond this he was a member of several other organisations and societies. These included his local Jazz club, The War Poets Society and the International Guild of Battlefield Guides.
It is as a WFA member that most will have known Andy.  Joining in the early years of the new millennium he became a regular attendee at the Surrey branch where he quickly made many friends and demonstrated his vast knowledge of the Great War.
In 2012 he was elected to the post of branch chairman. From this moment we began to see the measure of the man. His sheer drive, enthusiasm and personality shone through. He was unfailingly cheerful and optimistic, always seeking ways in which the branch could be improved, most notably the hosting of seminars which were very well supported as he attracted many big-name speakers. In all of this he was able to take the branch membership along with him. He was instrumental in arranging many tours which the branch embarked upon and his talents as a guide became apparent as he bought to life the events of the many sites we visited.
When the COVID pandemic struck another talent emerged, that of a quizmaster as he hosted many of the monthly national quizzes. At national level he chaired several of the webinars which proved very popular amongst the membership during those trying times and he was actively involved with the recent Trench Mapper project, assuming the role of a team supervisor.
In Andy the WFA was indeed fortunate to have such a dynamic, energetic and above all capable chap as an active member. The association will be the poorer for his passing.
He is survived by his wife Sue and their two children.