The presentation will be live and online.
This presentation by Clive Harris looks at the introduction, development and refinement of British Propaganda during the Great War from the manipulation of the domestic press, through to the ingenious influencing of neutral countries.
This fascinating story of Britain's Propaganda war offers a number of memorable incidents.
Clive Harris served in the Royal Signals and with Hertfordshire Constabulary before embarking on a career in military history in 1998. In addition to the publication of "Walking the London Blitz", "Wander through Wartime London" and "The Greater Game" he has contributed to Time Team, Time Watch, Blitz Spirit and CBS's Legacy of War. His specialist battlefield subjects are The Retreat of 1914, The Ypres Salient, 1918, The London Blitz and the Italian Campaign of 1943/44. Clive joined The Western Front Association as a child and has provided regular talks and lectures since leaving the Army in 1991. Clive completed his Masters degree in Great War Studies at Wolverhampton, his favourite battlefield to visit remains Gallipoli.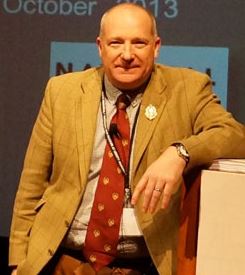 Members wishing to participate will need to register: details of how to register will be circulated via the WFA's newsletter 'Trench Lines'. If you are not a subscriber to 'Trench Lines' please subscribe now. 
To subscribe to Trench Lines, go to the home page of the WFA web site and complete your details in the 'Newsletter signup' box. 
It is also possible to register by clicking this link: The Development and Influence of Propaganda by Britain 1914-18
The talk will be undertaken using the 'Zoom' software which is freely available. It may not be necessary to load the software to your PC / iPad etc: but we would recommend doing so if you wish to participate in this event.
Your Computer, Your Home
ONLINE: The Development and Influence of Propaganda by Britain 1914-18, office@westernfrontassociation.com
25 Mar 2021 20:00