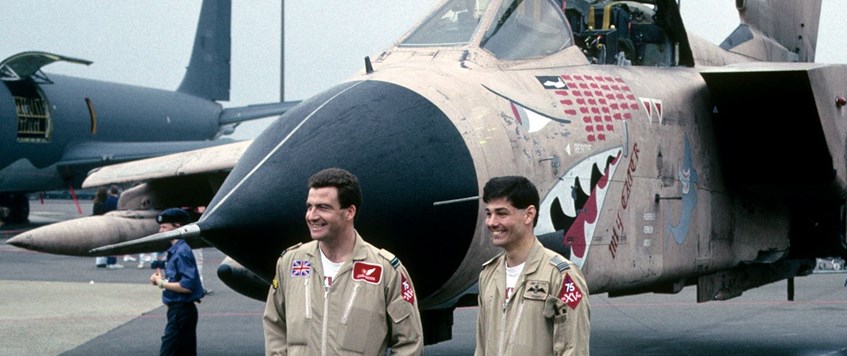 The presentation will be live and online. 
When Iraqi dictator Saddam Hussein ordered the occupation of neighbouring Kuwait in 1990, he set in motion a chain of events which still reverberate around the globe today.
In January 1991 'Operation Desert Storm' commenced to liberate Kuwait and the Royal Air Force's Tornado force was at the very centre of the action. The fighting was only a day old when crewmembers John Peters and John Nichol were shot down over Iraqi territory. They were captured, tortured and paraded on TV provoking worldwide condemnation. Many will remember the images shown below of the two airmen which were flashed around the world.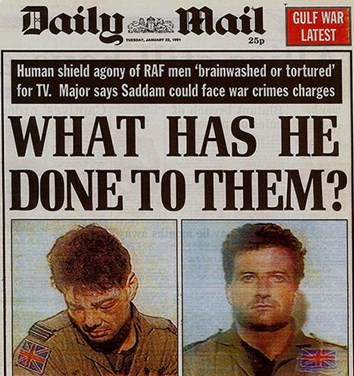 A total of eleven Tornados were lost in intensive training before the war and during the conflict itself. twelve aircrew were killed, three badly injured, and seven were taken prisoner.
John Nichol's recent book Tornado tells the full story of the conflict through the eyes of the jets' crews and their families, and in this webinar, which is a one-off break from our usual First World War themed events, we will hear directly from John, a member of The Western Front Association, about the build up to the conflict. He will also talk about his brief experience in combat and the brutal treatment all the prisoners-of-war endured at the hands of Saddam Hussein's henchmen.
Members wishing to participate will need to register: details of how to register will be circulated via the WFA's newsletter 'Trench Lines'. If you are not a subscriber to 'Trench Lines' please subscribe now. 
To subscribe to Trench Lines, go to the home page of the WFA web site and complete your details in the 'Newsletter signup' box. 
It is also possible to register by clicking this link: TORNADO: Operation Desert Storm 1991
The talk will be undertaken using the 'Zoom' software which is freely available. It may not be necessary to load the software to your computer / tablet etc: but we would recommend doing so if you wish to participate in this event.
Your Computer, Your Home
ONLINE: TORNADO: Operation Desert Storm 1991 by John Nichol, membership@westernfrontassociation.com
30 Jan 2023 20:00