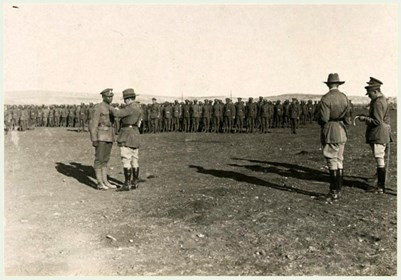 Members of The Western Front Association might be interested in a new song, commissioned by 'Away from the Western Front', a charity which is looking at the First World War outside Western Europe – in Egypt, Palestine, Syria, Iraq, Macedonia, Libya, Tanzania and many other countries.
The song is called 'No Parades'.  
It is in the style of a song of the period and features the story of the Caribbean soldiers who joined the British West Indies Regiment and served in Europe and the Middle East. At the end of the war they were poorly treated by the British command and mutinied in the Italian port of Taranto. The regiment was disarmed and disbanded, so the soldiers weren't able to attend victory parades. The unhappy experience took the gloss off the British Empire and started the move towards Caribbean independence. This event highlights the global impact of the First World War, which is what the 'Away from the Western Front' project is all about.
Choirs and soloists are invited to perform the song. In addition to a range of choral arrangements, the piece is available for a full brass band. Performances are posted on the 'Away from the Western Front' website.
If you know of a choir or band which might be interested in trying out the piece, please go to the 'Away from the Western Front' website, where they can also find all the background information and scores and hear a demo recording of 'No Parades'.
For further information contact Robin Clutterbuck, National Coordinator, robin@awayfromthewesternfront.org, 07779 671794
Images:
General Chaytor decorating a BWIR lance corporal in Palestine 1918 (Source: Library of Congress 2007675259)

Poster for the British West Indies Regiment, showing a small portrait of King George V 1915 (Source: Library of Congress)