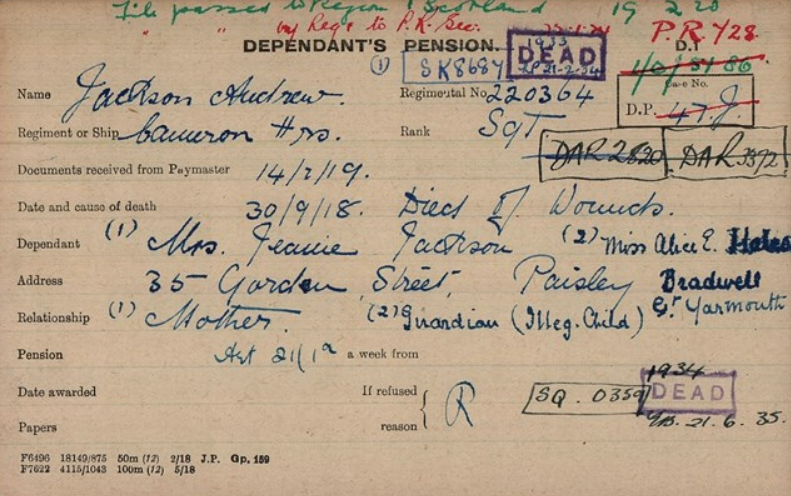 Although there has been a slight slippage in the timescale, we are pleased to announce the date for the publication of the much-anticipated next set of the WFA's Pension Records. Our partners at Ancestry have informed us that the cards relating to pensions claimed for soldiers who were killed in the war will be rolled live during the week commencing 23 September 2019. 
It will also be noted (from the image above) the detail that is available on these cards and the extreme difficulty in reading the handwriting. The technical difficulties that have had to be overcome here cannot be underestimated
FAQ's
Q: What is in this set?
A: This set of cards are detailed in the article entitled 'Pension Record Cards - claims for soldiers who were killed'  Above is an image of just one of these cards. 
Q: How many records are being published in this release?
A: The full set of cards here amount 971, 879. 
Q: Are these ledgers or cards?
A: These are cards
Q: How can I access these?
A: Members of The Western Front Association can access these via the members log on area on this web site. 
Q: I'm not a member of the WFA, Can I still access these records?
A: Yes, by subscribing to Fold3
Q: Is this the entire set of WFA records?
A: Not by a long chalk. Other sets will be along later, including cards for claims for pensions of soldiers who survived the war