The next major release of images of the Pension Record cards saved by the WFA has now been made available to WFA members. This article is intended to orientate members around these cards which represent claims for pensions for those men who were killed in the First World War.
As WFA members are probably aware, these records are available for WFA members to view and download for free  via their membership subscription.
This set of records  - which amounts to approximately one million cards - relates to pensions claimed from the British Ministry of Pensions for 'other ranks' (not officers) who were killed or died in the Great War. (Note: Pensions of men who survived the conflict will be part of a later release). This constitutes a full set of records and has not been subject to any weeding (as has been the case in other records preserved by the Ministry of Defence). Therefore a card should exist for every soldier, sailor or airman who died in the war provided his next of kin claimed a pension. If there was no pension claim, no card will exist.
The value of these cards to those undertaking research cannot be overstated. They enable - in most cases - us to identify individual servicemen via reference to either (1) his dependent / next of kin (for example wife / parents) and/or (2) a home address. Therefore, for servicemen with common names (for example Smith and Jones) researchers can now identify the relative they are looking for, as these extra details will give certainty where none existed with other archived records such as the Medal Index Cards.
In this article I will take a look at some examples of the records that have been saved.  Please note that the original documents are cards - the size of these being 8" by 5" - the previously published records are ledgers approximately 12" by 6" in size. It is important to make the distinction between the 'cards' and the 'ledgers' as these are different sets of records but which do inter-connect.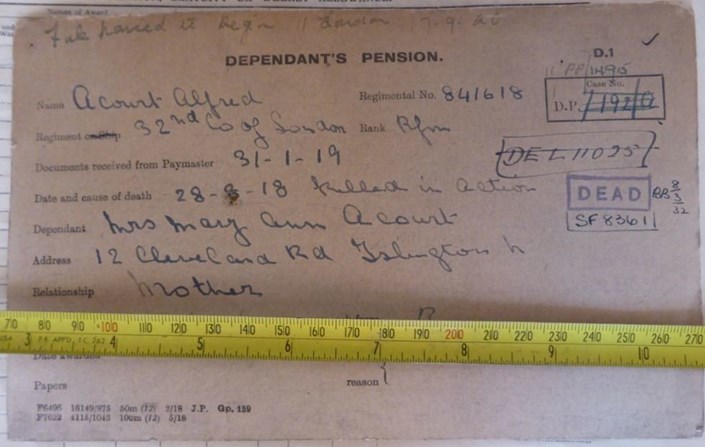 Above - a 'deceased soldiers card'; and below - a 'ledger'. Both of these with a tape measure to show the difference in size.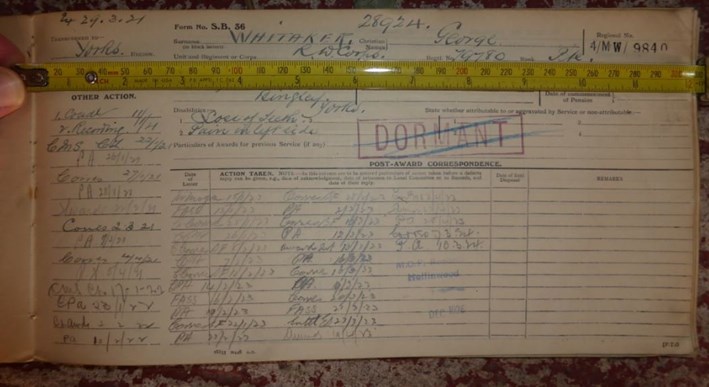 As can be seen from the numerous images in this article, the cards are not uniform in design and provide very different levels of detail - which has made the job of transcribing the information significantly more difficult for Ancestry/Fold3. Please also note that the images on this web page are low resolution "copies of copies" and the resolution/clarity on these will be low compared to the extremely high resolution images that will be published by Ancestry.
First of all the card for Leonard Maidment is shown below. As can be seen this provides, among other information, the exact battalion in which he served (this is not the case with the medal index cards), his dependent's name (being the person to whom the pension was paid) and her address. (Incidentally, Leonard is buried at Marfaux British Cemetery and his story is told here on the WFA web site).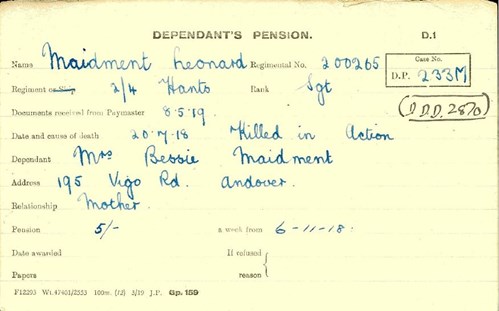 A different type of card is shown below, for James Wadsworth.
On this card we can immediately see the difficulties which are faced by Ancestry as the name 'James' is virtually indecipherable. His CWGC record (which tells us he is buried at Bard Cottage Cemetery) only provides his initial rather than his Christian name (so immediately with this most basic piece of information we have moved forward, although in fairness his MiC does confirm his Christian name).
As well as a number of addresses we have details of his 'unmarried wife' and children. His date of death matches (as we would expect) the CWGC entry but we significantly have the following reference numbers 3/D/11458 and 4/D/7558. These are references for his (two) ledger pages. These can be found on the Fold3 site by searching under his name / regimental number but the significance here is should there be a transcription error in his name (which would not be surprising given the difficulty in reading the name on this card) it is useful to be able to search for the ledgers without having to rely wholly on the surname / regimental number. The reverse of Wadsworth's card (not reproduced in this article) also provides another tantalising piece of information - this relating to the transfer of his pension between regions - which is the reason for him having two ledger references here.
Wadsworth's two ledgers are shown below. Note the reference numbers in the top corner which match the reference numbers on his card (above).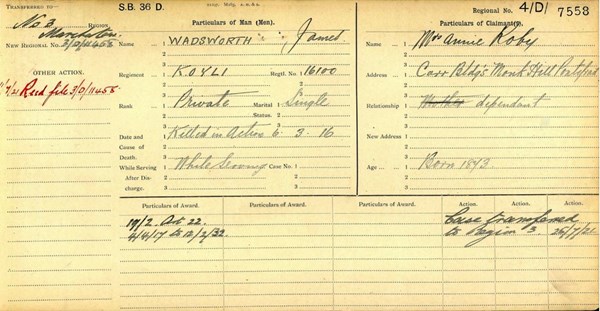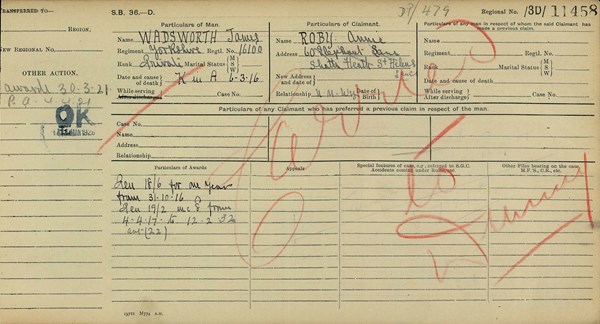 AN EXPLANATION OF HOW TO USE THESE LEDGER NUMBERS TO 'BROWSE' THE RECORDS CAN BE SEEN VIA THE FOLLOWING LINK
HOW TO USE THE 'BROWSE' FUNCTION ON FOLD3
Another example of difficult-to-read handwriting is shown below, being the card relating to the pension claim for Rifleman Frederick Kottman. Unless you arrive at this card via an alphabetical listing, the 'K' of the surname is far from obvious. This card also is a useful example to show as an example of one of the many cards that give ledger numbers which include the letters PP (the reference 11/PP/27035 being the reference in full). These 'PP' references will be relatively numerous and will need interpreting. This is also explained in the article mentioned above.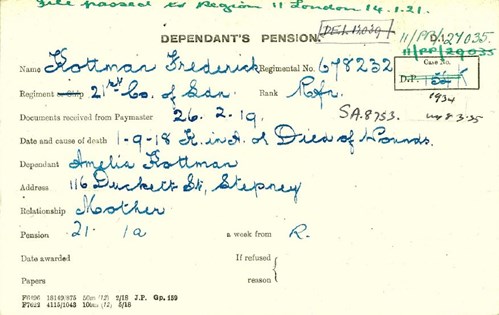 Of course, not all cards are fully complete. Take for example that of Thomas Prescott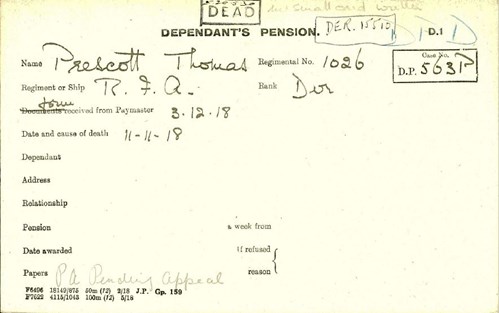 He died on 11 November 1918 and, possibly due to his pension being declined, virtually no details were recorded on his card. Note there is a reference on the card to an appeal (for the pension claim) being 'pending'.
Some cards are coloured, such as the one for Alfred Cleall. There is no apparent reason for the different colour of the card, this is almost certainly simply due to a batch of cards being ordered and these being in a different colour - if anyone reading this can offer another explanation for some cards being a different colour, please contact me via pensionrecords@westernfrontassociation.com.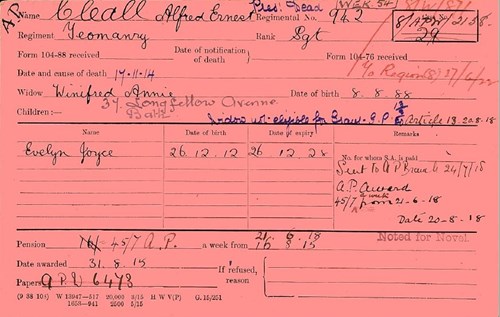 Alfred (who is commemorated on the Menin Gate Memorial) served in the North Somerset Yeomanry, but this is not detailed on the card. This rest of the information is fairly standard, and again, we have two ledger references (8/W/871 and 8/APW/2138) - the reason for this is there is a 'normal' pension claim followed by an 'alternative' pension claim. The background to these alternative pensions is set out here. However, the intriguing aspect of this card are the words "noted for novel" which are stamped on the card. The meaning of this phrase remains a mystery. This phrase appears quite regularly on these cards. Anyone who can suggest what this may refer to is invited to contact me on the email mentioned above.  
Some cards record information which - by today's more liberal attitudes - seem quite hard-edged, such as the "illegitimate children" written on the card for Arthur Dale (who is commemorated not on the western front but on the Mikra Memorial at Salonika). Although in this case the children are not named, the guardian of the children (Minnie Lay?) is named as well as his dependent mother, Eliza.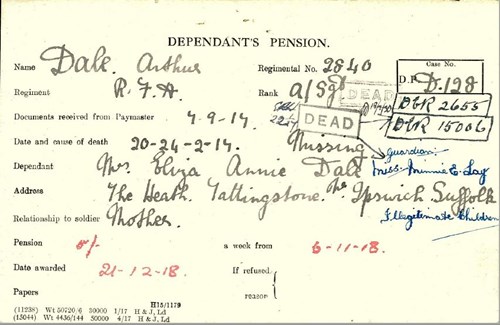 Such opaque information as this may take a degree of unravelling but would no doubt be of interest to Sergeant Dale's descendants.
Another example of the attitudes prevalent in the 1920's is shown below, being for Private Wain of the Northumberland Fusiliers. Wain died on 9 April 1917 and is buried at Roclincourt Military Cemetery. This card would appear to represent a claim made on behalf of an illegitimate child - the claim possibly being rejected. In fairness, however, the number of rejected claims seems to be a tiny proportion of the whole.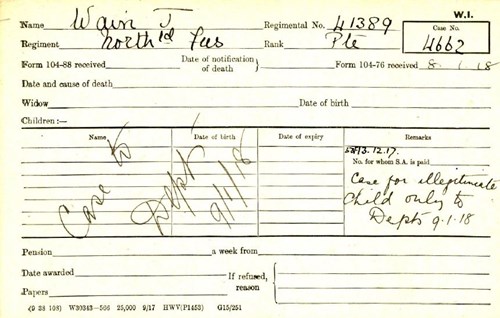 Because these cards were used for pension claims rather than simply to list men who were killed, we occasionally see two (or more) claims on one card. Below is just one such of these - this card being for George Fisher but listing also John Thomas Fisher.
With this card we now know that the mother Mary Ann (Fisher) died so the pension - on her death - went to William James (Fisher) who was the father of George and John. We also know the address in Oxford where - presumably - the brothers lived with their parents. 
The CWGC entries for these George and John Fisher provide their dates of death (which for some reason is not detailed on the card) but the CWGC records (unlike the cards for this pension claim) obviously do not cross refer to each other.
Significantly, the Ministry of Pensions in these cases created two cards - one for each brother - so we have also have this near-identical card (which would have been filed under G for George as opposed to the other card which would have been filed under J for John).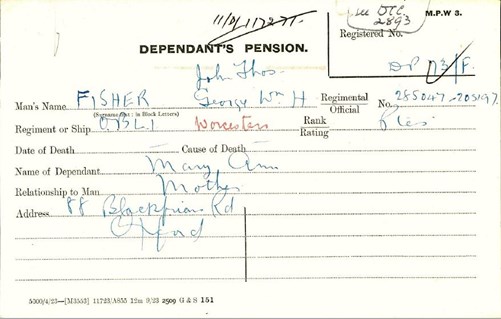 The purpose of this was to be able to find the pension record (the combined claim by Martha) under either of the two soldiers - hence identical information being recorded and a cross reference being made to each brother. As will be seen from the identical handwriting, the cards here were completed by the same clerk which makes sense when clearly this individual was working on the claim lodged by the brothers' mother.
The Ministry of Pensions were not immune from making mistakes. In the case of Percy Cowdrey (probably the correct spelling - this is as it is detailed with the CWGC) we originally had his name rendered on the card as Cowdray. Had this not been subsequently corrected, finding this records would have proved fairly difficult unless a search had been undertaken using his regimental number. This serves as a reminder to look at different methods of undertaking searches and not just being reliant on the surname as the only search criteria.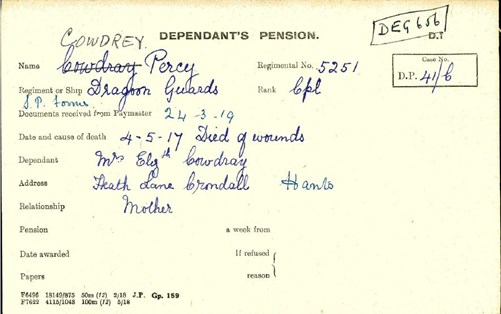 Whilst on the subject of regimental numbers, it may be worth looking at the card for Andrew Finlayson. Of note here is his regimental number which is quoted as '17941'. The CWGC have this as '7941' but 'Soldiers Died in the Great War' and his Medal Index Card both confirm '17941'. Clearly the error by the CWGC can be proved by the confirmation of the 'correct' number on this card.
L/Cpl Finlayson was one of the fatalities of 1 July 1916. One can only speculate how the 'spike' in workload after this attack was managed by the Ministry of Pensions. It is inevitable that delays would have occurred in the administration of these pensions, and the sheer scale of losses must have been something the clerks would have noted as they worked on the sudden increase in claims.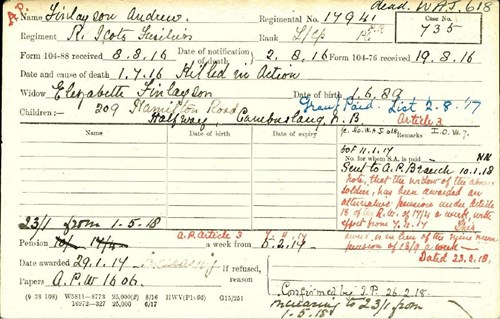 Finlayson's card gives quite a large amount of additional information (here in red ink), which is obviously a bonus to anyone looking at this record. 
An even better example of 'extra' details being available (and one that stands out as being unique among those cards that I've come across) is that of Arthur Jeffries. The front of his card is very detailed, but the reverse provides even more information.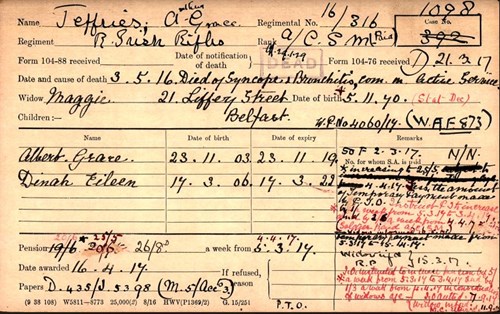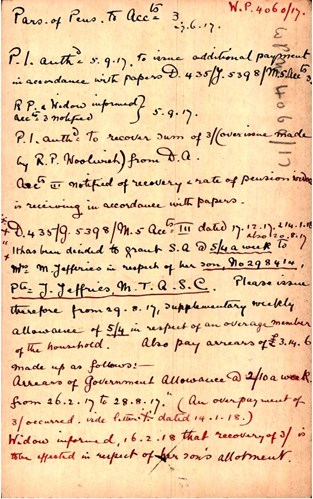 Whilst I have looked at hundreds of these cards, I have not come across as much written on the reverse as in this case. Why this level of detail is provided in this instance is something we can only guess at.
Most of the pensions were awarded to either widows or the parents of the servicemen, however in the case below we see it was awarded to the serviceman's sister. This card once again raises the issue of contradictions in the records. Michael Canning was a Gallipoli casualty and is commemorated on the Helles Memorial. His date of death is recorded by the CWGC as 9 August 1915, however the Pension Record Card here states he was 'missing' on 28 August. Which is correct? It may not be possible to be certain but again reinforces the idea that information cannot be taken at face value.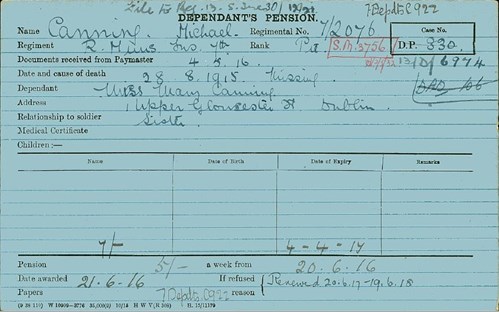 Some men have died after the war, such as James Clements,  who we know died of pneumonia and is buried in Germany.
It is possible to speculate it may have been the 'Spanish Flu' that accounted for James
Another specific cause of death, combined with a 'late' date of death is shown below. Henry Walter Poole died of Pulmonary Tuberculosis on 5 March 1920. Although a pension seems to have been initially refused (the word 'refused'  was crossed out in 1920) a grant of £7 looks to have been paid in 1921. Henry Poole, despite being a fatality of the war and having had a grant awarded to his widow, is not actually commemorated by the Commonwealth War Graves Commission. There is likely to be numerous other examples of this non-commemoration evident within these cards.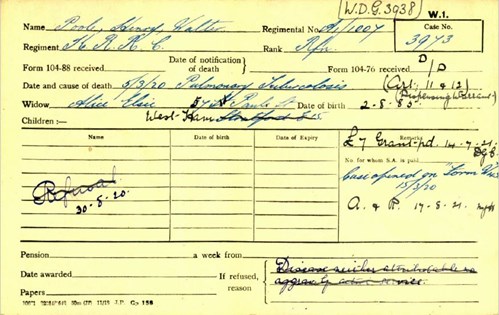 An even later date of death is that of Henry Nowland - who died in 1921 but whose pension was refused (we have "disease contracted after discharge" on the card). Again he is not listed on the web site of the Commonwealth War Graves Commission, but as his pension was refused, it is unlikely he is eligible for commemoration by the CWGC.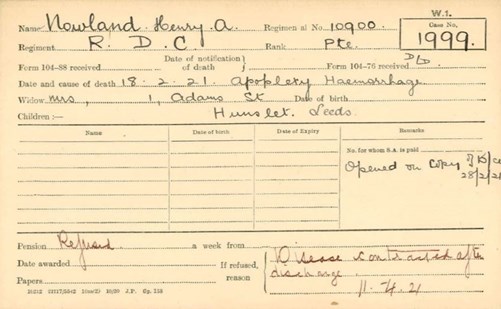 Another case of pensions being refused is that for Private Williams, who was - on the face of it - 'accidentally killed'. The story here is hinted at on the card which tells us "Not a case for pension as both men were drunk". It would seem from this that being drunk and as a result of this being accidentally killed was enough of a reason to decline a pension!
The incident is recorded in passing in the battalion's war diary entry for 22 October "5230 L/C Williams died from result of being stabbed". The war diary date matches the date recorded by the CWGC (he is buried in St Vaast Post), so it would seem that the date of death recorded on the card in this instance is incorrect.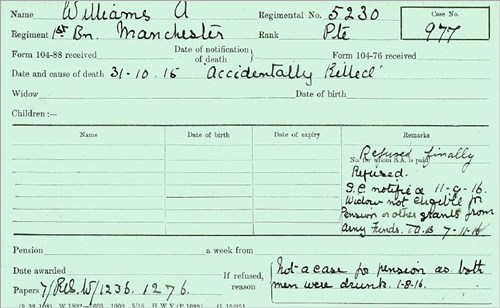 Other 'deceased' soldiers for whom a pension was claimed were luckier - William Sanderson's family's claim was declined due to him being found to be a prisoner of war (it is not clear if the pension claim was a 'try on' by his family or if they genuinely believed he was dead when making the claim).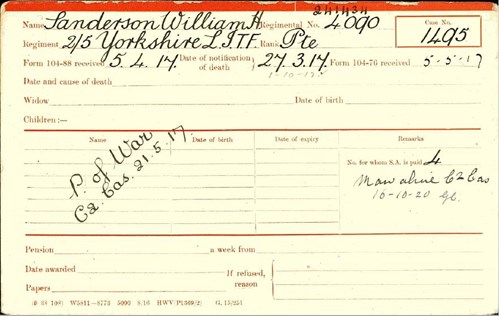 In the claim for Charles Robert Avery, we can see (although it is not particularly clear) his battery and brigade details (30th Battery, 39th Brigade RFA).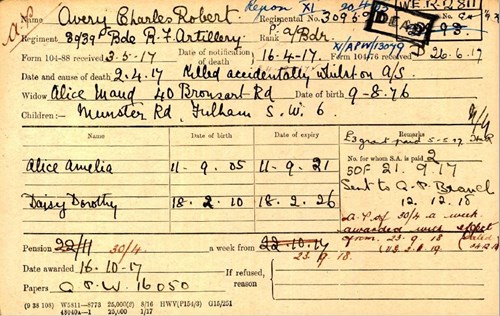 Whilst this article has looked at men who served in the army, there are of course records of men from other services.
The first example is for an airmen of the Royal Flying Corps. Raymond Barlow was among the very first casualties of the war, when he was flying to France on the outbreak of the war, together with Lt Skene.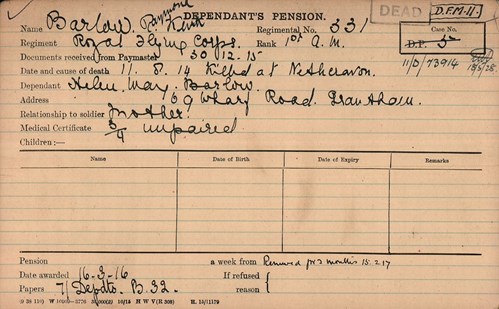 For Thomas Bird (who - according to the CWGC - served in the RMLI) we can probably pin down his death to an air raid that hit London on the night of 19/20 July 1918, when 49 (mainly civilians) lost their lives and a further 177 were injured. 
Thomas (aged 46) probably considered himself safe, as he worked at the Admiralty HQ in London, but was 'in the wrong place at the wrong time' and almost certainly off duty when the Gotha raid hit Kent, Essex and London. This card indicates that families of off-duty servicemen were able to successfully claim a pension.
Also in the 'senior service' were the Dale brothers.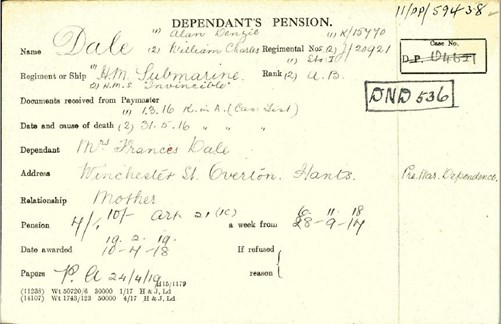 William being one of the thousands of men who were killed at Jutland, with Alan being lost at sea when submarine E5 struck a mine. 
In Alan's case, the date of death on his card does not match the CWGC date of death. 
Although these records do not extent to the CEF, AIF or other dominions, we do have pensions for men from the British West Indies as shown with William Thompson's card.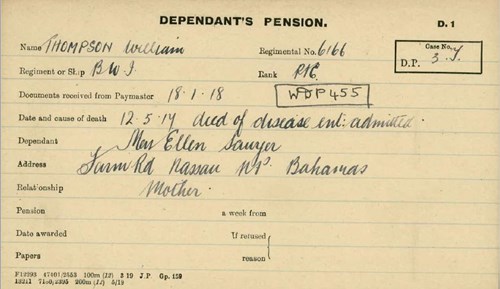 Yet again we have a discrepancy in the official records: William is recorded by the CWGC as 'Thomson' (without the 'p') and is buried in Tanzania. William's mother seems not to have been awarded a pension.  
Occasionally 'exotic' units are to be found, as with the case of 'another' William Thompson - this time of the Ceylon Volunteer Force. The Ceylon Volunteer Force was renamed Ceylon Defence Force in 1910 and comprised a number of units, at least one of which (the Ceylon Planters Rifle Corps) served with the ANZACs. Although not exhaustive, I have been unable to find any trace of William Thompson in any of the usual records.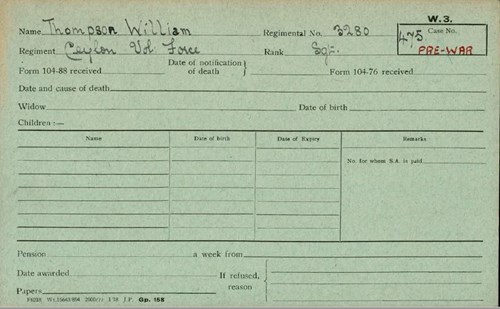 In terms of 'unusual units' we also have William Watts of the 'Coast Guard Service'. This card again gives us a specific cause of death.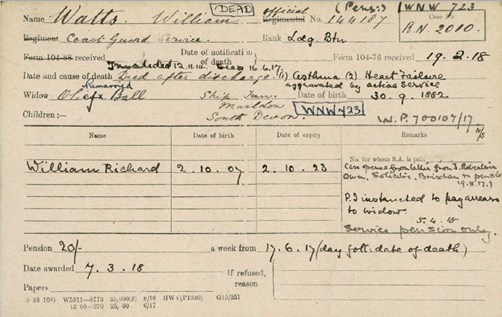 There are some very subtle changes to these forms which are not immediately apparent. On the cards for Barlow, Cleall and Wadsworth (above) there has been a line on the card for 'Medical Certificate' which is not on other cards. This is again repeated on the card for Francis Miller, below, but in this instance we have (as we have for the Barlow card) some text against this 'field'. Why did Ministry of Pensions needed to know Francis Miller's mother was "three quarters impaired"? Is this a physical or mental impairment? Would it have had an effect on the pension?[1]  Again, this is something that needs further research.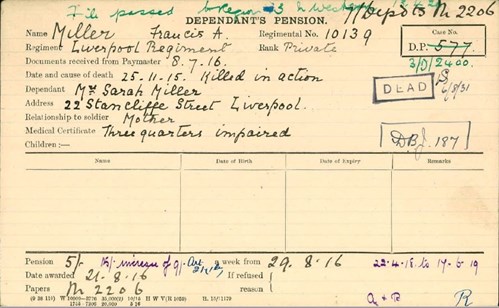 The ledger associated with Miller's card (3/D/2400) gives no answers to these questions: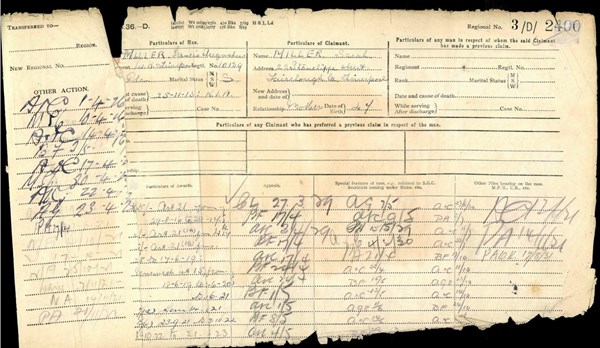 Just occasionally some of the men left behind permanent marks of their lives. On the outskirts of Arras is a little-known house which has a large amount of graffiti dating from the First World War. A number of soldiers left behind their names, with regiments, dates and regimental numbers sometimes added. George Mustill and John King we know were on this spot probably at different times in the war. George Mustill was clearly 'here' on 23 August 1918.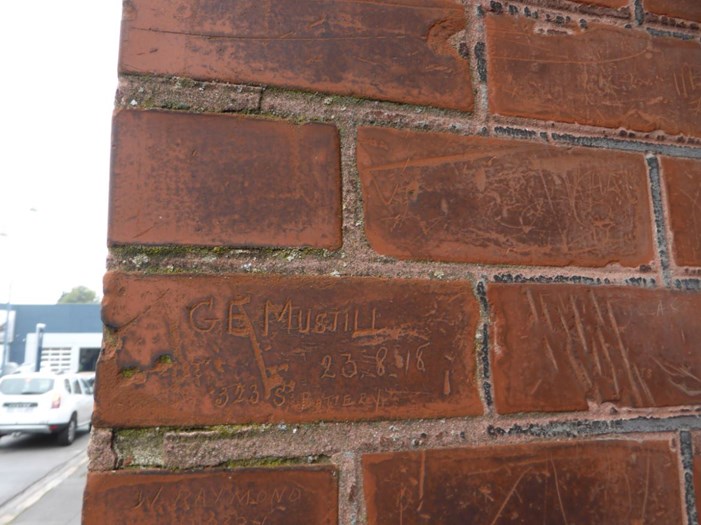 A week later he was dead as can be seen from his Pension card, below. George is commemorated on the Vis-en-Artois Memorial to the missing.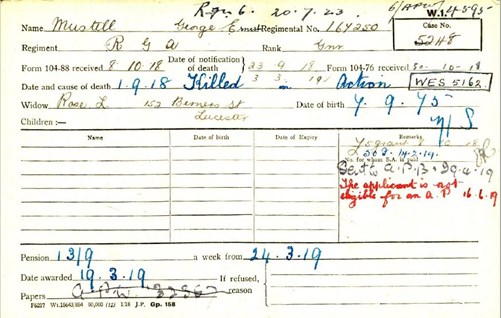 John King did not leave a date on his 'brick', but did tell us his regimental number and the fact he was in 'D' Company of the 12th Gloucesters, however by the time of his death he was in the 2/4th battalion.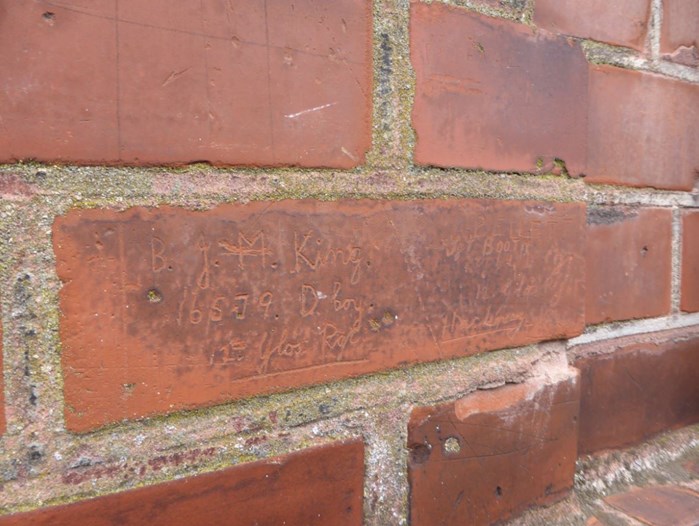 The card representing his claim - together with details of his foster mother is shown below.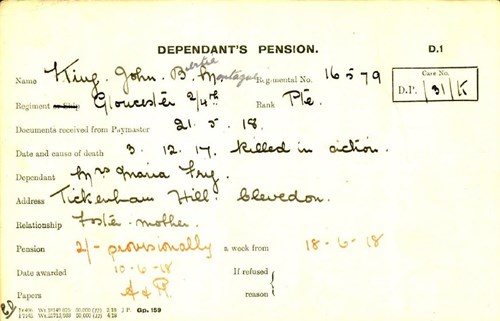 John is commemorated on the Cambrai Memorial to the missing.
Men who were awarded the Victoria Cross (as well as those awarded the DCM, MC and MSM) could be awarded an additional pension, these cases being referred to the Chelsea Commissioners (at the Royal Hospital, Chelsea) for assessment.[2] It is not known if pensions awarded to next of kin of VC holders were dealt with separately, but the card below (for someone who was awarded the VC posthumously) suggests cards may exist in this set for those VC holders who did not survive the war. Anecdotally, however, it had been suggested to me that VC cards do not in fact form part of this set -if this is the case, the card below for Horace Waller breaks this rule!
It may be that more cards for awards made to dependents of VC holders exist, and it seems unlikely that Horace Waller's card is a 'one off'. WFA members who wish to make a study of the cards of men who were awarded the VC are invited to contact me, as this may provide an interesting study and article that could be published on this subject.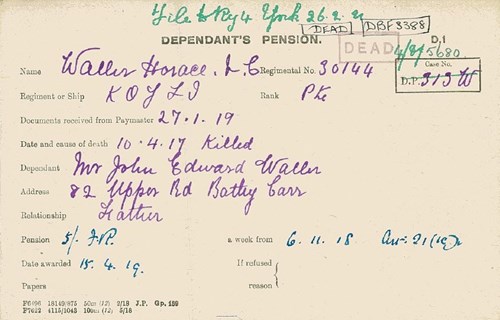 Similarly the case of men who were 'shot at dawn' may be worth further study. Below are two examples - one from early in the war and one from later in the war.
Alfred Atkinson was executed in March 1915, and the pension (according to this card) was 'absolutely refused' with the card making specific reference to him being 'Shot for desertion'.
On the other hand William Baker who was executed in August 1918 had a claim for a pension by his mother. The card makes no reference to any pension awarded but also does not refer to the fact he was 'shot at dawn'. However, in this case the associated ledger (11/PP/55967) does suggest a pension 'for life' was awarded to his mother.
If any member wishes to make an in-depth study of the pensions awarded to men who were executed, this would be warmly welcomed for a later addition to the WFA's web site.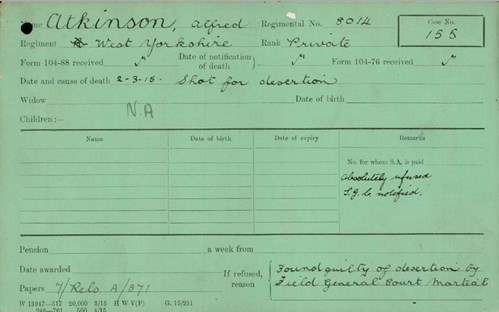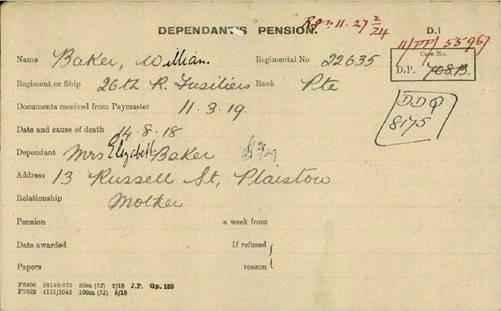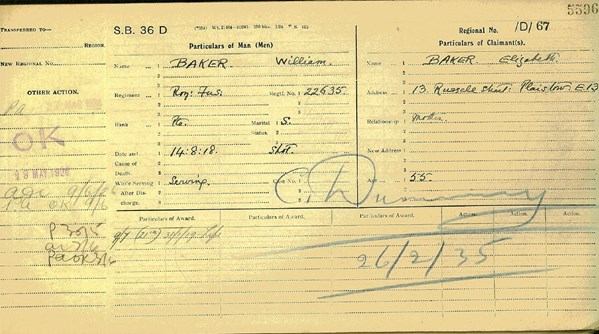 I hope this article gives a flavour of what will be found on the 'Soldiers died' pension records.
David Tattersfield
[1] From information kindly supplied by Craig Suddick, it appears that the dependant's claim was always discretionary by the Ministry of Pensions, but if the dependent parent was disabled then they were found not to be fully capable of self-support and the level of disability was taken in to account in the award which would be made to them.
[2] My thanks again to Craig Suddick for this information. 
FAQs
Do these cards link into the existing ledgers that have been released
Yes, a further detailed article will follow in due course, but the cards which are about to be released 'point to' ledgers which have already been made available. (Note, the cards constitute a full set of records, but the ledgers have been 'weeded' in the past).
Will there be other releases of records
Yes, other records will be along in due course, one important set that is expected is the 'other ranks survived' set which provides cards for pension claims for those men who survived the war.
Further reading: