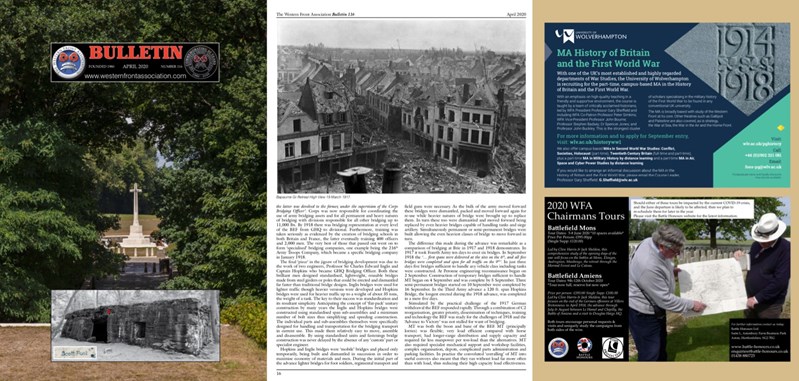 Bulletin arrived through member's letterboxes this morning and is going out to Digital Members right now.
The following provides a contents listing for Bulletin 116. April 2020
Contents
Introduction and News
President's Introduction : Professor Gary Sheffield 

Rob Thompson receives The Western Front Association Hero Award

Obituary: Geoff Longmore 

Executive Committee Matters : WFA Chairman : Colin Wagstaff
Reports
Website, Twitter and Trench Lines April 2019 to April 2020

Project Alias 

Ypres: Covid-19 measurements at Ypres

News from Ypres. 

The Last Post Ceremony as from Saturday 12 March 2020
Reviews of the Sam Mendes film '1917'
1917: Right Story, Wrong Location by Andrew Rawson

Truth in the Telling by Alexander Falbo-Wild, Chairman, East Coast USA Branch
Historical Insight into 1917
Alberich Bewegung : The 1917 German Withdrawal to the Hindenburg Line by Jack Sheldon

Crossing the Devastated Zone 1917 : Lessons and Consequences for the BEF by Rob Thompson 

The German Use of Booby Traps and Long Delay Devices during the withdrawal to the Hindenburg Line in 1917 by Ian Jones

When all else fails, runners in the Front Line by Clive Harris
The Mystery Man of Douchy-Les-Ayette - an update by Tom Tulloch-Marshall and Jonathan Porter. 
Annual Report & Accounts
President's Introduction and Reflections : Gary Sheffield

Chairman's Comments : Colin Wagstaff

Trustees Report and Financial Statements for the Year Ended 31 October 2019
WFA Branch Chairs' Conference 29 Feb/1 March 2020
Report on this two day event

Presentation by the Digital Editor 1st March 
Branches
Branch Meetings and Contacts

Branch Lines : Branch news
Additional News
Gun Fire magazine now on the website

First World War Schools Commemorative Project : Will Butler 

Captain Cecil Thomas Tuff : Rededication of his Grave

A Soldier's Story : Arthur Maltby Northants Regiment. Pte Charles Hatter.

Remembering Wartime: Jewish Heroin Edith Hilda Munro VAD finally remembered. 

SomeKindHand: a Pilgrimage to the Burial Grounds and Memorials of the Great War in Belgium and France.
Promotions
MA History and the First World War 

WFA Christmas Tours
A pilgrim to the burial grounds.
Bulletin is sent to members three times a year, as is our sister publication, the journal of The Western Front Association Stand To! Both are packed with news, articles and reviews and are available in print or digital form. Find out more here > About The WFA