Many members of The Western Front Association undertake research into war memorials, or into the fatalities incurred in a particular town or district. Sometimes years of wading through records both on-line and in dusty archives yields names. Why is it that some have been 'forgotten' or have otherwise not been recorded? Possibly the family did not request the serviceman be named on a memorial, or they moved out of the district before the post-war recording of names took place.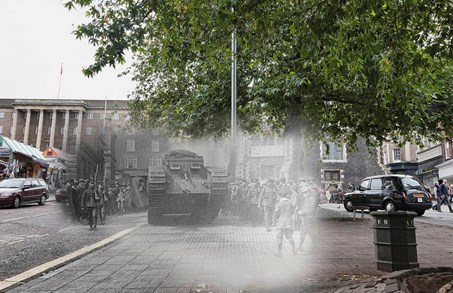 All of this makes 21st century research into these men frustrating and rewarding in equal measure. 
We don't know what technological advances are around the corner, but it is likely that future historians and family researchers may find it just as difficult as we do to 'hunt down' the men from a particular town who 'never came home'. However there is one thing that we can do to improve the 'findability' of these servicemen, and around 150 members of the Association are hard at work doing this right now. 
Project Hometown aims to radically improve the names recorded on the WFA's Pension Records to ensure these men can be found by means of a simple search. 
Let's look at just four examples, which have been taken from the very end (alphabetically) of the WFA's Pension Records.
The first example shown below is part of a card for Maurice Zimmerman who died of Malaria whilst on active service.  

The card above confirms his address of Sparkbrook, but the Ministry of Pensions have abbreviated Birmingham to 'Bham'. Because the process (quite correctly) with the tagging process undertaken by Ancestry was to input what was written and not to try to interpret 100 year old hand writing, the fact this is Birmingham has not been correctly recorded. Of course a search under 'Sparkbrook' will locate Maurice and other men from this area, but a search simply under 'Birmingham' will not reveal this serviceman. Project 'Hometown' aims to correct this, as well as add the crossed out (former) address of 'Cardiff'
The second example is from the card of Samuel Ziegelman (the handwriting of the surname is very difficult to read, but that's what it says). Samuel died in the UK of pneumonia. His UK address (which has been crossed out) is Hackney. 

Clearly his dependent mother (Jane) moved after her son's death, but 'St Louis, Missouri' is far from clear and has been incorrectly input as 'Nessowie'. Once again the address here needs improving, to include both 'Hackney' and 'St Louis'. 
Another example is below. We have Herbert Zoller from Catford. This handwriting is not too bad, but 'Catford' somehow threw the inputters here, and we have this address being recorded as 'Cafford'. The correction of the address for the project is a matter of a few seconds work, but will ensure that a search for 'Catford' brings Herbert up on the Pension Records.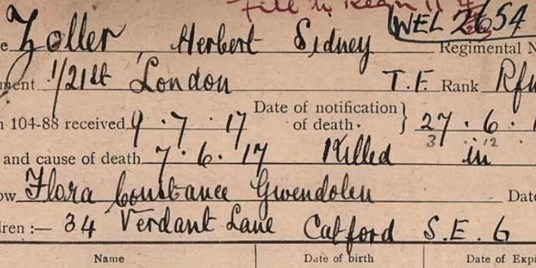 The final example is that of another soldier called 'Zoller' - this soldier was Franz John Zoller, of the Labour Corps who died in 1921.

Whilst the 'SW2' is a slight give away, this could be variously read as Buxton or Brixton. We need to correct this to 'Brixton'. Again, the work of a few seconds. Also, the 'Herne Hill' reference (to a previous address) can usefully be added here to provide extra scope for researchers. 
Members who would like to have something really interesting to do, which will help the WFA and present and future historians (and also beat the tedium of lockdown) may want to know a bit more. Here's a brief video which will help show how easy this all is. 
If you would like to join 150 other WFA members on this fascinating and worthwhile project, just contact me.
David Tattersfield
Co-ordinator
Project 'Hometown'
pensionrecords@westernfrontassociation.com
Further reading: 
Bored with Lockdown? Here's an interesting 'diversion'
Image above: 'WW1 Tank Week' Courtesy / copyright Nick Stone (Invisible Works)