Members of The Western Front Association will be delighted to learn that another two sets of Pension Record Cards have now been digitised and made available via Ancestry's 'Fold3' web site. Naturally WFA members can access these via the 'Library Edition' of Fold3 that has been made available.
The records that have just been released are cards for officers who claimed a pension after the war and also for widows of officers who claimed a pension following the deaths of their husbands.  
In addition, there are also many cards for nurses (including those from the VAD) who claimed a pension. 
There are complexities and nuances within these two sets of records which are detailed in an article on the WFA web site. Click this link to read the detailed explanation.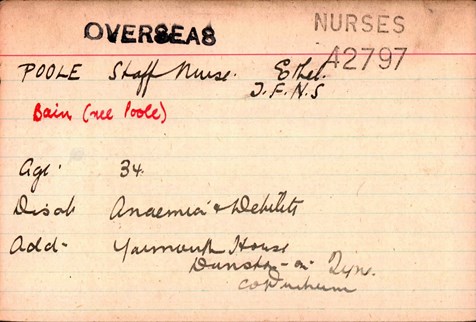 Above: A card for Staff Nurse Ethel Poole (of the TFNS) who was later married and became 'Bain'. Disability and address details are provided on this card. 
Briefly, the number of cards in the 'officers survived' set is just short of 144,000. The number of cards in the 'officers widows' set is just over 16,000. It is clear this is not a full set of cards of all officers. This is detailed in the article mentioned above.
Further sets of records will be made available later in the year. It is possible that the timetable for these other records may slip due to the on-going worldwide Coronavirus situation, but it is hoped the remaining records will not be delayed too long.
A second article has been written which provides a small number of examples of interesting 'officers' cards that have been located within this new set of Pension Records.
David Tattersfield
Vice Chairman
The Westen Front Association