Below are a few examples of officers cards and officers widows cards located in the WFA's Pension Record Cards archive.
The first example is that of an officer who served in the Mercantile Marine, but who used an alias. At the time of writing, this officer has not been found within the CWGC database.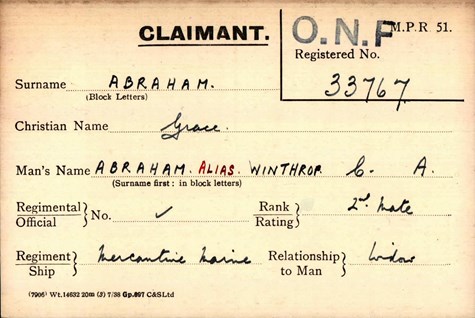 The officer's card below is revealing.  The 3/MB/16148 number indicates a pension claim for an 'other rank' - this suggested further research for this officer (Isaac Bethwaite) would be useful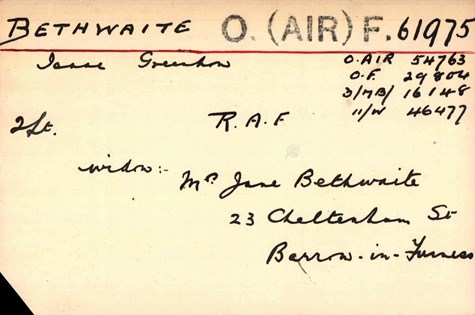 Below is the Pension Record card (from the 'other ranks' set) for the same person. This shows him serving as 28199 in the Royal Engineers. Note the 3/MB/16148 number on this card.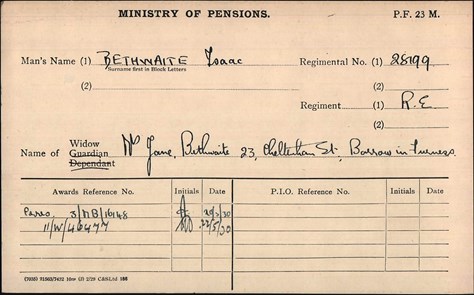 And below is the Pension Ledger. Again we have the 3/MB/16148 reference.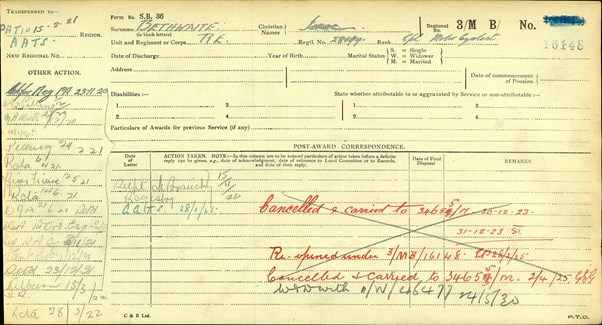 On the officers card below we have a clearly noted (but ambiguous) disability "Debility" as well as an address.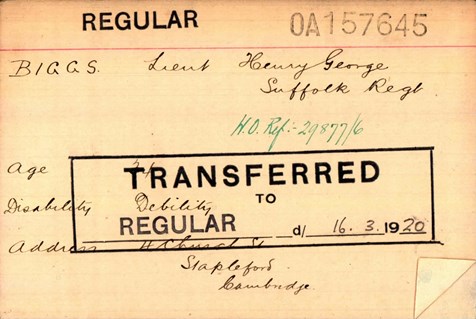 As mentioned in other articles, the records include those of men from South Africa. This officer served in the Royal Engineers and presumable emigrated to South Africa after the war. It remains to be seen if any cards exist for officers from the South African Regiments that served in France in the Great War.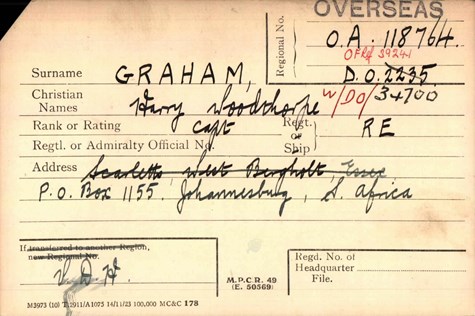 There are a number of cards of high ranking officers. Here is a 'widows' card for Brigadier-General Frederick Lumsden, VC but the female named on the card seems to be his sister. (Lumsden is buried at Berles New Military Cemetery, France.)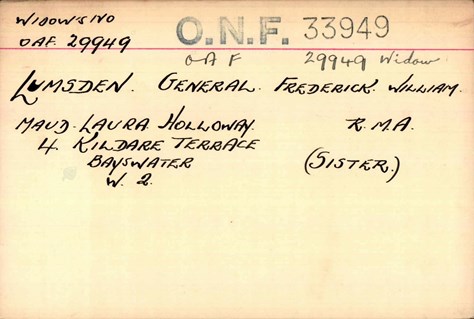 The highest ranking officer's card so far located is that of Lt-Gen Samuel Lomax, who was wounded whilst commanding the 1st Division. The card is not very revealing in terms of information it provides.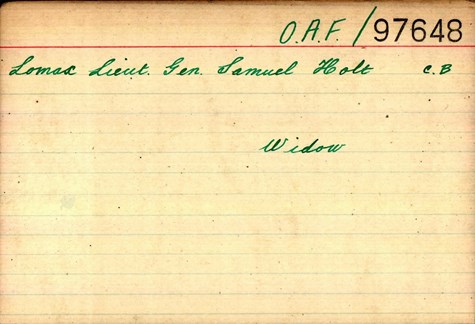 By contrast, the card for Capt HM Graham shows he was in the Intelligence Corps (and died in 1961)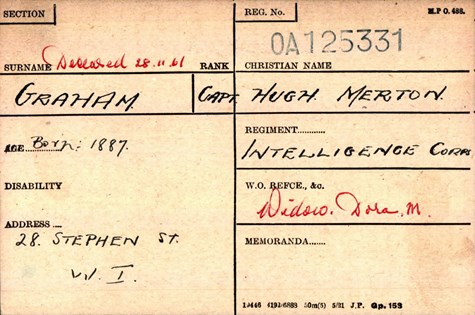 His Medal Index Card (which is part of another set the WFA saved many years ago) does not mention the Intelligence Corps, so in this instance we know more about him from the newly digitised Pension Record Card.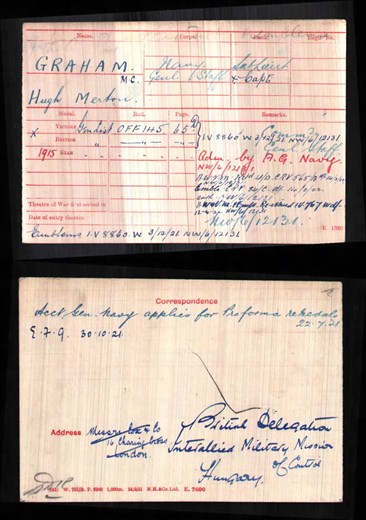 Nurses records are also included, such as that for Staff Nurse Ethel Poole, who claimed a pension for Anaemia and Debility. She was part of the Territorial Force Nursing Service.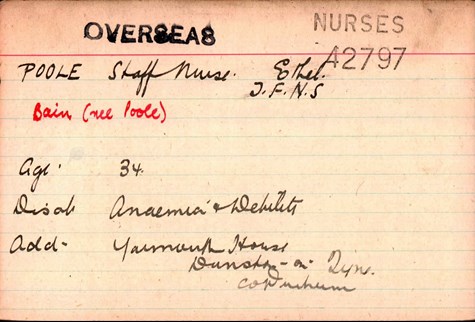 We also have cards for Voluntary Aid Detachment nurses (a search under 'V A D' reveals 350 or so results, whilst another search using 'VAD' (ie without the gaps) provides a further 900 or so results).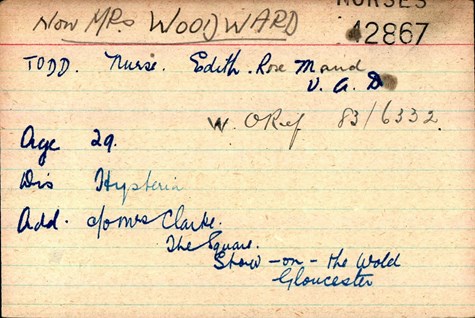 There are, of course, some Victoria Cross receipents among these cards, and some cards also show that they have been in ude by the Ministry of Pensions relatively recently, as is the case with that for Bernard Vann, VC below. The story of this officer is detailed in a radio broadcast which is available on the WFA web site here - Bernard Vann VC: Christian Soldier.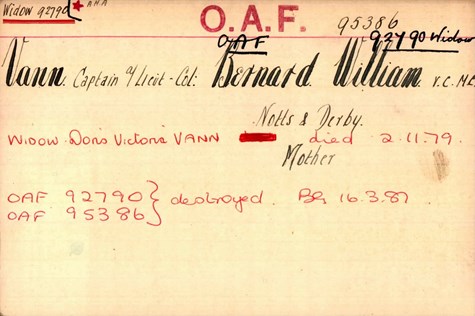 Some cards provide little more than a name, such as this for Major Griffith. This comes with a bit of a 'warning' in terms of not necessarily believing what is written on the card. The officer was actually Darby-Griffith. His story is well documented on the WFA web site.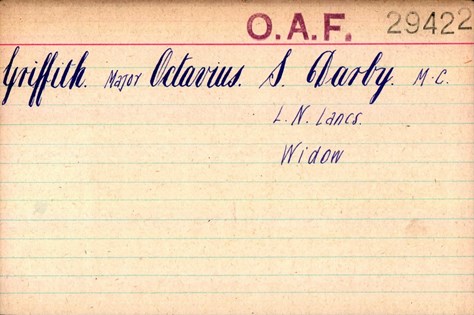 Some of the medical information is revealing, as shown below for Captain William Bigger, MC.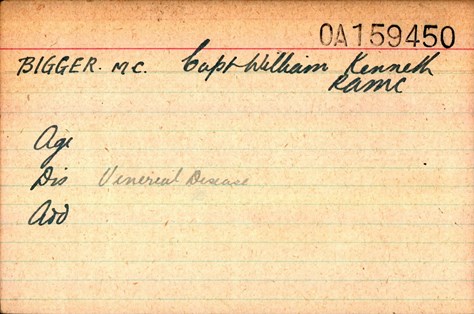 Finally, we have the 'widows' card for Henry Gordon Wood, providing details of his mother. This level of information is more than that supplied on the CWGC database. 
To read a full explanation of the Officers cards and Officers Widows cards, please see the article here:
Officers Pension Record Cards digitised and now available. 
David Tattersfield, Vice Chairman, The Western Front Association