We're extremely excited to announce the beginning of a large-scale project to unravel the mystery of the group of manufacturers generally referred to as Brentano's (see Stand To! issue 123). Cataloguing and describing Brentano's stereoviews is an unenviable task, for reasons that will shortly become clear. Fortunately, through a collaboration between the hundreds of avid stereography buffs who frequent the Jordan/Ference Collection, and the thousands of keen Great War enthusiasts who belong to the The Western Front Association, we now have a unified front with which to tackle the conundrum of defining the undefinable, and describing the indescribable. But we need your help to do it!

Above: As this French soldier is sounding the gas alarm, the Jordan/Ference Collection in conjunction with the Western Front Association is sounding the call to arms to anybody with a keen eye for detective work.
What Are Brentano's Stereoviews?
Above: The Brentano's collective primarily documented war, devastation, and remembrance – but trench life too was a common theme, always portrayed realistically with none of the artifice of British, American, and Australian paper card manufacturers. The number on this slide is all but meaningless.
Currently, 200 Brentano's stereoviews have been uploaded both to the WFA's Stereoscope gallery and to the Great War in 3D Image Library. For those acquainted with paper card stereography, but unfamiliar with the glass slides more prominent on the Continent, some of these images might be shocking in their realism. There is a simple reason for this: as the cameras used to take these stereoscopic images were small enough to conceal in a rucksack (or indeed, in a spare pair of boots), daring soldiers could capture front-line action, trench life, and the horrible aftermath of the war in stunning detail. There was no need to stage scenes behind the lines for bulky large-format cameras, as many of the cameras used to create Brentano's (and other French glass stereoviews) were no larger than a brick (and considerably lighter).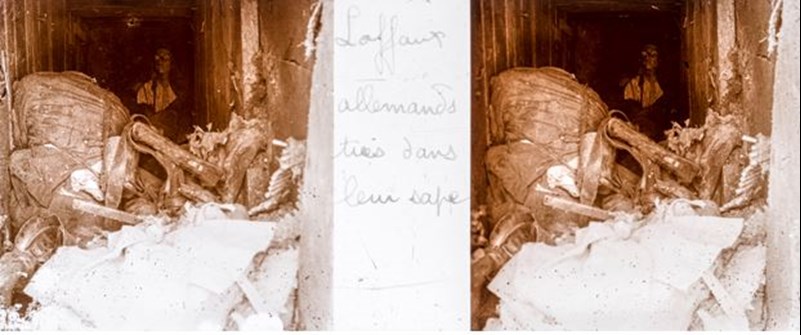 Above: Laffaux, allemands tués dans leur sape (Laffaux, Germans killed in their sap [undermining tunnel]) – an iconic Brentano's view that could only be made with the smaller, more concealable Richard-style cameras favored on the Continent.
Unlike other manufacturers, however, there was little rhyme or reason to any of the various numbering schemes which exist on various Brentano's slides, and oftentimes the captions are inconsistent. Sometimes, there is no caption. Sometimes, rival captions will place a scene at various battlefields, likely in editions from separate imprints using the same negatives in different scenes. With any information on these manufacturers long since vanished into history – much of it during the Second World War – we're left with the physical artifacts, unordered and with dubious captions where captions exist. Remember the above mention of the fact that these would be hard to catalogue?

Above: An uncaptioned view of a ruined church released under the Grande Guerre imprint, and likely exclusive to that imprint, about which nothing is known. We would ask that anybody viewing an image such as this who has even an inkling of where the scene might have been shot to write in or leave a comment.
How You Can Do Your Bit
We would like to encourage anybody with a bit of a Sherlock Holmes streak to closely examine the images, and report anything that they might notice – from a clue which suggests a unit, location, date range, etc, down to little titbits about uniforms, artillery pieces, landscape, or architecture that are simply interesting. Feel free to (respectfully) disagree with our findings or the findings of other amateur sleuths; basically, the broader the discussion, the more we'll be able to ascertain about the place of these artifacts within the broader context of Great War studies. Western Front Association members can simply use the new Comment feature within Stereoscope; Great War in 3D visitors can email me directly (although obtaining a Western Front Association membership is heartily encouraged).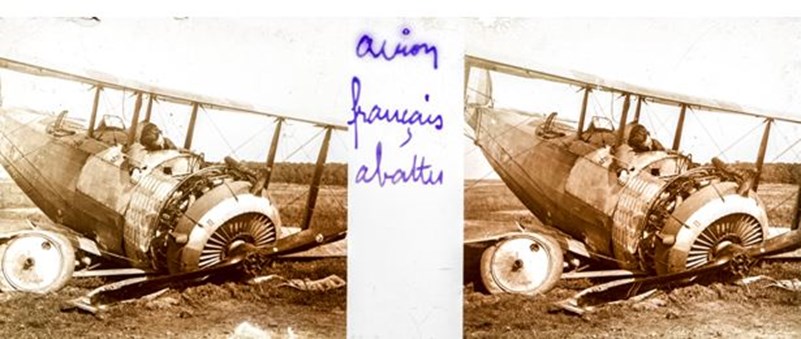 Above: With such little information given in captions, it is sometimes necessary to compare with similar images of the same scene. Variant images of this crashed plane place it at Verdun, something that was pointed out to me by a reader writing in about the image on a forum. If you've seen something even reminiscent of a scene in one of these stereoviews, please take the time to let us know!
Ian Ference, Lead Stereoscopic Archivist
(stereoscope@westernfrontassociation.com)
Further reading: 
Stereoscopic images available for members
Stereoscope: The Jordan/Ference Collection's partnership with The Western Front Association
Stereoscope Enhancements July 2021