It is with the deepest of regret that we must inform members of the passing of our friend and colleague Rob Thompson. Rob lost his fight for life in the early hours of Monday morning (20 March). We offer our most sincere condolences to Rob's wife and family.
Many of you will be familiar with Rob's characteristic enthusiasm for the understanding of First World War logistics, the quite literally, bread and butter issues which allowed the BEF to function. The fact that logistics was never going to be a glamourous area of study, somehow sat well with this unconventional historian. Rob was a regular and popular speaker at branches and contributed to many of our conferences. He would roar up on his motorbike frequently at the last minute for his talk, giving organisers heart failure but no doubt influenced by his interest in Logistics and the watchword of 'just in time.'
His subjects, which in less accomplished hands could have proved worthy but dull were brought to life by the research which went into his presentations. There were few in his audiences who were not bowled over by his enthusiastic and deeply knowledgeable presentations.
There is no doubt that we have lost an outstanding scholar, historian and presenter, although Rob may well have argued with the scholar title.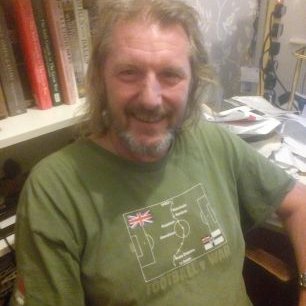 In his own words, he was an "accidental" military historian who prior to becoming an independent military historian taught at the 'War Studies Group' (Birmingham University). Finding himself in a Twentieth Century Military History class as part of his undergraduate degree, he elected to present a paper on 'Lions Led by Donkeys', only to be surprised by what he discovered. This was the first step on his road to card-carrying revolution. He wrote about the role of logistics and engineering in the development of BEF's operational method on the Western Front.
Rob's family have shared details of the cremation and celebration of his life (see below). Also, they have asked that in lieu of flowers, donations would be welcomed to the National Deaf Children's Society