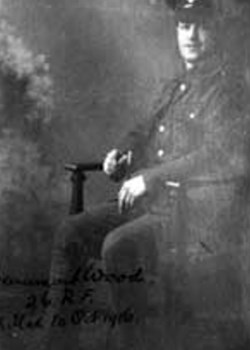 Beaumont Wood was born in Thornhill January 1888
At the 1891 Census, age 3 Beaumont was the youngest of five children to his father a 'wood sawyer' and mother Elizabeth. Ten years later at the 1901 Census he had a younger sister and a younger brother too. His 17 year old brother and 15 year old sister were working. The family lived at 286 Charles Street, Ravensthorpe. Another ten years and by the 1911 Census there have been some greater changes as there are only three of the children at home, Beamount and an older and a younger sister, and an 11 year old cousin too.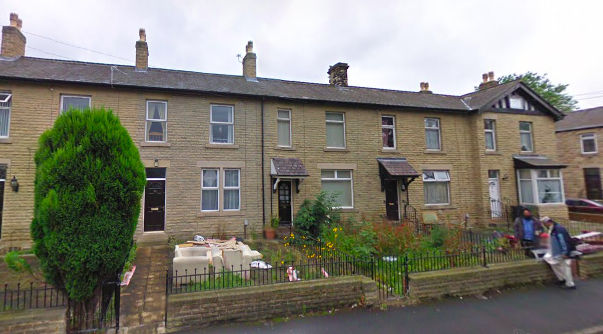 Beaumont worked as a 'peicer' and the family lived at 24 Myrtle Avenue, Ravensthorpe in '3 rooms'. 
Just before the war Beaumont was working in the dyehouse at Marshall Kaye and Marshall's mill in Ravensthorpe.
He enlisted in November 1915 and found himself posted to the 26th Battalion of the Royal Fusiliers. This battalion was not recruited on geographical lines but, like many other battalions in the 41st Division, was recruited amongst friends with a common interest: there was a Footballers' Battalion (23rd Battalion, Middlesex Regiment); and the 18th KRRC was subtitled 'Arts and Crafts'. The 26th Royal Fusiliers was made up largely of bank clerks and accountants from the City of London, and became known as the 'Bankers' Battalion'. What Beaumont made of this can only be imagined. Beaumont found himself posted to 'D' Company.
The War Diary of the Bankers' Battalion records that on 1 October 1916 the battalion was marched from Dernancourt (near Albert) up to a camp at Pommiers Redoubt, very close to the original front line of 1 July 1916. Due to the heavy rain and muddy roads, the march was described as "very trying". The battalion bivouacked for the night "in very unfavourable conditions." In the early hours of 3 October, they took over the positions of another battalion near the village of Flers, the relief being completed at 3am. The next two days found the battalion supplying working parties to help with digging in the front line. At 6pm on 5 October, they moved north of Flers to the Gird Trench from which the battalion was to attack towards the village of Ligny-Thilloy.
The Battalion's War Diary takes up the story:
7th October, 1.45pm: Zero Hour. Battalion in assembly trenches. 'A' and 'B' Companies in front line, 'C' and 'D' [Beaumont's company] in support. The whole battalion went forward into the attack in good formation, the men were in good spirits. Artillery barrage very heavy, but the result of this fire, owing to a steep bank immediately to our front was unobserved. On reaching the bank our lines were subject to extremely brisk and heavy machine gun fire and the enemy had evidently managed to push several of his machine guns forward of our barrage and our infantry advancing over the crest formed a very easy target for accurate shooting. We unfortunately suffered heavy casualties but nevertheless the men continued to press forward under the very fine leadership of our officers. Our first wave managed to reach a point estimated as 50 yards from the first objective but the enemy fire proved too much of an obstacle and the men were forced to stay and dig in as best they could at a point about 350 yards from our starting point.
The Diary goes on to describe how the line reached, which was effectively just a series of shell holes, was improved and linked up with the line held by troops on the flanks and a communication trench was dug back to the rear.
After holding the line during the 8th, the Battalion was relieved and marched back to the rear. The War Diary gives casualties as
killed - three officers and 38 other ranks;

missing - two officers and fifteen other ranks;

wounded - seven officers and 164 other ranks.
The majority of the battalion's casualties have no known grave. However, ten of the men are buried at the AIF Burial Ground, situated on 'Grass Lane' between the villages of Flers and Gueudecourt.
For some reason 'Soldiers Died in the Great War' mistakenly states that the 38 other ranks were killed on 10 October (rather than 7 October), and it goes on to list a further three who supposedly died of wounds on this date (10 October) also. It cannot be the case that these men were killed on 10 October (the battalion was out of the line). It is possible some were killed on 8 October, but the majority must have lost their lives on 7 October. One of those who died of wounds on 10 October was Beaumont Wood.
Sister M F Rutherford wrote to Beaumont's parents (who lived at 34 Myrtle Street, Ravensthorpe) at 4am on 10 October from a hospital at Etaples on the French coast:
"Dear Mr Wood, Your son, Private Beaumont Wood who was brought to us yesterday very gravely wounded has asked me just now to write to you as from himself. I am to tell you of his wound and that he has had his leg off but that he hopes, if God wills, to get over this and come home to you......He is very cheery and brave, but he is very sorely stricken. He does not realise how very bad he is. He sends his love."
Beaumont had been wounded in both arms, both legs and his left foot. Sister Rutherford wrote again at 8.30am: "Since writing for your son in the night time, I greatly grieve to tell you that he has died. The doctors did all they possibly could to save him but he was too badly wounded. He passed away very quietly and unconscious, believing as long as consciousness lasted that he was coming home.....almost his last words were to you and to Miss Ada Ashworth, to whom he also asked me to write."
Private Beaumont Wood is buried at Etaples Military Cemetery which is the largest Commonwealth War Graves Commission Cemetery in France, containing some 11,000 graves.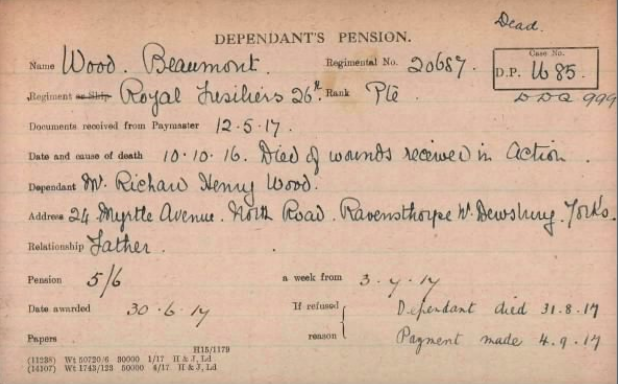 Pte Beaumont Wood 26th Battalion of the Royal Fusiliers
10 October 1916 died of his wounds
Pte Beaumont Wood is included in David Tattersfield's book A Village Goes to War. ISBN 0-9534689-3-3.
Research by David Tattersfield MA, WFA Development Trustee.

Sources: Census of England 1891, 1901, 1911.