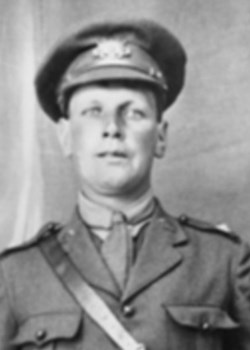 Alfred Gaby was born on 25 January 1892 at Scottsdale, Tasmania, Alfred
The seventh child of parents Alfred and Alicia Gaby.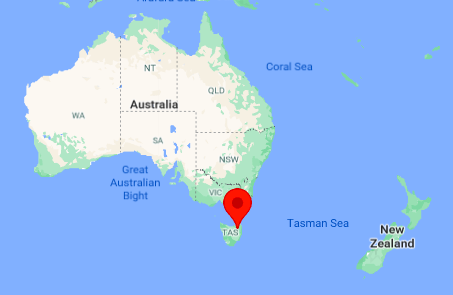 Alfred went to school in Scottsdale and after school worked on the family farm. He then spent some time in southern Tasmania. While working on his father's farm he had joined the militia and served for three years with the 12th Infantry Battalion (Launceston Regiment).
Two elder brothers had seen active service in the South African War.  
Before the outbreak of World War I Gaby followed one of his brothers to Western Australia where he worked as a labourer at Katanning.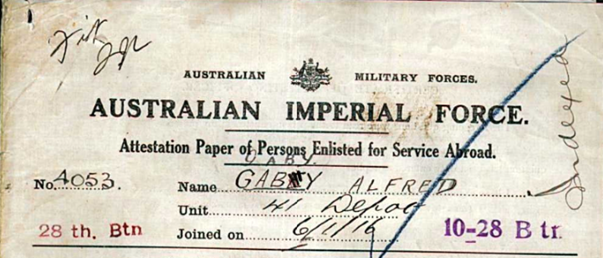 On 6 January 1916, one month short of his 24th birthday, and after having been rejected four times for active service, he enlisted in the Australian Imperial Force as a private, and after training at Blackboy Hill Camp was posted to the 10th reinforcements of the 28th Battalion. 
Records showing Alfred Gaby's Service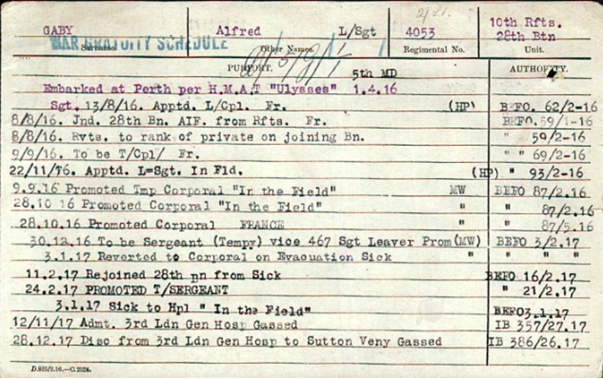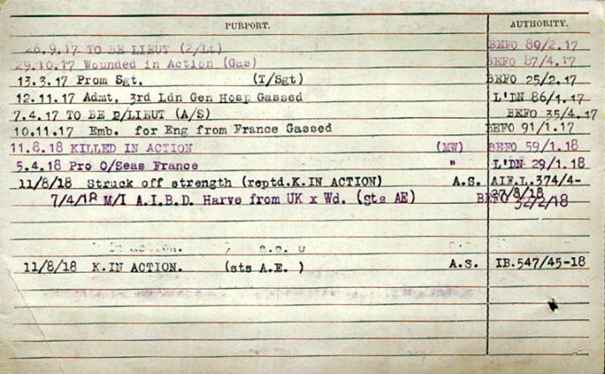 He sailed on the troopship Ulysses in April and joined his battalion in France on 6 August. His previous military experience brought him rapid promotion: from Lance Corporal on 13 August through all the ranks to Sergeant on 30 December. 
On 7 April 1917 he was commissioned Second Lieutenant; he was promoted lieutenant on 26 September and was wounded in action (gassed) on 29 October.  
Gaby was acting as commander of 'D' Company when, as part of the 2nd Division, his battalion was engaged in the great allied offensive of 8 August 1918. The 28th Battalion attacked German positions east of Villers-Bretonneux.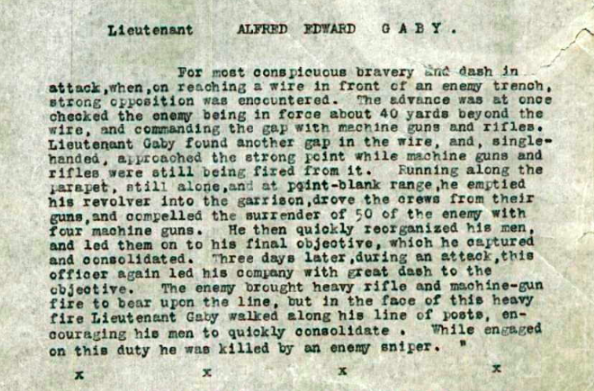 According to the London Gazette of 29 October 1918:
'Gaby showed conspicuous bravery and dash in leading and reorganizing his company when it was held up by barbed wire entanglements. He found a gap in the wire, and single-handed, approached an enemy strong point in the face of machine-gun and rifle fire. Running along the parapet, still alone, and at point-blank range, he emptied his revolver into the garrison', driving the crews from their guns and capturing fifty men and four machine-guns. He then reorganized his men and captured his objective'.
On 11 August 1918 in another attack near Lihons: 
'this officer led his company with great dash to the objective. The enemy brought heavy rifle and machine-gun fire to bear upon the line, but in the face of this heavy fire Lt. Gaby walked along his line of posts, encouraging his men to quickly consolidate. While engaged on this duty he was killed by an enemy sniper'.
In recording his death the war diary of the 28th Battalion paid special tribute to this gallant officer. He was awarded the Victoria Cross posthumously and was buried in Heath cemetery, Harbonnières. 

Alfred's father died in October 1919 and his mother who lived a 301 Brisbane St, Launceston a few years later. 
REFERENCE

Elliott, 'Gaby, Alfred Edward (1892 - 1918)', Australian Dictionary of Biography, Volume 8, Melbourne University Press, 1981, p. 607
UK, Commonwealth War Graves, 1914-21 for Alfred Edward Gaby.
Australia, World War I Service Records, 1914-1920, Ancestry.com
Foreign & Commonweatlh Office of the UK Gov. Notes reproduced from conent made freely available to share through Creative Commons.