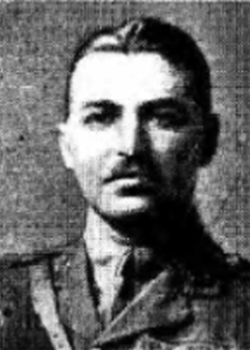 Born 8 April 1882
The eldest of three children by Richard Brown MG Deputy Inspector-General RN (Ret) and Jessie (née McPherson). 
Educated Aberdeen University where he graduated MB in 1903 and was subsequently in practice at Portsmouth. 
Married at St Philips, Buckingham Palace Road, London 23 November 1910 to Ruth (née Noble born 1887, Hayton, Cumberland), third daughter of R K Noble of Scotby, Cumberland.
After their marriage they lived in the 9 roomed 'Hollywell', 41 Kingston Crescent, Landport, Porstmouth with a live in domestic servant.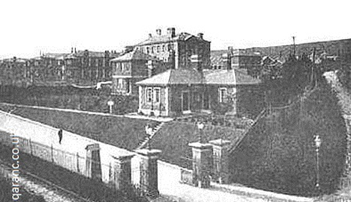 Volunteering at the outbreak of war in August 1914. Dr Richard Brown was appointed a Civil Surgeon at the Alexandra Hospital, Cosham.
Obtaining a commission as Lieutenant in the RAMC 29 March 1915 Dr Brown served with the Mediterranean Expeditionary Force at the Dardanelles from July when he was sent out with the 14th Casualty Clearing Station, attached to the 11th Division. He took part in the landing at Suvla Bay 6 August and in the engagements that followed he attend to the wounded for 44 consecutive hours, exposed to continuous shelling from the Turkish batteries. He served at Suvla for three months.
Dr Brown was an important witness to a fatal drunk driving accident in which a boy on a bike had been crushed. He had attended the inquest before returning to hospital for his operation at the 5th Southern General Hospital, Portsmouth. This operation had been necessitated by dysentery contracted while on active service on the Gallipoli Peninsula. 
The funeral took place at Portsdown Cemetery with a cortege from Alexandra Hospital.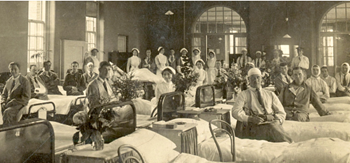 After her husband's death Ruth went on to become a nurse at Graylingwell War Hospital, Chichester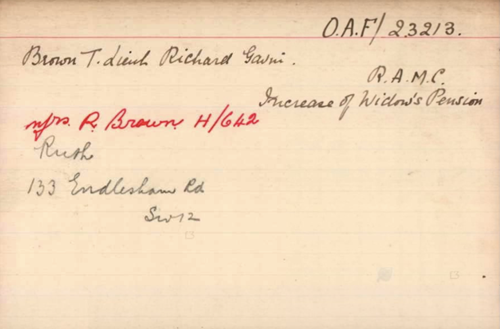 Lieut. Richard Gavin Brown MB RAMC
14 February 1916 died from an operation after illness contracted in Gallipoli
Sources: Portsmouth Evening News
Du Ruvignys Roll of Honour
Research by Jonathan Vernon