William Haldenby was born in Burmantofts, Leeds in 1881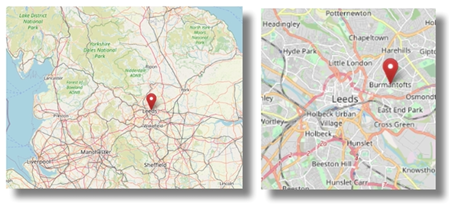 William would have expected to be safe when, on 14 October 1917 he was returning to Dulwich Camp, near Elverdinghe after his battalion had been sent to get cleaned up at the baths at Elverdinghe Chateau. The battalion (1st Battalion, Scots Guards) had just taken part with the rest of the Guards Division in the Battle of Poelcapelle, the battalion having come out of the front line on 13 October.
On returning to Dulwich Camp, dinner was served probably from the large, mobile cookers that battalions had as part of their equipment (these cookers followed the battalion about, except into the front lines). The serving of the meal was being completed when the battalion was caught in a raid by a German aeroplane which dropped five bombs. These bombs killed six men outright and wounded twelve others, a further six of the wounded succumbed to their wounds later that day or on the following day.
According to a letter written to his wife at Sackville Street, Ravensthorpe, William was a short distance away from one of these bombs and although no wounds were found on him, he 'died instantaneously from shock.'
William, who was 36, was born and lived in Leeds until moving to Ravensthorpe where he had worked as a case fitter at Cottam's Victoria Pianoforte Works for eleven years. At the 1911 Census he lived with his wife, first child and sister and her husband on Sackville Road, Ravensthorpe. The following year, in March 1912, his wife gave birth to twins. 
He joined up on 1 July 1916, going to France in February 1917. He left a widow and three young children.
The six men, including William, who were killed outright, all lie side by side at Bleuet Farm Cemetery, near Elverdinghe.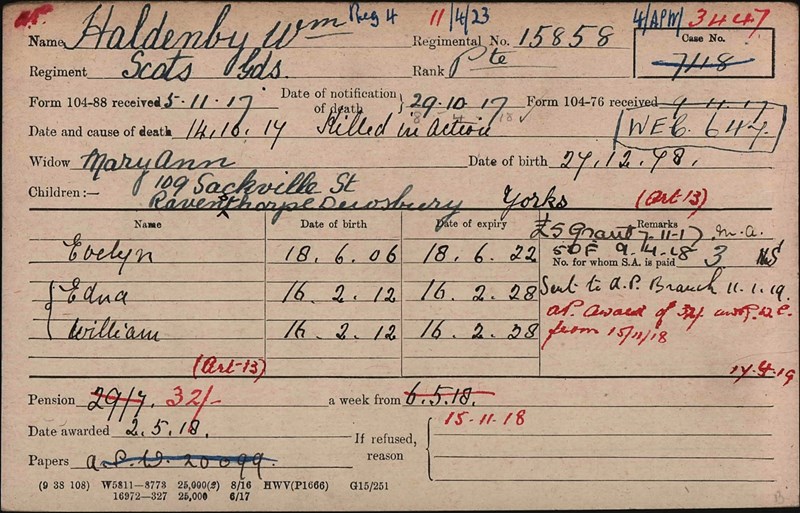 Above and below: The card and ledger relating to the pension claimed by William's widow Mary, and their three children.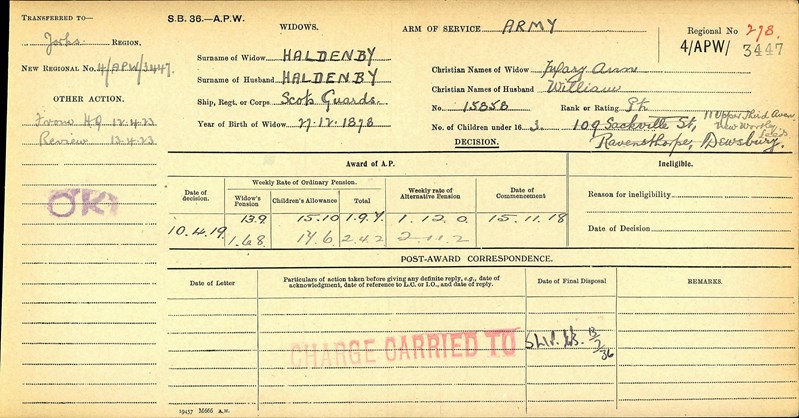 Read more about the WFA's Pension Records here: WFA Pension Records
Private William Haldenby, 1st Battalion, Scots Guards.
14 October 1917
Research by David Tattersfield MA, WFA Development Trustee. William Haldenby is included in David's book A Village Goes to War. ISBN 0-9534689-3-3.
Sources: England Census 1901,1911. Pension Cards and Ledgers from The Western Front Association records held on Ancestry's Fold3 platform