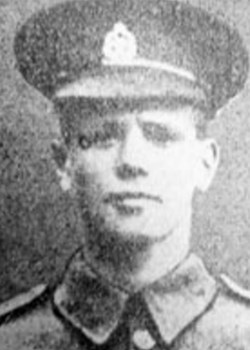 5332 Pte Stephen Carroll, 2nd Bn East Lancashire Regiment
From Burnley, Lancashire, Stephen enlisted into the Special Reserve on 20 July 1914.
A foundry worker by trade, he was in Plymouth at the outbreak of war. Appointed Lance Corporal with the 3rd Bn East Lancs, but he gave up his stripe upon transfer at Winchester to the 2nd Battalion (with which he moved to France in November 1914).
Stephen was wounded in the arm at Neuve Chapelle in 1915, and he spent 26 days recovering in hospital before being returned to duty, after which he saw action at Fromelles. He came unscathed through the Battle of the Somme in 1916 and Third Ypres (Passchendaele) in 1917, but he was killed in action during 'trench holding duties' on the Passchendaele Ridge on 20 November 1917 after the battle had ceased. Having no known grave, Stephen is commemorated on the Tyne Cot Memorial, Belgium.
Further details of his widow, his widow's addresses (she seems to have moved from one property to another) and the pension paid can be found using the WFA's Pension Records.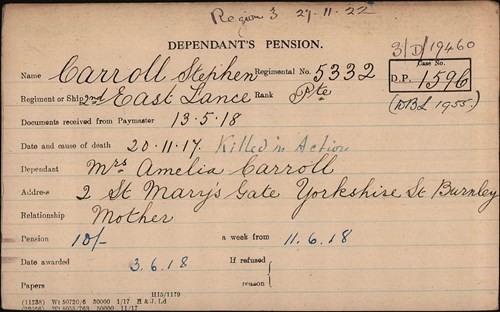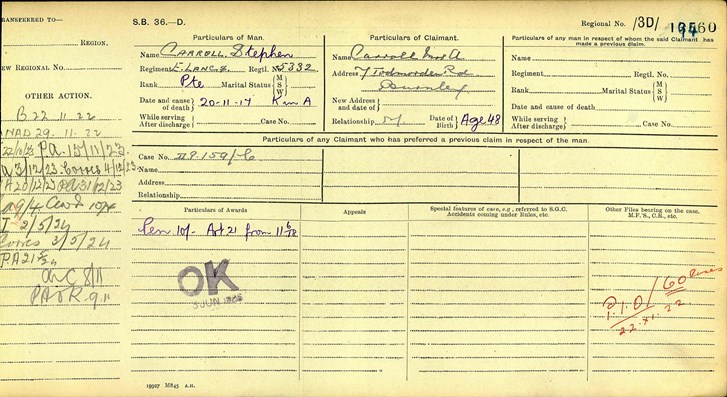 20 November 1917 killed in action.
Research by David O'Mara