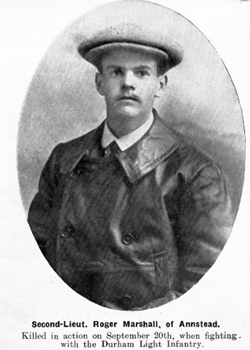 Roger Marshall was born 25 January 1891 at Annstead, Chathill, Northumberland
The youngest son of parents Anthony and Jessie Marshall, Roger was educated privately at the boys' boarding school Merchiston, Edinburgh. 
In  August 1910, Roger entered the Royal Artillery's Special Reserve. In April 1913 he was awarded the Royal Aero Club Aviator's Certificate. He was noted as an excellent shot and rider. Roger was gazetted 2nd Lieutenant in the Durham Light Infantry on 15 July 1914. 
Second-Lieutenant Marshall was killed in action in the Battle of the Aisne as the DLI held their ground. 
Roger Marshall is remembered on a family plaque in the churchyard of St. Ebba's, Beadnell, Northumberland.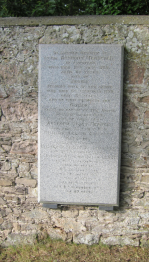 Sources:
'Tribute to the Fallen, 1914-1920: Men of Alnwick, Amble, Rothbury and Wooler district' by David Thompson. 
Ancestry