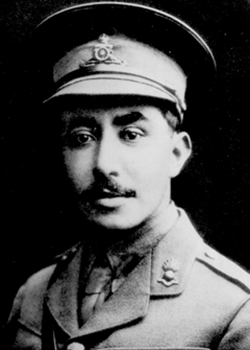 George Bemand was born 9 Mar 1892 in Kingston, Jamaica
George was the eldest of four children of Mary Ann Bemand (also known as 'Minnie' from Jamaica). It appears that the children's father was George Bemand (bachelor farmer). George was one of eight children born on a 300 acre farm (where they had five servants and six farm labourers) on Humberside to Robert Bemand. Robert died in 1899. George never appears to have married. The Bemand family had land in Jamaica. 
Minnie would appear to be of British and African-Caribbean ancestry - she brought her children to England from Jamaica on at least three occasions between 1907 (October 1907, July 1908) and 1912 giving Upper House Farm, Leominster, owned by George Beman, as their registered address. Minnie, her three boys and the youngest Elsie appear to have settled permanently in the England from 1912. They lived in West London. 
George (junior) remained in the country from 1907 and attended Dulwich College. He subsequently went up to University College London as a student.
At the 1911 Census Minnie and the younger children were living at 26 Woodville Road, Ealing, West London. George would have been at Dulwich College. As well as Harold, Vernon and Elsie, Mary's sister-in-law Laura Bemand (née Morath) was paying a visit. Laura, two years older than Minnie, had married James Bemand (George's older brother) in 1899. 
Minnie's George joined the Officer Training Corps at UCL in October 1914. The following May 1915 he applied for a commission in the 30th (County Palatine) Divisional Artillery. He received his commission and become a Second Lieutenant in the Royal Field Artillery in May 1915 and went to the Front in August 1916. (Though his school's Roll of Honour suggests that he went out in November 1915). He joined 148 Brigade Ammunition Column.
According to Great War London in October 1916, 2nd Lieut. Beman transferred to 'Y' 5 Trench Mortar Battery, attached to 5th Division.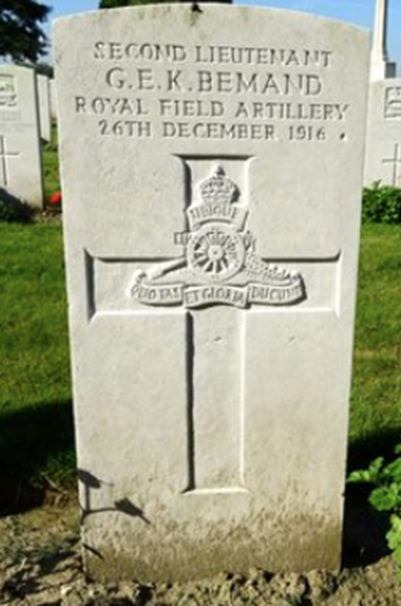 George was killed in action on Boxing Day 1916, aged 24. He is buried in Le Touret Cemetery, Richebourg-l'Avoue, Nord-Pas-de-Calais, France.
George Bemand's name and photograph were printed in the Dulwich College War Record 1914-1919 and he gets a mention in the University College London Roll of Honour.
Various mistransciptions and odd spellings see 'Bemand' given as 'Beaman' as below, or transcribed as 'Bernand' in many of the records on Ancestry.
26 December 1916 : 2nd LT George Bemand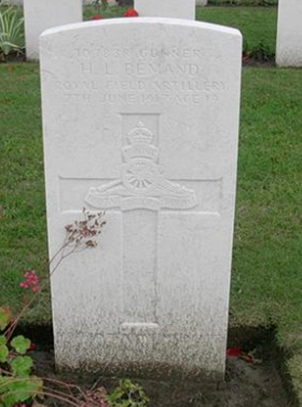 George's younger brother, Harold, who had been visiting Jamaica just before war broke out, returned to England in October 1914 to enlist (he was still only 16 years old). He also joined the RFA and was killed 7 June 1917 age 19. 
Sources: Pension and Ledgers digital archive on Fold3 by Ancestry, Simon Jervis in the Great War Forum, Great War London blog, Bemand Family Tree (Ancestry), 1901, 1911 Census Returns, Register of Soldier's Effects, Incoming Passenger Lists (1914), Arriving Passenger and Crew Lists, 1820-1963. Medal Records. Soldiers Effects.