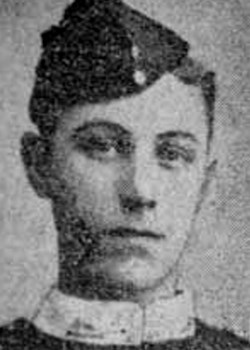 Born in Burnley in 1890
Living at 113 Sandygate, Burnley at the time of his re-enlistment in August 1914, John had originally seen boy service with the Manchesters since late September 1901.
A recalled reservist, he landed in France on 8 October 1914 seeing service in the area of Richebourg. Whilst holding the line in the vicinity of Festubert on 29 October 1914, John's battalion came under heavy German attack and a section of line was lost but which was taken back in a counter-attack that afternoon.
John was one of 76 soldiers of his battalion killed or missing since 21 October and he is now commemorated on the Le Touret Memorial.
6880 Pte John Bradley, 2nd Bn Manchester Regiment
29 October 1914 killed in action
Research by David O'Mara