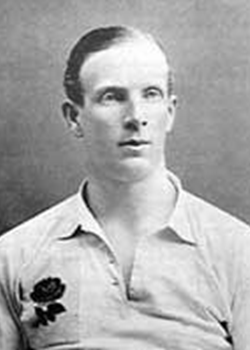 Edgar Mobbs was born 29 June 1882, in Northampton.
The son of Oliver L and Elizabeth Anne Mobbs. He did not make his school's First XV, preferring hockey at the time. Mobbs took up Rugby when his family moved to Olney in North Buckinghamshire. He first played for Olney in 1903 and then for the Weston Turks before moving to Northampton and playing for Northampton Harlequins.
In 1905 he was invited to join Northampton RFC ('The Saints'); after a short spell at fly-half he moved to the wing. He captained Northampton from 1907 to 1913, scoring a total of 177 tries. Edgar played for Combined Midlands and East Midlands Counties (16-5) v the 1908-1909 Wallabies - the only English provincial side to defeat the tourists. He was the first player to score a try in England v Australia internationals. He represented East Midlands at the Rugby Football Union. His last game for England was as Captain of the team that played v France in Paris in 1910.
He served on the RFU and Barbarians Committees. He also played for Buckinghamshire County Cricket Club.
Edgar played Rugby as a Wing or Centre for Barbarians [v Leicester in 1911 (6-13), twice v Cardiff (9-16 and 5-18) and v Swansea (8-12) in 1912, and v Cardiff (0-10) and v Newport (0-14) in 1913.
He captained the Barbarians: v Leicester on 2 January (6-21) and 27 March (3-3); and v Royal Army Medical Corps on 10 April (10-3).
On 17 April 1915 he played for The Barbarians v a Welsh XV at Cardiff Arms Park in what was termed a 'Military International' between Wales and England, designed to boost recruiting for the newly-formed Welsh Guards and to raise money. Wales fielded a near International team with only one uncapped player (Dan Callan of the Royal Munster Fusiliers). The Barbarian side had 12 Englishmen, 2 Irishmen and 1 Welshman (South African International Joseph Partridge). The match, won by the Barbarians 26-10, raised £200. In addition, while convalescing from a wound, he played in a fund-raising England v Scotland exhibition match in Northampton and represented England in seven internationals.
In the First World War he was refused a commission in 1914 due to his age of 32, so he enlisted as a Private on 15 September 1914. Remarkably, he raised his own unit of 264 men as "D" Company, 7th Battalion, Northamptonshire Regiment; this included many Rugby players, including E R Butcher, captain of Devon, and H Willett, captain of Bedford. Over 400 volunteers served in "Mobb's Army"; of these, only 85 survived the War.
Mobbs arrived in France in September 1915, and took part in the Battle of Loos. In March 1916 he was promoted to Major, and took over command of the 7th Northants in April 1916, later being promoted to Lt Col. He was wounded by shrapnel in August 1916 while taking part in an attack on Guillemont, during the Battle of the Somme. After two Mentions in Despatches in 1916, Mobbs was awarded a DSO in December 1916 (gazetted 1 January 1917) for his work as a Battalion Commander. The 7th Northants suffered severe casualties during the Battle of Arras in April 1917. He was wounded in the neck at Messines on 7 June 1917, but returned to the Battalion on 26 June.
On 29 July 1917, while in his headquarters in Canada Street tunnels, near Zillebeke, he heard of the loss of officers from the walking wounded, and decided to lead the battalion from the front, and moved to Shrewsbury Forest. He was killed in action while attempting to bomb a machine gun at Lower Star Post that had trapped a detachment of his Battalion. Before he died, he wrote a note of instructions and sent it back with his runner. The battalion history says, 'The fact that his body could not be recovered and buried, as all ranks would have wished, was perhaps a good thing, as it helped keep alive his memory in the battalion, and inspired in everyone the resolve to avenge his death and to end the war that had already caused so much misery and suffering.'
He is commemorated on the Ypres (Menin Gate) Memorial.
The first Mobbs Memorial match, East Midlands v Barbarians, was played on 10 February 1921; it has been an annual fixture since 1924.
31 July 1917
Research by Gareth Morgan, President, The Australian Society of WW1 Aero Historians Inc
Find out more at Olney & District History Society