After schooling, Charles became a clerk working in a fillmongers.
Born 10 November 1891 in South Ossett, York. Charles Wilton Illingworth, was the son of Andrew, a fine cloth drawwer and Sarah
At the 1911 Census Charles, age 19, was living at home at No.6 Grove Street, Ossett with his parents, sister Mary and widowed Aunt Emma. 
Charles enlisted 11 December 1915 transferring to the DLI 20 October 1916. From his surviving Service Records we learn that he was 5ft 2 1/2 inches tall.
Charles was killed, age 24 years, just 15 days after being transferred to the DL during the attack on the Butte de Warlencourt.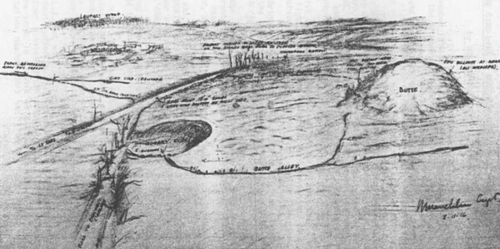 A Drawing of the Butte de Warlencourt by Capt. Robert Mauchlen dated 8th November 1916 (Courtesy: D.L.I. Museum & Arts Centre, Durham)
5 November 1916 killed in action.
Sources
Charles Wilton Illingworth
http://ossett.net/WW1/Charles_W_Illingworth.html and Ancestry. 
(C) Wilson, Ashby and Howe, March 2014