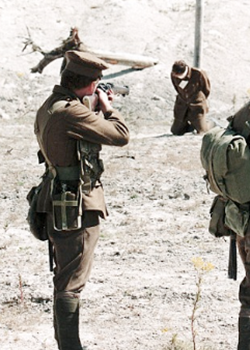 Executed for desertion
Pte 11850 J. Tongue of the 1st King's Liverpool Regiment was executed after a trial for desertion, the execution taking place between 6.30 and 7.45 am at Brailly on 8 January 1917.
'The case is a bad one' wrote the commander of the Fifth Army. 'I am unable to concur in the view that a man who has been passed fit for General Service can be excused on the grounds of physical degeneracy', wrote Major General Walker, the Commander of the 2nd Division, 'The case is a bad one, and I recommend that the extreme penalty be carried out.'
James had been in trenches at Montauban Wood and was missing when a roll call was made at 5 pm on 28 June 1916. He was missing until 29 November when he was arrested as he emerged from a disused building in Corbie. Tongue, who was a regular soldier and was 21 years of age, had served eleven months with the 1st King's Liverpool Regiment. In those eleven months he had behaved in an exemplary fashion and there were no entries whatsoever on his conduct sheet. During his trial he refused to cross examine prosecution witnesses, declined to give evidence and called no testimony as to character.
It was revealed that he had taken part in a raid on Vimy Ridge on 6 June 1916 but had 'not taken part in any of the recent operations on the Somme.' On 1 January 1917 he had been before a medical board, and it reported that it had examined 'the above named soldier and found that, with the exception of his having a highly nervous temperament, he is both mentally and physically sound.'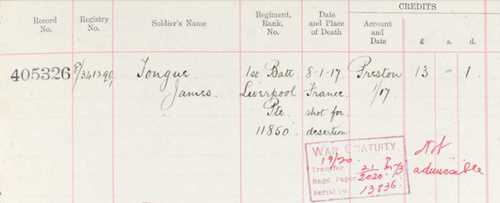 UK, Army Register of Soldier's Effects
Reference: Gun Fire No.31, Sentenced to Death 
All 59 editions of Gun Fire, a Western Front Association branch magazine, have been digitised for Members to use for research.