Search results for Scotland.
/on-this-day/3-may-1917-lieutenant-robert-grierson-combe-vc/
Robert was the youngest of six children of Presbyterian parents James and Elizabeth Combe. On 24 April 1906, Robert emigrated to Canada via Liverpool, destination Montreal. He arrived 1 May.  A pharmacist from Moosomin, Saskatchewan, on 1st April 1915 he enlisted at Sewell Camp into the Canadian Expeditionary Force. He had previously served i…
---
/the-latest-wwi-podcast/ep-145-stories-from-the-bo-ness-war-memorial-alan-gow-robert-jardine/
Alan Gow and Robert Jardine about their book (written with Richard Hannah) on the lives and war service of the men who commemorated on the Bo'ness War Memorial, West Lothian.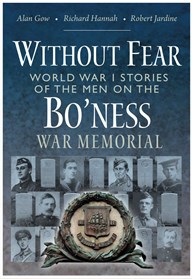 ---