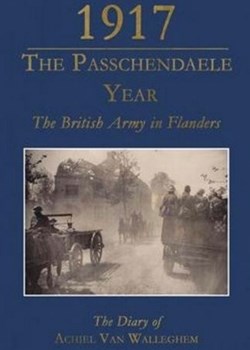 Reviewed by Stephen Broomfield.
In 1913, Achiel van Walleghem was appointed curate to the village of Dickebusch. After the flight of the priest in 1914 he became responsible for the souls of the residents of the village. In 1916, he was forced to move to Reninghelst, but still visited Dickebusch regularly and to care for those still living there (at the end of 1917, 87 families, consisting of 298 people).
The translation of the diary he kept through the momentous year of 1917 is much 'of his time', his background, and an absolute delight. Although the work of a rural Flemish Roman Catholic priest in the early 20th century, it full of insight into the war. His report of 1st July is concise and pithy: 'of course there is a lot of exaggeration' he says in respect of claims of success.
An inquisitive man, Father van Walleghem encountered all aspects of the war, and reports them without prevarication ('I hear that the 30th Division are rather weak fighters'). He is proud when Catholic British troops do well ('The Irish and the Leinsters fought like lions').
On 15th May, he visited the scale model of the Wytschaete position in the lead-up to Messines and, on 7th June witnessed the event. His description of the eruption of the mines is noteworthy  '… the most horrifyingly beautiful firework display … a real volcano, it was as if the whole of the south-east was spewing out fire'.
Regular complaints about prices, restrictions, corrupt politicians and being kept awake at night by gunfire are interspersed with a deep interest in pretty well everything. But throughout, his concern for his flock underscores everything. I would defy anyone to read his description of the death on 12th July of 18-month-old Albert Tahon, killed with his mother when a British anti-aircraft shell fell on their house, without a lump in the throat.
As an unusual (unique?) sidelight on a dreadful year, I strongly recommend Father van Walleghem's diaries, which are also able in hardback at £45.00.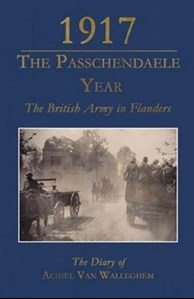 1917 The Passchendaele Year: The Diary of Achiel van Walleghem
Edited by Dominiek Dendooven, Translated by Guido Latré
Edward Everett Root Publishers, Brighton, 2017, £19.99 281 pp, 14 ills, pb
ISBN: 978-1-911454-40-3
See Also: Book Review > Menin Gate and Last Post by Dominiek Dendooven reviewed in Stand To! 65 September 2002
See Also: Article > Lutyens and The Stone of Remembrance by Dominiek Dendooven in Stand To! 69 January 2004