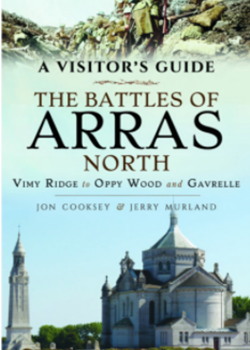 Pen & Sword, 2019, £14.99, 192pp, b/w ills, maps, appendices, index. ISBN: 978–147–389–303–0
As all Western Front Association members know, engaging with the battlefields of the First World War is a fascinating experience. The landscape of the Western Front is the last witness to the conflict, and regardless of the degree of restoration, it is still marked by its 'scar tissues'. Thanks to the huge increase in car ownership, combined with the expansion of the French and Belgian motorway systems, visiting the Western Front has never been easier. With that revolution in ease of access, a new type of guidebook emerged, pioneered in 1976 by Rose Coombs and the now iconic (and much, and helpfully, revised), Before Endeavours Fade, which is still a touchstone for many of us.
Over the last 20 to 30 years the micro– guidebook has also emerged, as exemplified by the Battleground Europe series from Pen and Sword. Moving on from the grand sweep, these guidebooks are invaluable to the person interested in bringing fine detail and close analysis to bear on particular sites. Jon Cooksey and Jerry Murland have been energetic contributors to this field providing a host of excellent guides. Most recently, they have developed the multi–access approach in guidebooks that provide advice on how to explore by car, on foot or by bicycle. This provides wonderful flexibility for the visitor, but also encourages that most valuable quality of immersion in a site. Like Paul Reed's walking guides, their approach emphasises slowing things down and absorbing a landscape by moving through a host of points creating a thick history. By encouraging cycling, they also bring to life a sense of contour and relief that can be imperceptible in a car, barely noticeable on foot, especially if not carrying any weight, but is immediately noticeable when it requires the additional muscle–power to push pedal and crank the chain. Additionally, seeing as most of us will probably not ride the battlefield on horseback a la Richard Holmes, bicycle height is the closest many of us will ever get to the way a staff officer would have understood landscape ie from the elevation of the saddle. 
Their Visitor's Guide to The Battles of Arras North maintains that format. Additionally, it does so for a portion of the Western Front that is a definite reminder of the conflict as a global, all–encompassing, war. In this zone, the concept of Five Continents in Flanders is truly revealed. As well as France, Britain and their empires and the Germans, there are Poles and Czechs and civilian dead; there are commemorative sites for individuals, nations, empires and the sobering Ring of Remembrance which collapses all divisions into a simple list of names of all combatants and victims. They highlight that this is a landscape of ruins left as markers to the conflict, such as the church at Ablain St– Nazaire, and of deeply local associations, like the bond between Kingston–upon–Hull and Oppy. The guide bears the hallmark of all Cooksey and Murland works; clear, concise, and insightful. It is the work of two authors who both know and feel the textures of the Western Front. As with their other guides, definitely one for the saddle bag.
Review by Mark Connelly
It is with great sadness that earlier this year we reported the death of Jon Cooksey. In his memory his wife set up a fundraising page to contribute to charities that meant a lot to Jon > Jon Cooksey Fund


[This review appeared in Stand To! No. 116. Members receive our journal three times a year and our inhouse magazine Bulletin three times a year. The digital archive of Stand To! Is available to members using their member login].