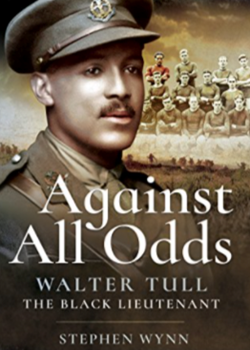 Pen and Sword, £16.99
hb, 8pp plate section, index. 
ISBN: 978–152–670–404–7 
[First reviewed in Stand To! No.112 June 2018] 
It should never be a bad thing when another book is published about Walter Tull. His inspiring story has been so long forgotten that each new recounting should be a cause for celebration. Yet, a reader looking for freshly–mined discoveries that add detail to his biographical mural will be very disappointed with this publication by Pen and Sword. Only five of the ten chapters are dedicated to examining Tull's childhood, football and military careers. Indeed, Walter's story is all over by p.47 of the book's 128 pages – a little over a third of the content. The remaining chapters are surveys of other players and soldiers of colour who served in the Great War. Chapter eight, for example, consists of a series of names of the dead of the 23rd Battalion, Middlesex Regiment – which fill almost 15 pages – the first of which, Private Reginald Allgrove, was killed in June 1916, long, long before Walter Tull joined the battalion. It is difficult to see why the death of Private Allgrove, tragic though it was, has any bearing on the story of this extraordinary sportsman/ soldier.
Stephen Wynn's book was published in January 2018, no doubt to be available to coincide with the centenary of Walter Tull's death in action on 25 March. Originally from a police background, this is not the author's first book in the military history genre. His steps in that terrain are much firmer and more secure than when he ventures into the relatively new territory of biography.
I found no fresh insights into Tull's life here and in fact, this was the most error strewn dimension of the work. Numerous biographical and chronological details are incorrect: Walter's sister Miriam he records as being born in November, 1897 rather October; similarly his brother Edward's birth year is given as 1887 instead of 1886. Individually these mistakes are irritating but not serious but when compounded by frequent others, the knowledgeable reader might judge that there has been a distinct lack of attention to detail and thorough copy editing and fact checking.
Edward's adoptive mother is referred to throughout as Helen rather than Jean, her real name; the site of the orphanage in which Walter and Edward were placed in 1898 becomes Bonner Street instead of Bonner Road; the ship on which Walter travels to South America with Spurs is named Uruguaya not Araguaya, its correct name; he writes that Tull was the third black professional footballer (p.17) while contradicting himself with information elsewhere in the same chapter. He has the crowd cheering Walter on from the terraces of Northampton Town's home ground, Sixfields Stadium (p.34), which would be remarkable: the Cobblers played at the County Ground during Tull's time with them and did not move to their new stadium at Sixfields until 1994! Fellow Northampton stalwart and another Great War casualty Fred Lessons variously appears as 'Lessens'. Unfortunately, the book is riven with errors of this kind
In Wynn's defence it could be argued that it is his over reliance on secondary source material that has led to this: p.125 credits all of Wynn's sources – nine of them – as being from the internet, including several databases. While Wikipedia is listed he does not cite any primary archives such as the Finlayson Family Archive, which holds the Walter Tull Archive – surely a first stop for any Tull scholar? – the National Archives and the Action for Children Archive. The internet can be an extremely hostile friend for unwary – or rushed – researchers in that it amplifies Chinese whispers. Wynn has not attempted to corroborate his evidence and it shows.
He makes a number of unqualified assertions based upon his findings which, because of their problematic provenance, cannot be accepted as anything more than opinion. One example is chapter 4: we are led to believe it is an exploration of newspaper reports relating to Tull. Few are mentioned. One of the most historically significant, from October 1909, entitled 'Football and the Colour Prejudice' in which racism in football is headlined for the first time is not referred to. Yet Wynn does feel able to assert that 'it was noticeable that when the reports of Walter's death started appearing in the newspapers, he was not afforded any special treatment or any additional coverage' (p.59). He doesn't define what he means by 'special treatment' and 'additional coverage'. However, from the many obituaries I have seen I would argue his death did draw widespread attention from newspapers up and down the country; in London, Manchester, Glasgow, Sheffield, Folkestone, Northampton, Rushden and Tottenham (then in Middlesex). For military historians interested in names and casualty statistics of pre–war sports teams and battalions there may be something of interest in Wynn's book. For those drawn to the work by its title, it may prove a let–down. 
Review by Phil Vasili
[Second review August 2021] 
Armed with my own copy of Against All Odds: Walter Tull – The Black Lieutenant I was keen to form my own view in contrast to that offered by Phil Vasili in Stand To! Is it really that bad? The answer is 'yes'. In fact, Phil Vasili was too kind; he miscounted how few pages there are on Tull in Against All Odds: Walter Tull. Phil was also too humble to mention his far superior Walter Tull, 1888 to 1917 which was published in 2010.
There is so little about Walter Tull in Against All Odds that the title ought to be along the lines of 'Footballers and assorted black soldiers who served during the First World War'. There is nothing in Against All Odds that couldn't have been paraphrased from Wikipedia - indeed, the only references are those from the internet. 
Over and over again as I a turn the pages of Against All Odds I am think to myself 'so what?' This is less a book, more a pamphlet on Walter Tull with other stuff attached - such as a roll of honour for men from the 2nd Football Battalion. It is padded out with a random assortment of factoids and indulgent irrelevancies. 
Against All Odds is rife with historical inaccuracies and full of unsupported views - who for example would ever believe that vulnerability to sunstroke had something to do with skin colour? Sunburn perhaps, but not sunstroke. A simple Google search would have provided the answer - no! 
There is detail and there is too much detail - do we have to know a person's height? And then lack of research into the matter has Wynn suggesting that at 5ft 8in Tull wasn't very tall - wrong again. The average height for men in 1914 Britain was 5ft 6in which made Tull tall. Easily researched. And on page 34 do we really need the military service details of a man 'who might have watched Walter Tull' play? This is padding.
Do we need the war service of Tull's cousins? This is more padding.
Tull moved to London as a boy and then moved around the country: there is nothing to suggest that he either met or knew his cousins, or his half-brothers/sisters and their families. This typified my frustration with the book that is supposed to be about Tull because for pages at a time, pages 34 to 54 for example, there is nothing about Tull or relevant to Tull at all.
And then two pages later the author warns us that the character Sydney Lawford 'warrants a mention at this juncture' (he doesn't) but we get a copy and paste from the records including birth marriage and war service. Why? What editor would not have picked this up, and much more, from the manuscript? 
The title 'Against All Odds' is apt - I rather think Phil Vasili gave up early on, while I have soldier on to the end 'against all odds'.
We return to Walter Tull on page 46 when he is killed off. Pages 49 to 51 are the stats and listing - a random dump of research that need never have appeared in the book.
Chapter 4 is a random selection of newspaper cuttings, rolls of honour and factoids from Ancestry. So what! 
Then we get the life and times of Tull's team mates ... then a listing of Northampton FC players who served in the First World War and if that isn't sufficient, a listing of the players from Tottenham Hotspur who served. So what?
This is NOT the life story of Walter Tull.
There are TWO chapter eights! I had to double check this. 
The first Chapter 8 offers up the names of other black soldiers who served in the First World War - except that two are from India and another is Egyptian. Some editorial guidance is required here - semantically 'black' refers to those of African heritage, 'brown' to people from Asia, while someone who is Arab or Muslim is described as such. 
The second Chapter 8 is yet another listing/roll of honour of men of the 23rd Service Battalion (2nd Football) who served.
Chapter 9 is a seven page transcript of Walter Tull's Army Service Record.
Chapter 10 includes some war memorials.
Six websites are given as the source for the research  - which would be enough to indicate to anyone flicking through to the back of the book that this will never be a satisfactory read. Why not just Google 'Walter Tull' yourself, print off what you find, staple it together, put your name on it and called it a book? 
The sources given are:
www.ww1playthegame.org.uk (domain unavailable)
www.britishnewspaperarchives.co.uk 
Wikipedia. (sic) Which has a url, thus > https://en.wikipedia.org/wiki/Main_Page
The page relevant to Walter Tull is here > https://en.wikipedia.org/wiki/Walter_Tull 
www.ancestry.co.uk (rather than the individual Census, War and other records viewed
www.bbc.co.uk
www.1914-1918.net which is in fact https://www.longlongtrail.co.uk/?domain=www.1914-1918.net
The page relevant to Tull is here > https://www.longlongtrail.co.uk/walter-daniel-tull-and-recommendation-for-the-military-cross/ 
https://greatwarlondon.wordpress.com/tag/black-history-month
Pen & Sword have mis-sold a book as a biography of Water Tull, which isn't. There has been no editorial input at all. You have to question the wisdom of publishing something that is such a mishmash assembly - it can only be called a book because it has a cover and an ISBN number. The dust jacket is rather good - sadly the content does not do it justice or reflect the true contents. 
Review by Jonathan Vernon