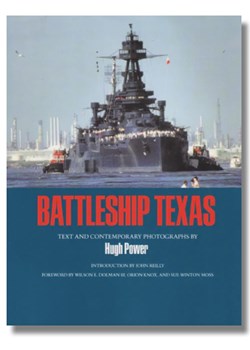 College Station
TX, (1993,
reissued 2000), 
pb 161pp, index. £15.95.
ISBN 0 89096 516 1.
[This review first appeared in the edition of Stand To! No.63]
The USS Texas, commissioned in 1914, is the only dreadnought survivor of the Grand Fleet. She served in 1918 in the Sixth battle Squadron and was present at the surrender of the German High Seas Fleet at Scapa Flow on 20 November 1918.
The Texas and her sister ship the USS New York (American battleships with one exception were named for states of the union) comprised the fifth class of American dreadnoughts built in the years prior to the Great War. Until eclipsed by the Queen Elizabeth in 1915, these were the most powerful battleships in the world. Laid down in 1911, both vessels displaced about 27,000 tons, were 575 feet long overall and armed with ten 14" naval rifles and twenty-one five-inch secondary guns.
Their main armour belts were ten to twelve inches thick. Coal-fired with auxiliary oil burners, the Texas was the last American battleship built with triple-expansion engines developing 28,100 HP turning two 18-foot propellers driving the ship at 21 knots during trials.
After the Great War, the Texas was refitted for oil firing, but the economical, range-extending reciprocating engines were retained. Visitors to Houston, Texas, may visit USS Texas at her berth off the Houston ship channel. She is a true time capsule.
Reviewed by Len Shurtleff