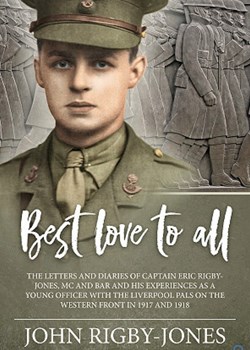 Reviewed by Phil Curme.
The soldier's experience during the First World War is far from neglected. The number of biographical accounts and published diaries from the First World War so voluminous one might think, there is nothing left to be said. However, every soldier fought his own war and their stories are as varied as the personalities of the men who told them. 
Best Love to All offers the diaries and letters of Captain Eric Rigby-Jones MC & Bar who served with the Liverpool Pals from the spring of 1917 through to the end of the Battle of the Lys. His letters judiciously offer a 'top to bottom' view and no shying away from controversy. In describing his grandfather's experience during the first stage of the 1918 Kaiserschlacht primary resources are used to support a compelling argument that Gough's fighting withdrawal in the St Quentin sector was a brave and masterful response to an overwhelmingly powerful attack. Not an unnecessary retreat. Pages concerning Lloyd George are also particularly interesting – peppered with recollections garnered from Thomas Jones who worked in Lloyd George's Cabinet Secretariat and was related to Eric by marriage.
Captain Eric-Rigby Jones was a front-line soldier with a somewhat fatalistic view of life and death. He ended the war at the tender age of 21 as a highly decorated officer and an intelligent leader of men.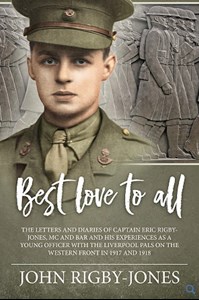 Best Love to All: The letters and diaries of Captain Eric-Rigby Jones, MC and Bar and his Experiences as a Young Officer with the Liverpool Pals on the Western Front in 1917 and 1918 by John Rigby-Jones.
£ 20.29, Helion & Company, 244 pp, 95 b/w photos, 8 b/w maps
ISBN 978-1-911512-05-9