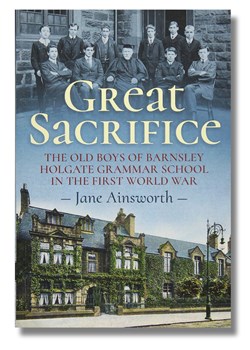 720 pages
Helion & Company (2016)
'A memorial book like no other.'
'Great Sacrifice. The Old Boys of Barnsley Holgate Grammar School in the First World War' is several books and a variety of types of book all in one: at its heart,  it is a 'memorial book' - the record of each of the 76 'boys' featured on the war memorial that was unveiled at the school in the early 1920s; it is also a comprehensive the history of a Yorkshire Boys' Grammar School from its founding in the 17th century through all its headmasters, benefactors and buildings; and thirdly it is a thoughtfully compiled and meticulously curated collection of often fascinating, insightful and even unique photographs, papers, census record detail and statistics.
My copy of 'Great Sacrifice. The Old Boys of Barnsley Holgate Grammar School in the First World War' is carefully tabulated numerous times because as a reference book it 'drills through' the history including every 'accretion' to provide the definitive record of each 'boy' who has been researched. No detail has been left out. On the one hand this compromises the readability of each man's story, however the added value is to read on, and through the family, friends and connections who were touched by a life, and often feel amazed and delighted to find some recompense in their death on learning that their kid brother survived the war, entering it as a private and ending it as a major, or that his younger sister, happily married, raised a family and lived into her 90s, or in one case to the age of 101. You are left, time and time again, with the impression of a huge family saga across some hundred years between 1880 and 1980. Editorially, a substantial part of the research might be left out: do we need quite so much detail from the Census returns so that we know who were witnesses to a 'Boys' sister's wedding in the 1920a? Yes, where it is reasonable to imagine these people were all part of a wider circle of family friends and intimates: it allows you the reader to create in your mind's eye a wedding photograph where gaps exist in the wedding group for those who had died. Is it necessary to include, unedited, the verbatim reports from the newspapers that reported a death? Yes, if you want to build up a sense of how the information was handled, to the point where ideally you would see a facsimile of the newspaper: that is always 'grounding' to see old, but familiar items being advertised, or other local stories in the news. 
'Great Sacrifice. The Old Boys of Barnsley Holgate Grammar School in the First World War' will be of interest to the local historian, those interested in researching family histories in Barnsley and a source of reference on some of the men of Barnsley who served during the First World War. It should also be held up as an excellent example of what kind of details it is possible to find behind 'a name'. Here, working over two years, and in contact with relatives, archives and collections a rich variety of photographic material and other content has been uncovered, all that adds to giving shape and character to the boys, who served as men during the First World War, and died doing so. 
In any other situation, the amateur sleuth, the local historian or the family historian would at best only be able to enjoy the kind information gathered here by amassing their own small library of books, pamphlets, files and archive records, and probably even then, having to rely on archived records or microfilm from their local library. Here, it has been brought together in one place. 'Great Sacrifice. The Old Boys of Barnsley Holgate Grammar School in the First World War' is many things therefore: a reference book, a 'memorial book', a local history and unique resource. it is also a potential springboard for winkling out even more, say from the army 'War Diaries' that would begin to provide an impression of how each 'boy' spent their years of service: the theatres of war they entered, the roles their Brigade played, when they were in training, reserve or in 'the thick of' for a few days at a time of front line action. It could be a springboard too for stories, where the historical novelist could make reasonable assumptions about how the 'boy', joining others, trainied, served, was wounded, survived for a while ... but ultimately did not. 'Great Sacrifice. The Old Boys of Barnsley Holgate Grammar School in the First World War' should also be of interest to historians; here is evidence that can be plucked from the detail to support all kinds of arguments, not least, that these 'boys' represent the 10-13% who died - that however 'shocked', damaged or changed, most men returned. 
The stories of the 76 boys, alone filling nearly 400 pages, would be enough content and have a clearer purpose and greater immediate appeal to someone with an interest in the British Army during the First World War. The history of Barnsley Holgate Grammar School, however influential its headmaster and staff on the boys at that time should have been a separate publication or kept to 12 or so pages. It is with the 'Boys' that I would like concentrate my thoughts.  
'Memorial Books' are a genre of book like no other: they take as their starting place a First World War memorial, provide its context, then in turn, with as much information as the archive and existing records permit, and the researcher is prepared to offer, a brief biography and service record is given for each man. In some circumstances, a photograph has been found to introduce them and their family. In most cases the Census return provides a place of birth, a place of residence and immediate family members. The relevant detail is given to help maintain the narrative. We might learn where they were educated, when they left school and where employed, when and where they enlisted and be given an idea of where and how they served. As a memorial deals with those who died during the First World War, how they 'met their end' and their subsequent burial, and possibly reburial and where they are remembered is also provided. Local newspapers, usually repeating the same background information, will have published an obituary of some kind at the time: this, in preciséd form or paraphrased can be given too. Online you can offer everything, in print being selective is necessary.  In print, these publications can take the form of a pamphlet, or a book. Often, some kind of compilation of the names was created as a sheet of names at the time the memorial was unveiled in the 1920s. The 50th Anniversary of the outbreak of the First World War, or the Armistice, often triggered the creation of books, with each soldier, featuring on a page or two. The centenary of the First World War has seen a landslide of such books and a quite overwhelming plethora of websites too; there are, after all, some 700,000 men who died who could be remembered in this way.
The challenge, working with whatever format, print or online, is to put the men, their lives and war service at the heart of the endeavour. A roll of honour to four of five men is less likely to result in a book; a roll of honour containing many hundreds of names too great a task for one person and too much information for a single book which is where a website comes into its own. How to compile and share the data, record and story of each man has remained a problem until the Internet came along. Now that we have and use the Internet a number of stunning examples of the 'Memorial' website have been produced. Increasingly this kind of project 'to tell the stories of those named on a memorial' is undertaken by a team of people, often with Heritage Lottery funding. These vary considerably in scope, style and usability. The very best have at the heart of them, a searchable archive of the men: who they were, how they served and met their end, and where and how they have been remembered. Online it is as easy to accommodate a few names, as it is thousands.
One important role 'Great Sacrifice. The Old Boys of Barnsley Holgate Grammar School in the First World War' plays is to connect present day students with the institution where they are taught. The school on the present day site has kept the tradition of reading out the 76 names featured on the memorial each year and for this, the book now provides ample detail to 'bring the men and their families to life'. It is this information that matters above all else. What would be wonderful to include would be detail from the various Division and Regimental Histories and war diaries relating to each man's war service. What did they do during the war? Where were they moved to? We know when they enlisted, and we know when they died, but too often the intervening weeks or months, is missing. This is what happens when a person's life starts to come off the page - you want to know more. 
When you learn that a boy spent only a year at Barnsley Holgate Grammar or even if they were there fore a few years, it is clear that their lives, whilst touched by the school, could not have been at its centre, whether or not they visited as old boys, or contributed to the Alumni magazine. An aside, is to understand why a boy left after a year? Reading the detail one has to imagine that cost as a factor, without a full scholarship, or the means to meet the fees, once they turned 14 a boy (and girl) needed to find employment. So many of our 'boys' become a clerk, or apprentice at this age, their formal schooling over. Their family would have come first, for many their Church would have come second and for others still, their place of work, or club where they played football or university. They also belonged to a Battalion and a Regiment, with whom they served and died, and amongst whom they are for the most part buried. Ample material is given to create a sense of the person in their family setting, but of course it is their wartime service that is being remembered. 
The entries on the 'Boys' makes up some 395 pages of this 716 page book, entries running from between 1 and 12 pages, with the median at 5 pages.
Taking an example, Private Sidney Nicholson of the 21st Battalion King's Royal Rifle Corps, including his own 'cover page' - a portrait of him uniform, runs to 8 pages.  We learn when and where he was born, the number, names, ages siblings, birth, background of parents and their marriage, their education, and for how long he attended Barnsley Holgate Grammar School, and then where he was employed. If a brother, or brothers enlisted we learn this too. If a brother survived the war we learn what they did, whether they married and had children. In Sidney's case, his younger brother Ernest with whom he joined up, survived the war, rose through the ranks all the way to Major, became a bank manager, married, had three children and lived well into his 90s. We are made to reflect, of course, on the life that brother Sidney, and the hundreds of thousands of other young men like him, never got to enjoy.
There may be one or more photographs. And we learn where they are buried and where remembered. In the case of Sidney Nicholson, his name also appeared on the memorial in the long disappeared Ebenezer Chapel. Any, and all obituaries in local newspapers are given. A detail that you begin to spot, how a family remembered their son, sons or husband with a notice in the paper each year for four or five years. Bereavement is palpable in such detail. 
Taking another example, Arthur Shipley. He was at Barnsley Holgate Grammar School for just one year. It could hardly have been formative, or definitive. He happened to be the nephew of the headmaster, he had been privately educated before he arrived at Holgate, and afterwards went to Haileybury College public school and gained a place to study history at Cambridge. An important part of his story beginning when he enlists yet in a few sentences only we learn that he served in Gallipoli and died on the Somme. Arthur Shipley is remembered on four memorials, and appears on his parents' headstone and on the Haileybury College memorial website we are told. Made available online, what is known about Arthur Shipley would add colour to these memorials too, and perhaps be encouragement to others to research the his war record.
In conclusion, sometimes 'less is more' : a 'memorial book' focused on the men featured in a Roll of Honour, and this alone, with some setting of context, would have a wider-readership than a book the size of a small dictionary that publishes content, particularly on the history of the school, that has a different audience, relevance and purpose. The boys have been researched meticulously. There is ample information to be able to begin to paint a picture of who they were: choir boy, scholar, footballer, apprentice, teacher, son, brother, cousin, fiancé, army volunteer or conscript, private, NCO, or officer … even a conscientious objectior. Additional information, particularly on their respective service experience could have been, given a few years more resaerch no doubt, where the emphasis was placed. How and where did these men train, when did they go over to France, were they in a 'quiet spot' at first, and then thrown into a battle or two or three. 
There are certainly hundreds of thousands of British 'boys' and men who served in the First World War who are but a name on a memorial plaque in a park, post office, school or railway station. Learning from the achievement of 'Great Sacrifice. The Old Boys of Barnsley Holgate Grammar School in the First World War' they can then go on to research and publish, I would hope, in a least two formats: a memorial book, possibly hardback, with each person's story told, kept with or close to the memorial itself and brought out to read from on occasions of remembrance and an open, digital version so that the connections indicate here begin to touch others - not least their now distant relatives and ancestors.