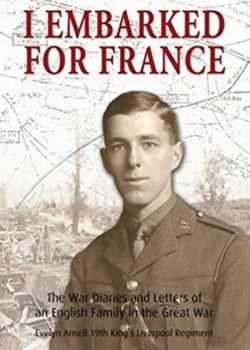 Reviewed by Linda Parker.
Although this narrative of a family's journey and the mixed fortunes of war is focused on Evelyn Ansell, its first chapter, describing the end of a family holiday in August 1914, introduces his family as the lens through which the Great War is seen. As Meryl Moore comments 'I read these family letters and lived the war years with them.'
Ansell's education and officer training are described in letters and entry diaries prior to his arrival at the front, at Ypres in October 1917. His growing confidence as an officer is underlined in letters to his mother Ada and sister Enid, who became a VAD. I Embarked for France follows Ansell through the German offensives, wounding at the battle of Lys in May 1918, and postings to Ireland and Salisbury plain at the end of the war. Meryl Moore, Evelyn's daughter, was inspired to write her father' story by conversations which included tales of patrols with his chosen team - a burglar, a pawn broker and his batman.
Well edited family letters from March and April 1918 ensure that story of Evelyn's war experience remains unbroken. Full of homely incidents they offer the reader interesting insights into domestic and national life on the home front. Sound editorial input succinctly places events in context in a book which draws the reader in to the world of family separated by war.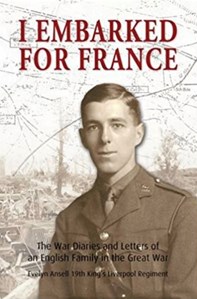 I Embarked for France: The War Diaries and letters of an English family in the Great War: Evelyn Ansell, 19th King's Liverpool Regiment edited by Meryl Moore.
Reveille Press, 2016. 266 pp. 21 b&w images, 4 colour, index, glossary and bibliog.
ISBN 978-1-908336-68-2.