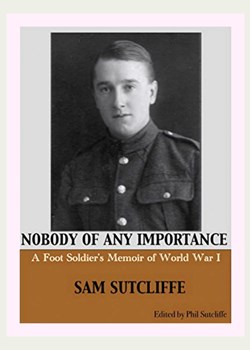 Reviewed by Michael Lucas.
Nobody of any Importance is a lengthy and detailed account, written from memory, in the 1970s, from early childhood to age 21, with 50 pages of editorial notes. Sam Sutcliffe enlisted at 16 in September 1914, trained as a signaller, went to Gallipoli and fought at Suvla, with 2/1st Londons (Royal Fusiliers -29th Division). He participated in the First Day of the Somme with the Kensingtons (56th Division) and was  subsequently returned to England as underage. He returned to France with 2nd Essex (4th Division) in December 1917, and was captured in the German spring offensive. Ironically, his military service ended guarding German P.O.Ws. in Sussex.
This is a vivid and remarkable account by a remarkable man and edited by his son. Highlights for me included the sheer awfulness of Gallipoli - especially after the pleasures of life on Malta; the confusion of his battalion's last stand at Gavrelle and Sutcliffe's varied, often dreadful experiences, including virtual starvation when working as a P.O.W.
There is so much for the general reader in this long book, and not just those with an interest in the units in which he served with, starting with the hardships of civilian life before 1914. A fair-minded man, Sam recalls the good and the bad in all ranks and in all the nationalities he encounters. Highly recommended.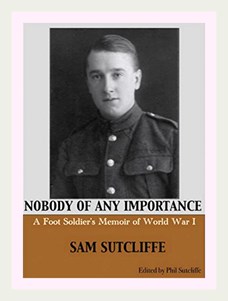 Nobody of any importance: a Foot Soldier's Memoir of World War I, Sam Sutcliffe edited by Phil Sutcliffe
Sutcliffe & Son, London, softback 698 pp, 8 b & w ills., notes
ISBN 978-0-9929567-2-1
£10 plus £3.15 p&p U.K., or £5 as e-book
From: 26 Kirkstall Road, SW2 4HF or via www.footsoldiersam.co.uk