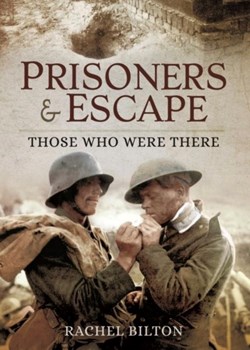 Rachel Bilton (Ed.)
Pen & Sword, 2017, £12.99, paperback, 175 pp, ills, short index, no refs,
ISBN 978-1-47386-709-3
Book Review by Dennis Williams
Prisoners and Escape: Those Who Were There (reviewed here) replicates the format of In the Trenches: Those Who Were There (reviewed below) bringing together 11 individual stories drawn from the experiences of civilians and military personnel. Pen portraits are provided for ten of the authors (Harry Beaumont is the unknown figure - his adventures following the Battle of Mons read very much like a transcribed interview. Like the earlier work no details about when or how the stories came to be written and the book's value stands or fall on the quality and interest level of the tales recounted.
Overall, the quality of the writing in the second volume is poorer. 'Yet Exploits of the Escaping Club' by RFC pilot A J Evans, had a genuine sense of narrative and was both more focused and detailed than some other contributions. 'A Journey to Brussels' also stood out, because of the roundness of its narrative structure and less well known subject matter. Its author Marthe McKenna, a young Belgian civilian, was drawn into the world of spying and subsequently caught and imprisoned by the German authorities. I would like to learn far more about her background and wartime experiences.
However other chapters are overlong or frustrating, lacking context or detail. Despite the seriousness of the subject matter, the style of writing implies that it is only a matter of time before Biggles flies to the rescue. Perhaps that was the intent behind some of these stories, perhaps an attraction to the casual reader. Like In the Trenches, this is another unchallenging read and one more appropriate as a companion on a journey.