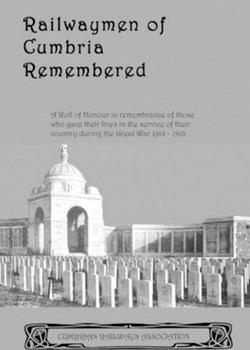 By Peter Robinson and Micheel Peascod
48 pages illustrated, A4 format.
Available from CRA Book Sales
50 Tattershall
Toothill
Swindon
SN5 8BX.  
Price £4.00 post free. 
'Railwaymen of the First War' as a title would threaten to fill several volumes of books, encyclopaedic in size and scope so it is just as well that 'Railwaymen of Cumbria Remembered' produced by the Cumbrian Railways Association narrows its focus to the men who served and died during the First World War who hailed from what were then the counties of Cumberland and  Westmorland, with the Borough of Carlisle, District of Sedbergh and a part of North Lancashire. (With the creation of the county of 'Cumbria' in 1974 these districts were brought together, and the county of Westmorland lost).
On this scale, and for someone from the area, the stations and routes including those lines lost in the 1960s, and many of the surnames will sound familiar: Beck, Braithwaite, Horsefield, Moffatt, Sedgwick, Tomlinson and Wilson all suggest Cumberland to me. While the railway companies of the time delight in such local names as 'The Cockermouth, Keswick & Penrith Railway', 'The L&NW and Furness Railways Joint Lines' and 'The Cleator & Workington Junction Railway', as well as the regional and national 'biggies' such as 'The North Eastern Railway' and 'The Caledonian Railway'. These are names that will have personal resonnance, and meaning to some - not least those who live in these parts now, or come from the North West of England. 

If you are like me, you will stop to look at a station memorial plaque. Whenever I see such a roll of honour, typically a brass plaque mounted on a wooden board, or set in stone, I glance over the names: you can only wonder if you know their great-grandson or great nephew or niece. Who were they? More like us, than not, most of all, given their youth, like the students you see at this time of year making their way to distant universities. I wonder about the lives these men who served and died would have had.  It is what broke the heart of my late grandfather when he thought about it too closely: his family were from Wigton and Dalston, the train from Carlisle to Newcastle their root to employment in the North East over a century ago. Many of the men he served with, even some he enlisted with, came from Cumberland.

Whether a memorial has five names on it (The L&NW and Furness Railways Joint Lines), or thousands (The Midland Railway, or The North Eastern Railway), each name represents a son, brother, husband or colleague. Some of their jobs require further explanation though. I am ingtrigued to know what an 'Underman' did? Or a 'Fire Dropper'? 'Lampman'(2)? 'Under Shutter'(3)? Or 'Caller-offer'(4)? I can 'Google them', but what would be wonderful, would be a new edition of 'Railwaymen of Cumbria Remembered' with this kind of detail included. In this small way, some of the names begin to rise off the page amd they become recognisable people not all different to young men today. 

Looking at photographs of these memorials, even seing them in the flesh, there is always a risk that a list of names is reduced to a kind of 'Braille for the sighted' - markings that form an embossed pattern that have little meaning. It is therefore indispensable and important work to undertake research into who these people were, publish it and share it. Even where the information is scant, for example, lacking the clues to know where the men listed by Scottish Railways came from - at least the process has begun to give these men their fuller identity: they had worked on the railways,we know, but they were born in a town or village, went to school there, found work on the railways and with war in 1914 they joined up as volunteers or by 1916 through conscription. In their cases, like some 15% who served, they were killed in action, or died of their wounds or an illness or some other mishap - most are buried in northern France, plenty are 'missing' while one or two, with dreadful injuries, made it back to the North West only to die later of their wounds.  It is difficult to comprehend the scale, depth and nature of the grief and how this was even common place where a street by the end of the war might have seen many young men, husbands too, lost. 
These are some questions that should spark the curious to seek out more detail and add it to the task that has been begun here. In 2016, with so many records and varieties of sources digitised the task, though still a big one, begins to become possible. 
Whilst the main lines remain, many of the branch lines, as well as the railway companies these men worked on have long gone. It's as if there's another role that can be played here; not just recording the men who were lost to the battlefields of the Western Front (where most served and died), but the history of the railway companies too.

A brief background to the railways is given, the hundreds of thousands working in the industry, a crucial part of the war effort of course. This is a story worth expanding, how certificates had to be issued by 'management' from February 1915 saying whether a man from the railways had been freed to enlist. A map isn't included in the book, but the authors have kindly provided the one you see above. It has always been a curious thing, knowing Cumbria, to come across a signal box or even a railway station in a field, with a garden with little indication left of the line they once served.
I'm also interested to know how many and which roles were later taken up by women and how men returning from the war returned to the railways.
Whilst many of the men can be traced to their home towns, others cannot.
Further work here for the amateur sleuth, perhaps taking a look through the million+ Pension Cards saved by the Western Front Association? And where a man can be traced, here lies an opportunity to learn a bit about where they lived and went to school. Similarly, though faced with many divisional and regimental histories to read, there is an opportunity to uncover a person's service history. Details from 'The Border Regiment in the Great War', for example, would add colour to a reasonable section of the men, as would reference to war diaries: in this way we come to understand how and where these men served. 
'Railwaymen of Cumbria Remembered' is a worthy and commendable endeavour
No name should be left unidentified on our memorials to those who served and died during the First World War. Whilst it will be rare to find a photograph, to be able to create a potted biography, it is nonetheless an important reminder that those names represent people like us, young men for the most part, with their lives ahead of them, all the more so the 17 year old identified who served and died. On the other hand, the 49 year old who died, married with children, may have had a son or two serving alongside him. How were communities in Cumberland and Westmorland impacted by the loss of their men?
'Railwaymen of Cumbria Remembered' is a terrific piece of work in its own right with considered and creative thought given to the design: type face choices, lay out on the page and other detailing that is respectful and fitting. A range of Art Nouveau design glyphs are used to 'pace' the material and fill unwanted 'white space' in a reverential way. 
Were I still living in the North West, or had any relatives left to visit, I would be picking out one of the memorials featured here to see if I could build on its beginnings. This is for others to be encouraged to take up, through organisations such as the Cumbrian Railways Association, working with their regional branch of The Western Front Association.
With the author's permission I would like to scour my regimental history of the Border Regiments to see if a few of the names featured in 'Railwaymen of Cumbria Remembered' could be developed and included in our daily piece 'Remember on this Day' where someone who lost their life is remembered. Sometimes, from modest beginnings, the many thousands who follow the Western Front Association website and social media pages, are able to add some detail, and in the rarest of cases, produce a photograph of someone we had never seen before.
The Internet encourages the weaving of new connections, where men remembered on these railway memorials, for example, may have already been picked up elsewhere - not least in expanding records of the many military cemeteries where they were buried, on memorials to the missing, or in their local church or school. For example, 'Missing But Not Forgotten. Men of the Thiepval Memorial-Somme' may include a name that appears in 'Railwaymen of the First War'.
Books such as this form a genre of their own, whether 48 pages 'Railwaymen of the First War', or nearly 300 'Missing But Not Forgotten.Men of the Thiepval Memorial-Somme', in fact another currently under review 'Great Sacrifice. The Old Boys of Barnsley Holgate Grammar School in the First World War' runs to over 700 pages! Others reviews by The Western Front Association include 'The Boys of Blackhorse Road Elementary School' and 'The Barnetby Boys', which includes a good many men who worked on the Lincolnshire Railways and whose lives, loves, losses and brought to life in this book.
Websites, though in many forms, whilst varied in scope and ambition, from 'Craven's Part in the Great War'  to 'Ossett in WW1' also show how information once online is readily shared and built upon.
It may still be some four or five years away, but I wonder if by the early 2020s local communities commemorating the centenary of the unveiling of some of these memorials will have an even more complete picture of the men whose names they featured?
The Cumbrian Railways Association have a number of records which would allow someone wishing to do so to add more detail about the railways and the sort of work these men did. The Cumbrain Railways Association have a number of staff registers and a database of staff too. The Association meets twice a year. For detals visit The Cumbrian Railways Association website.
Footnotes
(1) The Barrow memorial was damaged in 1941 during a German bombing raid. It still acts as the focus fir the town's remembrance.
(2) A 'lampan' would be responsible for tending signal lamps used at night.
(3) An 'under shunter' would be part of a larger team in a goods yards. 
(4) A 'caller-offer' would have called off the wagon numbers, either checking in wagon or preparing them for despatch.