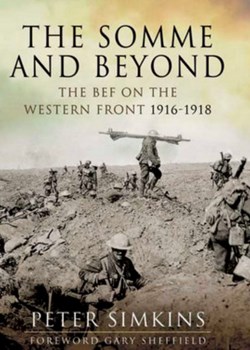 The British Army's Experience on the Western Front 1916-1918
Written by Peter Simkins ISBN 978 1 78159 312 7 254pp. Maps. Praetorian Press, Barnsley, 2014
WFA members will welcome this book of essays from our President. They are, in effect, a synthesis of a lifetime of deep study of the British Army's performance on the Western Front. In Everyman at War, Peter notes with approval the growing trend of historians to draw on the personal experience of those involved in the war, a trend started by the late and lamented Richard Holmes with Tommy. Added to these are a glut of battalion histories but few divisional accounts. Studies on morale and discipline have also appeared but there is still much more to discover. There follows a further chapter of historiography, this time writings on the Somme 1916.
Peter provides a very helpful survey as he traces the literature from the "Mud & Blood" school of between the wars and after, to today's revisionists. His next chapter is a defence of the New Army divisions on the Somme, which also reveals one aspect of his methodology. This is to analyse each separate operation during the battle in terms of divisional success or failure. This enables him to gauge each division by its success rate and reveals that, in most case, New Army divisions were no less successful than their Regular and Territorial counterparts. There follows two battle studies.
The first concerns 18th (Eastern) Division's capture of Thiepval on 26 September and its subsequent operations. He pays particular tribute to Ivor Maxse, the divisional commander and an excellent trainer, and such redoubtables as Frank Maxwell VC, then CO of the 12th Middlesex. In truth, it was an indication that the BEF's battle handling had come some way since 1 July. In contrast is the struggle of V Corps on the north bank of the Ancre during those grim last days of the battle in mid-November 1916. Peter's main point here is that too often operations at this time degenerated into piecemeal, and thus uncoordinated attacks, once the set-piece phase was over.
The clock now advances eighteen months and to a defensive battle.
This is the severe fighting that took place around Villers Bretonneux in April 1918. Here Peter examines the Australian claim that the British troops involved lacked any form of fighting spirit. What they failed to recognise was that the British divisions which took part had, throughout the March Retreat, suffered heavy casualties, especially the 8th and 14th (Light) Divisions. With little or no time to absorb new drafts, it is understandable that they did not perform as well as they might, but 18th and 58th Divisions did do their bit and so Peter finds the Australian accusation only partially true.
He then turns to V Corps and the recapture of Thiepval and the Ancre Heights in late August. The Corps's experiences were very different to those 21 months earlier and Peter puts this down in part to the high quality of leadership at brigade and battalion level and, at times, lower levels, in the ability to accept delegation of command and use of initiative. Training also helped. Finally, he turns to 12th (Eastern) Division, which with 18th Division are his favourite formations. He examines the officers and men who belonged to it in an effort to answer the question of how it was able to keep going through much hard fighting during the 100 Days. He concludes that the key was the survival of experienced officers and NCOs around whom the battalion could be rebuilt after heavy casualties. It was especially noticeable that the A4 Boys fought well, unless their leaders were knocked out, when they became a disorganised rabble because of their lack of combat experience.
Peter writes with great lucidity, especially when it comes to describing battles. He marshals his arguments well and has a very good understanding of the nature of the British soldier of the Great War and the environment in which he operated. The result is a book that every student of the British Army on the Western Front would do well to have permanently by his or her side.
Reviewed by Charles Messenger