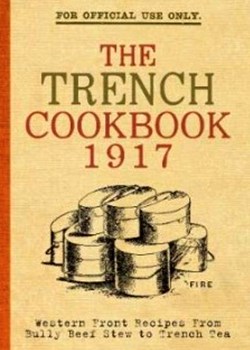 By Hannah Holman (Ed)
Book Review by Barbara Taylor
The Trench Cook Book 1917 is rather a fun book. Drawn from War Office and the Red Cross sources published during the Great War, for the use of army cooks and individuals at the front, it comprises facsimile copies of the Manual of Military Cooking & Dietary 1917, The British Red Cross Society Cookery Manual 1915 and extracts from Manual of Army Cooks 1917 (a US army publication, which provides an interesting to comparison with its British equivalent).
The author has added an extensive introduction and many of the recipes have instructions on preparation, which make interesting reading. At rest, in theory, soldiers have been well fed - however, we have all read about the shortcomings at the front, with tea tasting of the petrol or onions last in the container! It would appear that food improved once the WAACs started to cover non-combatant duties during 1917 and (again in theory) should have provided more variety and certainly more nourishment than many at home would have got. Despite its many contemporary photographs.
It's a pity the publishers didn't print the book on better quality paper.