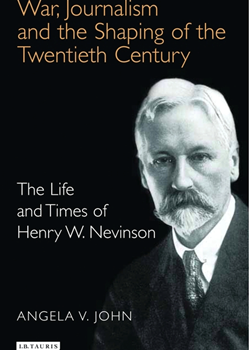 L B Taurus, London & New York. £29.50. 246 pp. 2 appendices. Notes, bibliog. Index. 3 maps, 16 ills. ISBN 1-84511-081-9
Henry Nevinson is now far less well known than his painter son CRW Nevinson whose disturbing images of the Great War have become justly renowned whilst Henry's journalism has been largely forgotten.
Angela John's study of Nevinson senior - in his lifetime dubbed 'the king of correspondents' - his support of female suffrage and his international journalism is an important coda about the war.
In his lifetime Henry Nevinson, a convinced controversialist, and, amongst other things, an early supporter of female suffrage was internationally renowned. He reported on conflicts in areas as disparate as the Balkans and South Africa. He wrote on slavery and reflected on Empire. Like Hemingway and Twain, his death was preannounced.
Nevinson reported from Berlin in August 1914 and, at a time when the British high command sought to control and direct war reporting - the first journalists were not credited until May 1915 - was amongst the first 'journos' to go to the Western Front. He accompanied the Gallipoli expedition, forming a firm friendship with the ill-fated Hamilton and later reported from Salonika and Egypt before returning to France late in 1917April.
Post-war Nevinson covered the Irish 'Troubles' . In a life so full, inevitably Angela John compresses Nevinson's involvement in the Great War into one and half chapters or so. Nevertheless the sharply written and deeply researched War. Journalism and the Shaping of the 20th Century, based on his own diaries and reportage, offers a fascinating insight into Nevinson as a man and a highly influential journalist of the Great War and many other conflicts.
Review by David Filsell