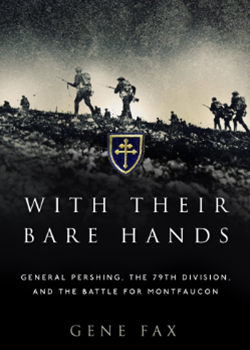 By Gene Fax
Osprey, £14.99, softback, 495pp, 55 ills, notes, refs, index.
ISBN: 978–147–282–979–5
The title implies that this book is a narrow study of the US 79th Division and its struggle to capture the dominant feature of Montfaucon during the opening phase of the Meuse–Argonne offensive. In fact, it is much more, deploying the 79th Division as a vehicle to illustrate the initial shortcomings of the American Expeditionary Force (AEF) and how they were overcome.
The author opens with an account of the US attitude to the conflict in Europe during 1914–1917, pointing out that many Americans – especially those of German and Irish heritage – were anti–French and British until increasing German provocation caused most to fall in behind the USA when it declared war on Germany. Although Fax shows how unprepared for war the nation was, four divisions were sent to France before the end of 1917. The remainder of the AEF would be formed and trained prior to deploying overseas.
The 79th Division was formed and trained at Camp Meade – which grew to become the second largest city in Maryland. Delays in its construction meant that it was not until mid–September that the first conscripts arrived. General John 'Black Jack' Pershing employed training in 'open warfare' without defining precisely what this was. What he did believe implicitly was that the American rifleman was all powerful and ignored combined arms training. Worse, when the 79th Division eventually left for Europe in early July 1918, its integral artillery brigade was removed and many trained men were taken from it. Shortly before departure it received 15,000 virtually raw recruits in their place.
In France the division's training was much the same as in America, and when deployed to the Meuse–Argonne sector it was tasked, as an initial objective, with capturing Montfaucon. The author describes its struggles as the AEF's shortcomings were quickly revealed. Lack of combined arms training made artillery support ineffective and the infantry did not know how to work with tanks and aircraft.
Communications and logistical systems quickly broke down, the latter caused mainly by a failure to recognise that the few routes into the combat zone were in a very poor state of repair. Over ambitious objectives and imprecise orders also played their part although many of the difficulties they engendered can be laid at Pershing's door. Yet, the AEF learned from its mistakes – and quickly – as was demonstrated by its performance in the final phase of Meuse–Argonne when the 79th Division operated in the hilly terrain east of the Meuse. The fighting was tough, but the division's approach was much more professional and effective.
Although well written, the author is a little repetitive at times and some of the maps could have been larger. Overall, though, this is an excellent and highly recommended work.
Charles Messenger