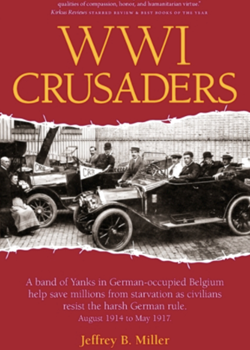 WWI Crusaders: A band of Yanks in German – occupied Belgium help save millions from starvation as civilians resist the harsh German rule. August 1914 to May 1917 by Jeffrey B Miller
Milbrown Press, Denver, USA (2018), £9.67 (Amazon), 
724 pp, pb, 126 ills, notes, bibliography, index. 
ISBN: 978–099–068–938–6 
I must admit that all I knew about the Committee for Relief in Belgium (CRB) was that it was headed by the future President of the USA, Herbert Hoover. This American organisation partnered – not without considerable friction – with the Comité Nationale (CN), to bring relief, mainly food, to prevent mass starvation in German occupied Belgium. The genesis of an idea was developed in 1914. Governments had to be brought on board and competent unpaid (and often young) American volunteers put in place, much of which was achieved by December 1914. This substantial book recounts the complex story of an international food aid mission whose scope was unprecedented and which had considerable success. It even managed to wind up its operations in profit at war's end. The committee also acted to some effect as an observer and critic of some of the more objectionable actions of the German occupying power. 
Like all volunteer organisations and especially when two such – it and the Comité Nationale, were essentially engaged in the same task – there were considerable tensions. The narrative is monumental in length and written in what might be called 'Barbara Tuchman' style, which helps make this fairly technical topic readable. A wide variety of sources are deployed, not least diaries, letters and memoirs of those who undertook the work on the ground in Belgium. The CRB performed admirably, the American involvement in the work, at least as regards personnel operating in occupied Belgium and northern France, coming to an end in April 1917, when the USA declared war on Germany. An account of the underground Belgian newspaper, La Libre Belgique, is given extensive coverage as a sort of sub plot – a story of intrigue, resolve and courage. The book has an excellent index and notes, although the latter are not straightforward to use offering a series of notes at the back referring to particular pages. Nevertheless, they are useful. The book is also available as an eBook; although the price of the book, only available in paperback, is attractive. I note that it is available in both formats, from online retailers such as Amazon UK. Although an admittedly rather niche subject – even for members of an association dedicated to the Great War – it adds another piece to the complex story of that war, proving once more why its study is lifelong. 
Review by Nigel Cave