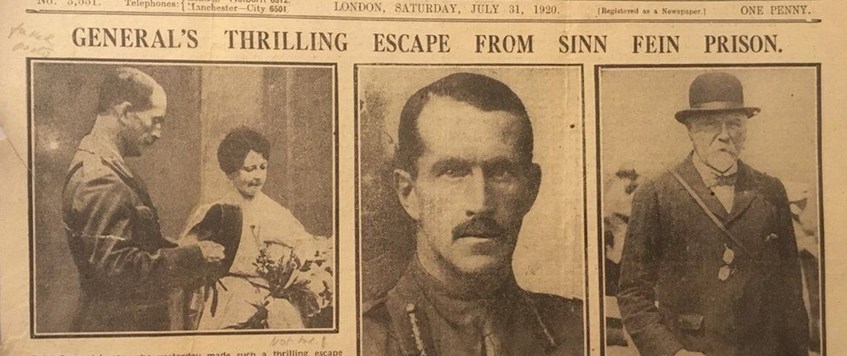 ONLINE LECTURE
'Out of the Western Front Frying Pan and into the Fire of Fermoy…' 
By Steve Warburton
A Captain in the Royal Berkshires at the outbreak of war in 1914, CHT Lucas had by November 1918 been promoted to be GOC 4th Division on France ... by way of 1st Ypres, Gallipoli, the Somme, Arras, 3rd Ypres, Cambrai, the MGC and the '100 Days'. His reward... was to become Officer commanding the Fermoy Brigade in late 1919.
In that post Lucas became more famous for what happened to him rather than any deeds he committed... he was captured by the Cork Brigade of the IRA led by Liam Lynch in June 1920. The story did not end there... Making use of Lucas' personal diaries and letters from his time on active service and also whilst in captivity, he shares the life & times of this un-ordinary officer and the extraordinary events of the summer of 1920 .. with a dash of historical analysis thrown in for good measure!
Steve Warburton 'married into' this story - access to the letters and diaries being an unexpected additional benefit of marrying one of CHT Lucas'' grand-daughters. He has shared his interest in WW1 at many branches of the WFA across the UK and at Gallipoli Association events. He was a school teacher but you'll be glad to know that he no longer sets homework!
If you would like to join this lecture, please email our Chairman at dublinwfa@gmail.com for a link.
Pearse Street Library, 138 – 144 Pearse Street, Dublin 2
17 Jul 2021 14:30