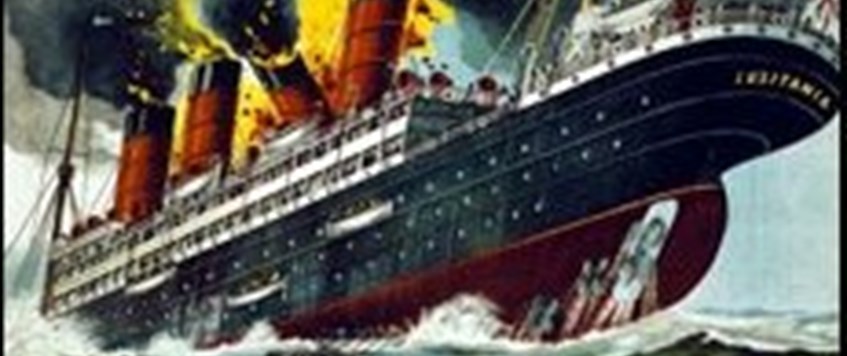 'RMS Lusitania: War Crime or Legitimate Target' By James Scannell
At around 1.30 p.m. on May 7th 1915 as the Cunard liner RMS 'Lusitania' approached the Old Head of Kinsale, prior to docking in Cobh, while en-route from New York to Liverpool, she was torpedoed by a German submarine and sank in less than 20 minutes with the loss of 1293 passengers and crew - 128 of the passengers were U.S. citizens.

In the propaganda battle that followed the British portrayed her as an innocent passenger liner sunk by the 'dastardly Huns' contrary to the Rules of War while the Germans claimed that she was a legitimate target in that she was engaged in the carriage of munitions for the British and based this claim on the basis of a second explosion which occurred on board shortly after the initial torpedo impact.

As a passenger liner the RMS 'Lusitania' was unique in many respects - designed to Admiralty specification below the waterline she   adhered to standard naval warship design while above it was laid out as a luxurious passenger liner.

This presentation will  discuss various aspects of her design, management and operation, look at the Rules of War from both the  British  and German  perspective,  and her final voyage  from New York  and leave it  to the listener to decide whether she was an innocent victim of  war or a legitimate target.


James Scannell is a member of several local history societies  and  a regular  contributor  to local history society  publications in which he has  written numerous  articles on various aspects of local and national history. He is also a regular presenter of talks to local history societies and for several years has presented annual lectures recalling 'Easter 100 Years Ago in Bray' and 'Christmas 100 Years Ago in Bray' for the Wicklow County Library Service in branch libraries and was one of the contributors to the book 'Wicklow in the War of Independence' published by the Wicklow County Decade of Commemorations Centenary Committee. He also compiles the weekly 'Event Diary of Local History Society Meeting' which has been broadcast on local radio since 1992.
Doors open at 13.40 for a 14.00 start.
Members and non-members of The Western Front Association are equally welcome. Any new visitors are guaranteed a friendly atmosphere and a warm welcome from a group of like-minded enthusiasts. 
While entry is free, we would welcome a donation of 3 Euro to help cover our costs.
The Conference Room, Pearse Street Library, Dublin.
15 Oct 2022 14:00