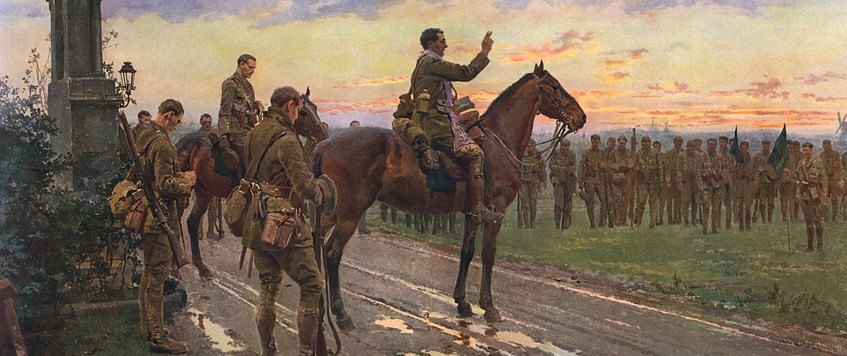 The Last General Absolution of the Munsters at Rue du Bois

The Painting, the Artist and the Battle

A Presentation by Gerry White, Chair of Cork Branch, WFA
The Last General Absolution of the Munsters at Rue du Bois, by the Italian war artist Fortunino Matania is one of the most iconic images of the First World War. In the years following the conflict, prints of the painting hung on the walls of many homes throughout Ireland as a memorial to the Irishmen who fought and died in it. While many people will be familiar with the painting, few will know the story behind it; the servicemen it depicts, their fate, the life of the artist, and the battle that took place the day after the 'Last Absolution'.
In this presentation, Gerry will look at these topics in some detail.
Gerry is a former member of the Irish Defence Forces. He is currently the Island of Ireland Trustee and Chair of the Cork Branch of the WFA. His publications include; A Great Sacrifice – Cork Servicemen who died in the Great War, For their Country – The Great War Dead of Christ Church, Cork and The Irish Volunteer Soldier 1913-1923.
The meeting will be in the conference room at the library, doors will open at 13.30 for a 14.00 start
Members and non-members of The Western Front Association are equally welcome. Any new visitors are guaranteed a friendly atmosphere and a warm welcome from a group of like-minded enthusiasts. 
While entry is free, we would welcome a donation of 3 Euro to help cover our costs.
The Conference Room, Pearse Street Library, Dublin.
16 Jul 2022 13:40