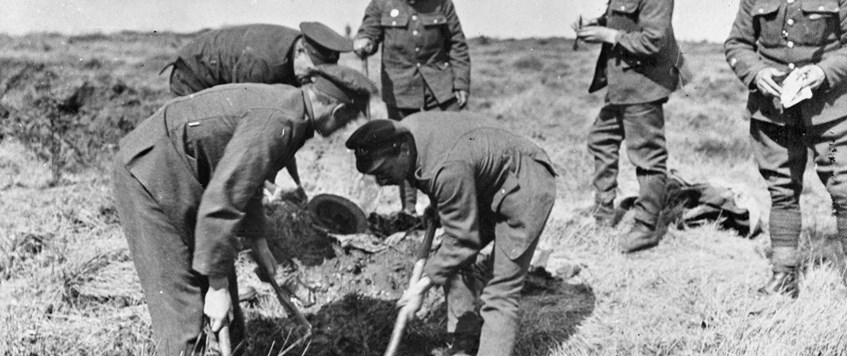 Online Lecture
"Uncovering the Dead 1918-1939".
By Peter Hodgkinson
"From 1918 Labour Companies and Graves Registration Units worked on the Western Front and elsewhere for nearly three years to recover half a million missing servicemen, before handing over to the IWGC, which continued searches up until the Second World War. This task was carried out in a tortured landscape by unsentimental men. In this talk Peter describes how this work was done, the degree of success, and the considerable problems encountered. The beautiful cemeteries we see today hide a difficult and occasionally unsettling story".
"Peter Hodgkinson is the author of books on Infantry Battalion COs; resilience and coping in WW1 soldiers (entitled 'Glum Heroes'); the 1918 Battle of the Selle (and guidebook), and most recently a new history of 6th Infantry Division. He also has published a book on inventor/gunner Major Conrad Dinwiddy. He is currently finishing a book on six officers from one family whose careers exemplify the changing British Army 1880-1945, and working on two others, one on the WW1 dead of West Norwood cemetery, one of London's 'magnificent seven'; and the other a regimental directory of infantry COs. He is also currently analysing the data collected by WFA volunteers from 25,000 pension ledgers."
Pearse Street Library, 138 – 144 Pearse Street, Dublin 2
22 Jan 2022 14:30