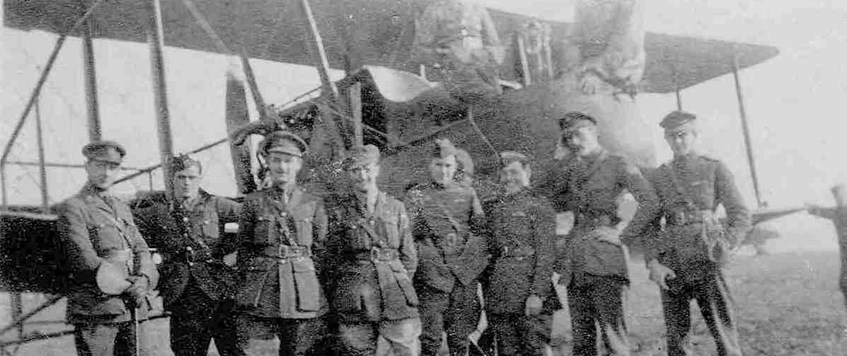 Please note - this lecture is on a Tuesday
Part 1 - 1914 - 1916
In this evening's talk, Chris will look at and describe the early experiences of the Royal Flying Corps during the years 1914 to 1916, which was a period of steep learning curves for everyone concerned.  What is air power for? How do we use it? What aircraft do we require?
This is part 1 of a 2 part lecture.
The 2nd part, covering the period 1917 to 1918, and the formation of the Royal Air Force, will feature in our 2023 lecture programme.
Group Captain (Retd) Christopher Finn served in the Royal Air Force for 33 years as a navigator, primarily in the Buccaneer, and was a Weapons and Tactics Specialist. As a Wing Commander, he was the UK's LGB Specialist in AHQ Riyadh during operation Granby. His final flying tour was as OC, the Navigator and Airman Aircrew School. His last 5 years in the RAF were spent at Shrivenham, firstly on the Directing Staff of the Advanced Command and Staff Course and then, on promotion to Group Captain, as the RAF's Director of Defence Studies. In this role he lectured extensively on air power to UK and International audiences, published articles on Air Power and ran the RAF's Staff Ride Programme, leading and developing over 30 rides and battlefield tours predominantly covering the influence of Air Power on the battlefield.   
After leaving the RAF 2005, he now lectures on military history to a wide range of audiences, and is a member of The Guild of Battlefield Guides, gaining his badge in 2009, becoming the Chief Validator in 2015, and Director of Validation (now Accreditation Director) in 2017. He was elected the fourth Fellow of the Guild at their 2020 Annual Conference.
Western Front Association Members and non-members are equally welcome. We ask for a modest £4 donation on the door. Any new visitors will be assured of an welcoming and friendly atmosphere among a group of like-minded enthusiasts.
The Royal Naval Association Club, Coulson Road, Lincoln, LN6 7BG
06 Dec 2022 19:00