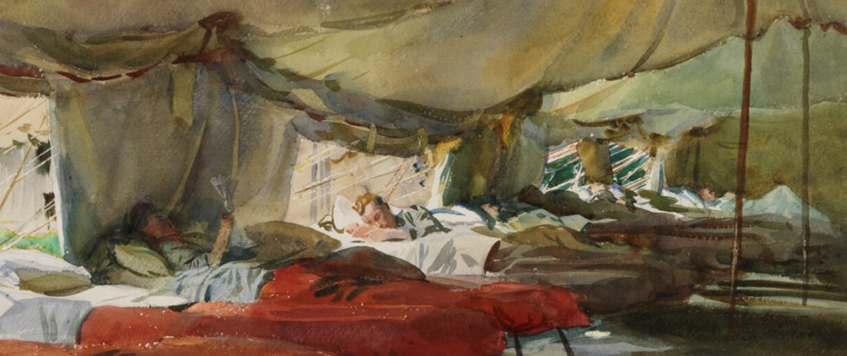 Brigadier (Retd) Alistair Macmillan will give his talk 'The Medical Structure of the British Expeditionary Force.
Brigadier Macmillan was born in Glasgow in 1948 and after school in England studied medicine at Glasgow University. After house appointments in Glasgow he mustered for duty as a medical officer in the RAMC in 1975 having been a medical cadet. He retired in 2004 having been a Consultant in Public Health and having undertaken a variety of both command and staff functions in the Defence and Army Medical Services. 
He was an airborne soldier in both the Regular and Territorial Army. He is possibly best known as the architect of NATO's first Multi-national Integrated Medical Unit and as the deviser of the Medical Regiment.
In his spare time he is involved in researching and writing on Military Medical History.
IMAGE: Painting by John Singer Sargent. The interior of a hospital tent with camp beds lining the side. Many of the beds are occupied and covered with brown or red blankets. Art.IWM ART 1611
The Scots Guards Club, 2 Clifton Terrace, Haymarket, Edinburgh, EH12 5DR
22 Mar 2020 14:15