Hewson Street was born 14 September 1893 Osbournby, Lincolnshire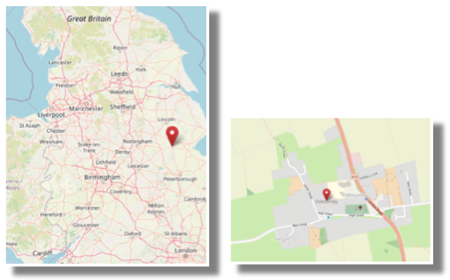 His parents were George Street (the local blacksmith) and Eliza Dixon Street (née Thorpe) 
Hewson was raised in Woodhall Spa, Lincolnshire. 
At the 1901 Census, age 7, Hewson was at home living on Witham Road, Woodhall Spa with his parents, older sister and two younger siblings Gwendoline and Brenda, his grandmother and a blacksmith apprentice to his father. 
Hewson went to school at the Church of England School, Woodhall Spa.
At the 1911 Census, age 17, Hewson was a shoeing and 'general smith', like his father and was living at home. His 18 year old sister was a school teacher. As well as his parents, his 76 year old maternal grandmother was living with them. 
Hewson joined the Lincolnshire Regiment as a private later that year. He was called up 5 August 1914 and served in France and Flanders from the following March. He gained a commission in July 1916 and rose quickly through the ranks and was promoted Captain in July 1917. 

The following year in 1918 the Battalion was at rest at camp when the Germans broke through at Soissons. 
Capt. Hewson was severely wounded 30 May and taken prisoner. He died of his wounds in captivity 1 June 1917.

He is buried at Brouillet in Marfaux British Cemetery. 
Hewson Street was three times mentioned in despatches and received the MC and bar. 
5th Territorial Bn, The Lincolnshire Regiment, attached 10th (Service) Bn The Worcestershire Regiment.
1 June 1918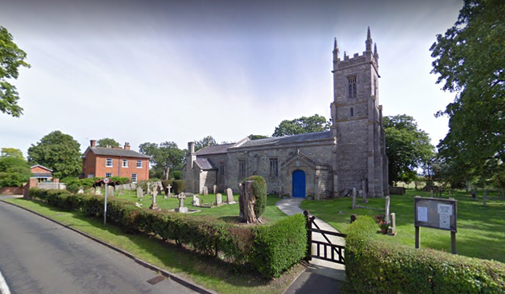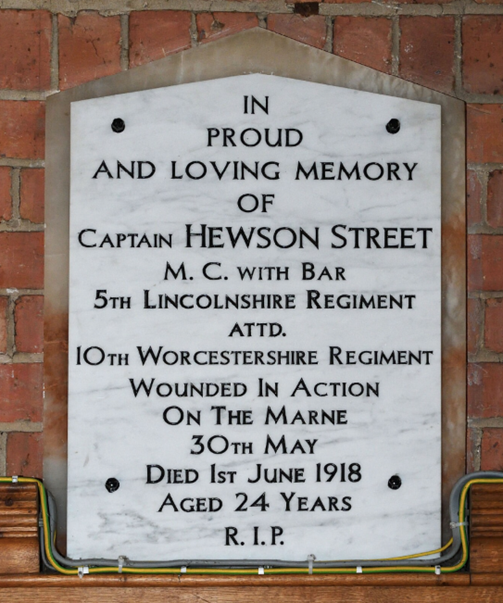 Shattered beyond repair in 1981, Hewson's sister Brenda on visiting the Church in 1990 when she was 82 paid for its replacement at at cost of £300. 
Sources: De Ruvigny's Roll of Honour 1914-1919 Vol. Image from the Bradly Family Tree, Ancestry, England Census Returns 1901 and 1911; Woodhall Spa Community Website; Nottingham Evening Post 27 September 1917; Lincolnshire Echo 20 July 1916.
Find out more with your local Western Front Association Branch: Lincoln & North Lincolnshire.
Further Reading: The Barnetby Boys: A North Lincolnshire Town At War