Search results for Belfast.
/on-this-day/6-august-1914-charles-george-mcconachy-royal-navy/
He was a student of Ballymena Academy.     On 3rd August 1905, while a student of Ballymena Academy, he enlisted into the Royal Navy (Boy service). He was then living at home with his father David, two sisters and younger brother. The McConachy family lived at 5 Kentullagh Terrace in 1901.  On 11th July 1907 his adult service began. He signed up …
---
/the-latest-wwi-podcast/ep-26-beyond-the-somme-west-belfast-s-somme-service-in-context-prof-richard-grayson/
Professor Richard Grayson (Goldsmiths, University of London) talks on 'Beyond the Somme: West Belfast's Somme service in context'. This was a lecture given at the 2016 Somme conference held by the Antrim and Down WFA branch in October 2016.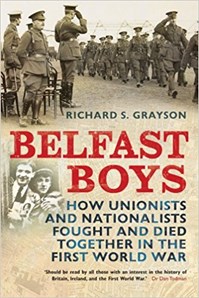 ---
---