Argentina was a neutral country during World War I. However, one-third of its population was made up of foreign citizens, including those of countries currently at war. The area was prime for German propaganda and for German agents. One of these agents apparently poisoned a large number of mules which were due to be shipped to Mesopotamia
The efforts on the ground by the British community in countering the propaganda were effective. But the British community did more than just wage a propaganda war. 
There is a book 'Activities of the British Community in Argentina During the Great War 1914-1919', published in 1920 which gives the names of some 4,852 volunteers from Argentina. Of those, 528 appear on the book's Roll of Honour. A slightly expanded roll of honour of those from Argentina killed in the war is available online.[1]
This roll of honour gives the names of 569 individuals most of whom (but not all) are named by the Commonwealth War Graves Commission.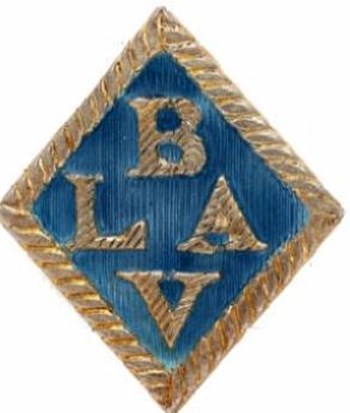 Above: In 1918 the badge shown above was sanctioned to be worn on the dress jacket of those officers and men who were resident in South America (including Central America and Mexico). The BVLA stood for 'British Volunteer Latin America). (www.fcbap.ca/railways/volunteers.htm) 
Argentine Railways
A significant number of the British community in Argentina were employed in building, expanding or operating the Argentinean railways.
A number of Railway Companies operated in the country and many seem to have had a Roll of Honour (not all of the men on the rolls of honour worked in Argentina – a handful seemed to work in the various companies' London offices and some served in armies other than that of Britain or its Empire).[2]
We have the Argentine North East Railway (5 names); Buenos Ayres and Pacific Railway (29 names); Buenos Ayres Great Southern Railway (29 names); Buenos Ayres Midland Railway (2 names); Buenos Ayres Western Railway (15 names); Central Argentine Railway (67 names) Compagnie Generale de Chemins de few dans la Province de Buenos-Ayres (1 name); Cordoba Central Railway (7 names); Entre Rios Railways (5 names); Forestal Land, Timber and Railways Company (2 names) plus other casualties who – although not railwaymen - were connected with Argentina's railways (36 names).
The men listed – 198 in total – are probably not all of those from the railways who were killed. There would have been others not mentioned on railway memorials or in railway directors' reports who probably resigned their jobs rather than taking leave of absence before volunteering.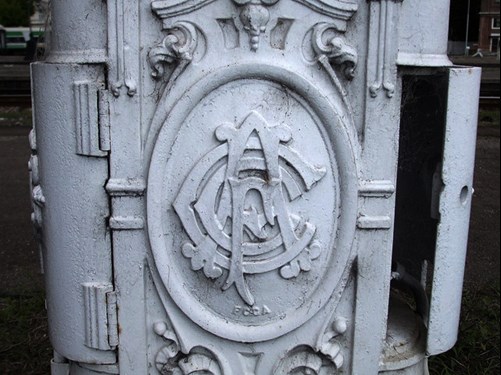 Above: Logo of the Central Argentine Railway Company engraved on a column in Retiro station.
Most of the men detailed on these rolls of honour were British citizens, but some were not and had no need to return to the UK or to join up.
For instance, 2nd Lt Felix Ramon Arthur Dansey was an Argentine citizen, born in Argentina in 1891. His father, William Foley Dansey, had been born in England in 1847 and subsequently gone to Argentina to work as an engineer on the Central Argentine Railway.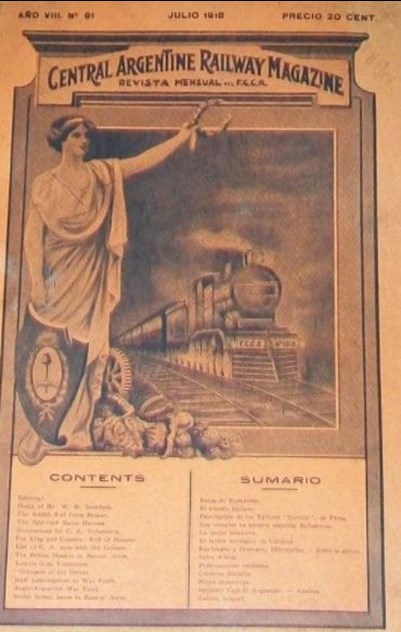 Above: A copy of the Central Argentine Railway Magazine from July 1918 (www.worthpoint.com/worthopedia/central-argentine-railway-magazine-1778975755) 
As an Argentine citizen, Felix Dansey would not have been in danger of being called up or conscripted, but – no doubt aware of his late father's British roots (his father had died in 1905), he crossed the Atlantic and came to the UK.  Felix enlisted originally with the Artists Rifles. He was commissioned into the 1/7th Battalion the London Regiment in December 1917 and was killed on 25 July 1918. His headstone is incredibly poignant, reading
YOUR MOTHER
DOES NOT CEASE
TO THINK OF YOU
FOR A SINGLE MOMENT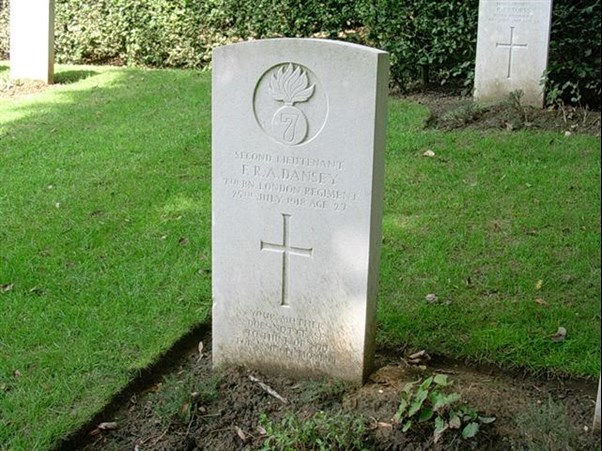 Above: Dansey's headstone courtesy of www.findagrave.com
The CWGC record also has this 'Son of Indalecia Guido de Dansey and the late William Foley Dansey of San Lorenzo, 84 San Martin, Buenos Ayres. Born at Parana, Argentine Republic. An Argentine  citizen, who left to fight for the country of his father.'
He is buried in Contay British Cemetery (image below courtesy of the CWGC).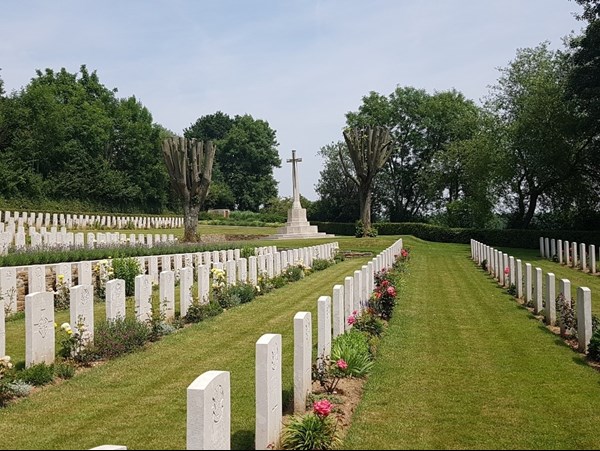 Incredibly, he is not the only soldier with strong Argentinean connections to be buried in this small cemetery.
Elsewhere in Contay British Cemetery is L/Cpl Charles Coulson who – like Dansey - worked for the large Central Argentine Railway. Charles was killed on 9 December 1916 whilst serving – appropriately enough in the Railway Operating Department of the Royal Engineers.
Born 1878, son of Robert Coulson and Ellen Benvin, he was married on 13 November 1901 to Hannah Margaret Waites of West Hartlepool. They had 2 sons one of whom, Charles,was born in Argentina in 1915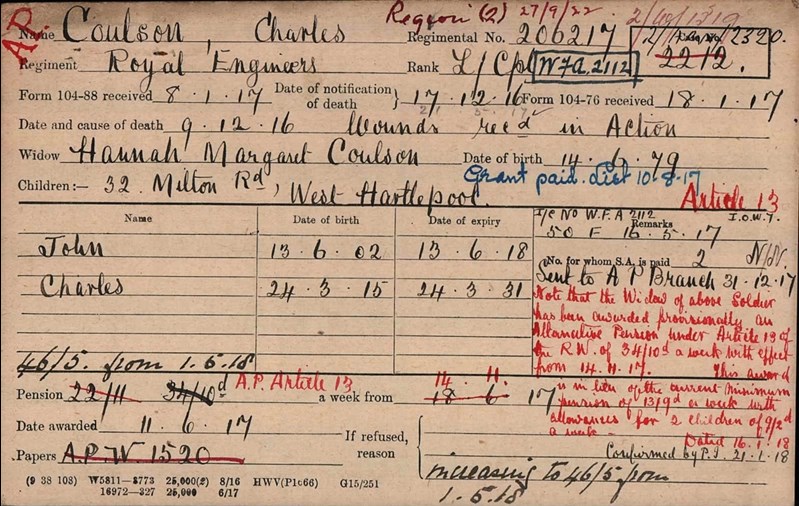 One of the men who worked for the Buenos Ayres and Pacific Railway was Douglas Langdon. He was born at Huelva, Spain, on 3 April 1884, son of William Langdon and Elinor Louise Langdon, of Kensey, Launceston, Cornwall. Douglas came to Argentina September 1907 and was elected an Associate Member, Institution of Mechanical Engineers in 1911. He was killed on 23 April 1917 as a Captain in the DCLI and is buried at Sucrerie Cemetery, Ablain-St. Nazaire.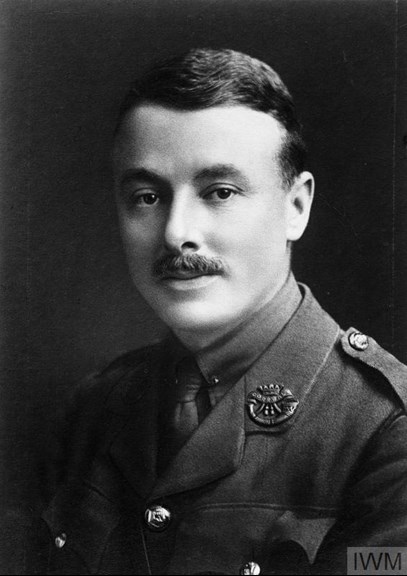 Above: Capt Douglas Langdon (IWM HU 123835)
Reginald Bowles worked for the Buenos Ayres Western Railway. A native of Burnley, he was born on 3 May 1891. Reginald was the son of the Rev Henry Bowles and Louisa Yonge, of Christchurch Vicarage, Epsom. He was employed as a Traffic Inspector at Quiroga, in the province of Buenos Aires. He died on 20 July 1916 from wounds sustained in attack on High Wood and is buried at La Neuville British Cemetery, Corbie.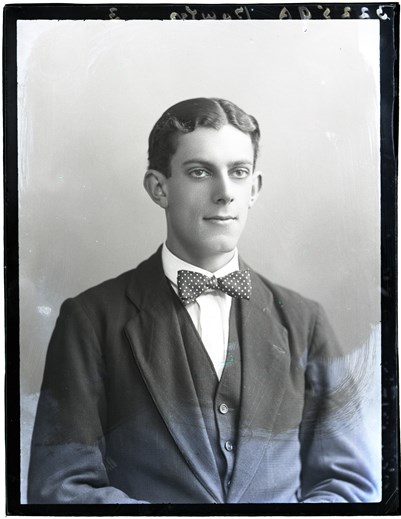 Above: Reginald Bowles (www.pastonglass.wordpress.com/2015/02/10/who-do-you-think-they-are)
2/Lt Rowland Cobbold came from a wealth family - one of the members of a famous Ipswich brewing dynasty - and his family lived in Bramford House in Bramford, Suffolk. His father was Clerk of the Peace, and Clerk to both East and West Suffolk County Councils. Rowland obtained a temporary commission after leaving his job at the Central Argentine Railway in Argentina at the outbreak of war.
He was in the Royal Field Artillery and was killed on 25 September 1915. He is buried at Brandhoek Military Cemetery.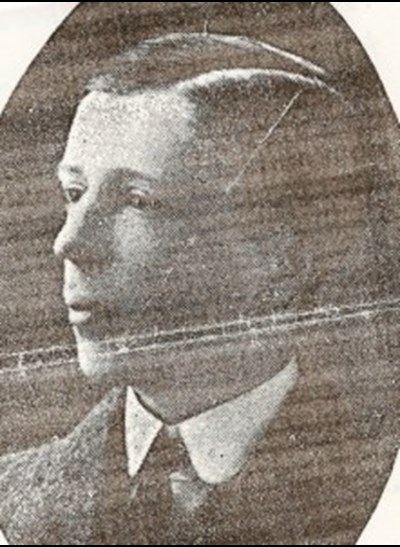 Above: Rowland Cobbold (www.bramfordww1project.org.uk)
Romille Harker was the son of Bailey John and Amy Harker and educated at Caterham Congregational College. Prior to the war he was working in the carriage and wagon department at the Central Argentine Railway's Rosario station. He served in the 1st King's (Liverpool Regiment) until his death on 25 September 1915.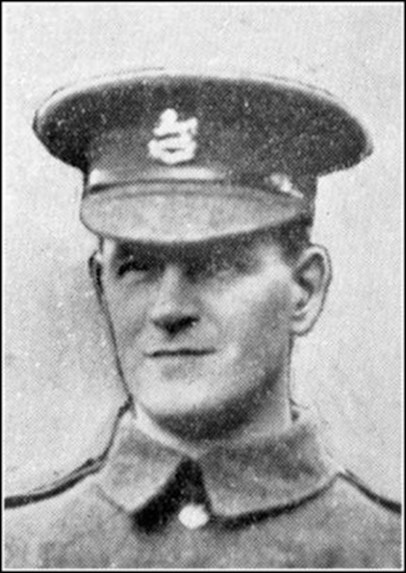 Above: Romille Harker (www.cpgw.org.uk)
Sgt Harker is commemorated on the Loos Memorial. 
Yet another employee of the Central Argentine Railway was William Scotcher. He joined the Coldstream Guards and was commissioned into the East Yorkshire Regiment in which unit he was awarded the Military Cross. He later joined the RAF and was with 50 Squadron when he was killed in a flying accident on 15 September 1918. It seems his aircraft crashed at Bekesbourne Aerodrome near Canterbury. He is buried in Ilford's Buckingham Road Cemetery.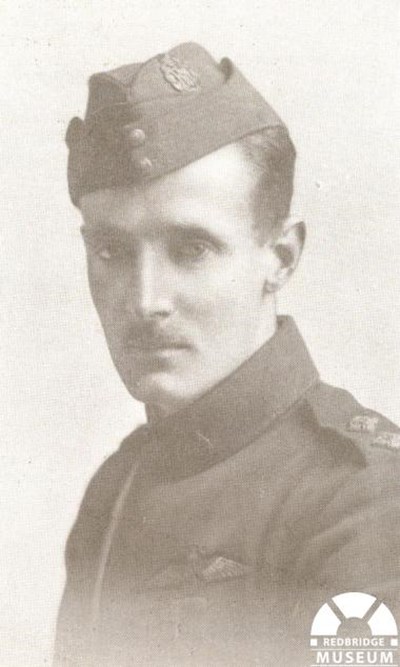 Above: Captain William Scotcher (www.redbridgefirstworldwar.org.uk/the-war-dead/william-goodliff-scotcher)
Another officer serving in the RFC - and a former employee of the Entre Rios Railways - was Geoffrey Burnand. He worked as an Assistant Engineer but returned home in December 1915. He was a native of Worth, Sussex. He was born 22 April 1883, the only son of Graham Burnand and Elizabeth Frances Chasemore, of Knockacur, Doneraile, County Cork. Having lost a foot in a railway accident he was unfit for the Army but could join the RFC. Geoffrey was killed in aerial combat.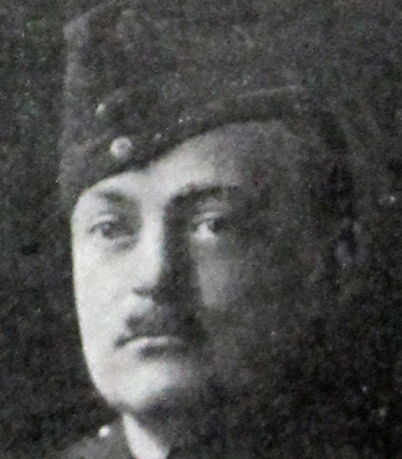 Above: 2/Lt Geoffrey Burnand (www.ourheroes.southdublin.ie/Serviceman/Show/17111)
He is buried at Warlincourt Halte British Cemetery, Saulty.
Sportsman extraordinaire
John Argentine Campbell is an interesting individual. He was the owner of Estancia El Jabali in the Department of Carlos Casares, Buenos Aires and was born on 20 October 1877, in Entre Rios. He was baptized at St. Andrew's, Buenos Aires, 25 April 1878, He was chosen to play in a Scottish Rugby International match. He also played for West of Scotland FC. He represented Argentina in a cricket match against the MCC and was one of Argentina's leading Polo players. 
Above: Lt. John Argentine Campbell (www.worldrugbymuseum.com)
John travelled to England in 1915 to volunteer, being commissioned into the 17th Lancers and later the 6th (Inniskilling) Dragoons. He went to France on active service in February 1916. The following year, following his father's death, Campbell was given leave to travel back to Argentina to sort out his affairs. Returning by sea to rejoin his regiment, he and his wife survived a shipwreck off the Welsh coast when the SS Drina struck a German mine.
On 1 December 1917, at Cambrai, Campbell was taking part in a mounted cavalry charge near Villers-Guislain when he was wounded and captured. He died the following day in a German field hospital. He is buried at Honnechy British Cemetery.
Above: Honnechy British Cemetery (CWGC) 
There was, for many years, a war memorial to the Central Argentine Railwaymen who were killed at Retiro Station.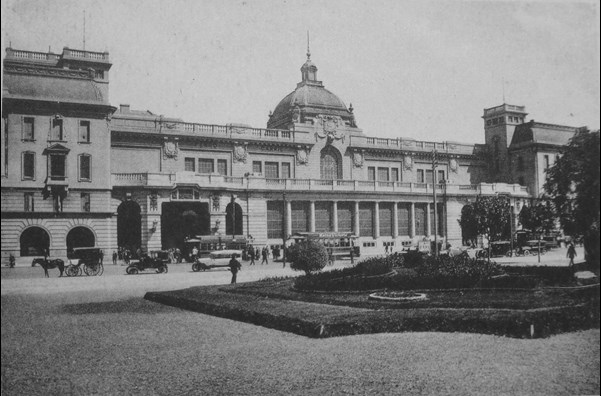 Above: Retiro railway station, a few days after being opened in 1915. The station was built by the Central Argentine Railway
It seems this memorial is now at the Buenos Aires British Cemetery which is located in the district of Chacarita, which is to the west of the city centre. The cemetery is behind Buenos Aires (Chacarita) Municipal Cemetery.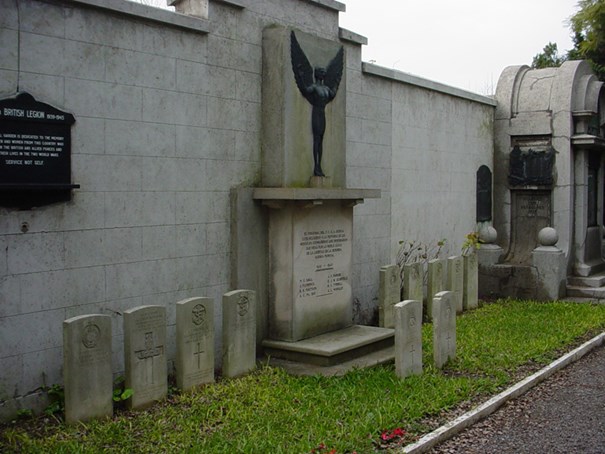 Above: Buenos Aires British Cemetery (CWGC) 
Well over 100 Pension Records of Argentinean based soldiers and sailors can be found on the WFA's Pension Records (use the search criteria of Argentina and Argentine) – the reason for this not being the nearly 600 named on the rolls of honour is that the records detail the addresses of the next of kin who may well have moved in many cases back to the UK.
Nevertheless these records do give us extra detail about some of these men such as James Sullivan of the 2nd Manchesters.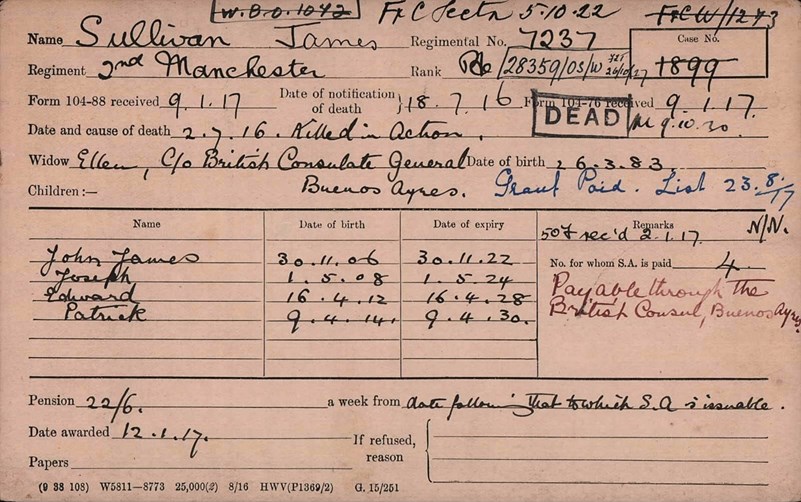 James is commemorated on the Thiepval memorial
Football
At the end of the 1880s a group of Central Argentine Railway workers used to meet to play a form of football in the vacant lands located near the Alberdi Avenue. At Christmas 1889 almost 70 people met in a bar with the purpose of establishing a football club. British citizen Thomas Mutton suggested the name 'Central Argentine Railway Athletic Club', which was approved. At the beginning, the club only allowed employees of the CAR to be members of the institution. In 1903, the club changed its name to 'Rosario Central'. It would later become one of the most prominent clubs in the city
There is an even stronger First World War connection to another football club founded by the Central Argentine Railway workers. 'Club Athletico Douglas Haig' was formed on the 11 November 1918, and owes its existence to a group of British Railway workers, and Central Argentine Railway's director, Ronald Leslie.
The club still plays under the same name to this day.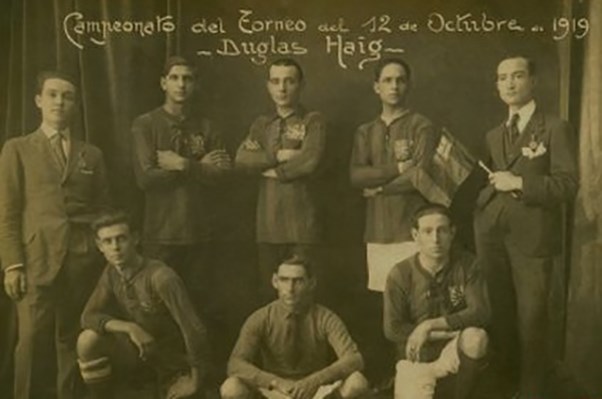 Above: The team 'Douglas Haig' in 1919 (courtesy of Clive Harris / www.wlv.ac.uk/research/institutes-and-centres/centre-for-historical-research/football-and-war-network/football-and-war-blog/2020/hasta-los-fogoneros/hasta-los-fogoneros.php)
Below: the club's fans today (http://www.douglasmania.com.ar) 

Article by David Tattersfield, Vice-Chairman, The Western Front Association 
[1] Argentine British Community Council : http://www.abcc.com.ar/ww1
[2] Roll of Honour 1914-1918 : https://www.fcbap.ca/railways/Casualties.htm