Prologue
With the Glazer family takeover of Manchester United Football Club between 2003 and 2005 a group of Manchester United supporters, who were disillusioned at the way that 'modern' football was being run (and organised in general), decided to form their own, totally democratic, supporter-owned, breakaway club. After much discussion, this new club, FC United of Manchester, was formed on 14 June 2005 and, after holding trials for potential players later in the month, entered into the North West Counties Football League Division 2 in time for the start of the 2005-2006 season. Having no ground of their own, a ground-share deal was entered into with Bury FC and Stalybridge Celtic FC and home games were to be played at Gigg Lane and Bower Fold (with the occasional game elsewhere such as at Curzon Ashton's Tameside Stadium. Consecutive promotions in the 2005/06, 2006/07 and 2007/08 seasons followed and the club then resided in the Northern Premier League (NPL) Premier Division for the next seven seasons. After becoming champions of the NPL in the 2014/15 season, they finally gained promotion to the National League North (the old Conference North).
As ground-sharing is not an ideal situation financially (especially so for an essentially 'not for profit' organisation such as FC United), the Club decided to build its own 5,000 capacity ground. With money raised by the Club and supporters totalling over one and a half million pounds (not bad for a club that averages between 1,700 and 3,000 attendees per home game!) an offer was made on land at Ten Acres Lane, Newton Heath, which was accepted Manchester City Council. This offer was, however, reneged on by the Council in March 2011 so another location had to be found.
This new location, after considering various options,  was determined in October 2011 (as there was much local opposition initially) and was to be in Broadhurst Park, Moston, on land called 'The Ronald Johnson Playing Fields' (this is where our interest in the Great War comes in!). Other than idle curiosity about the name of the playing fields upon which FC United was to build the new ground, I didn't give it much thought until a brief internet search revealed that it was named after someone who died during the First World War.  Not a great deal of information could be found online so I thought that it would be a fitting tribute to the man to delve a little deeper into his story and make it more widely known. After visiting and contacting various archives and locations between Manchester, Cheshire, London and Belgium, I hope that the following does him justice.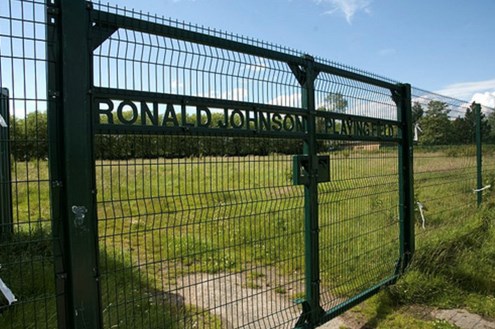 Image: Commemorative Gate to 'The Ronald Johnson Playing Fields'
Ronald Johnson
Born at Dunham Massey, Altrincham on 24 September 1889, Ronald Lindsay Johnson was the youngest son and sixth child of William Henry and Agnes Morton Johnson (née Brown) of Woodleigh, Dunham Massey. Educated at Summer Fields School, Eton (where he was a member of the Cadet Corps), Ronald went on to study the Classics at King's College, Cambridge (entering on 14 January 1909), from where he graduated with a BA in 1911 (a posthumous MA was to follow in 1917).
On leaving university, Ronald was employed in the family metalworking and fabrication business. The 1914 'Whitaker's Red Book' describes the business as 'General hardware, iron and metal merchants. Specialities: galvanized wire netting, wire work, wire drawers, brass foundry, high-tension bronzes, safety lamps for miners, woven wire of all kinds, wire, reinforcements for concrete and bricks, tinplates, sheet iron, galvanized corrugated iron, tinned sheets, sheet zinc, copper, spelter, tin lead, hardware and hollow ware'. Known as Messrs Johnson, Clapham & Morris, his older brother, William Morton Johnson, was to soon become Chairman and Managing Director following the death of their father at the beginning of 1914. Ronald was sent to the Australian branch of the business in Sydney, remaining there until the outbreak of war in August 1914.
Upon the outbreak of war, Ronald returned to the UK in order to enlist and, on 2 October 1914, he applied for a commission in the cavalry. After passing a medical board in Manchester the following day, he was rejected for a commission in the cavalry but accepted into the artillery on 5 October. Taking into account his service in the Officer Training Corps whilst at Cambridge University, he was therefore commissioned as a 2nd Lieutenant in the Royal Field Artillery on 10 October 1914 and appointed to 103 Brigade RFA. 103 Brigade was part of the newly formed 23rd Division of Kitchener's 'New Army' (so-called to differentiate this newly formed army of (war-service only) volunteers from the 'old'  regular army).

Image: Recruitment listing from newspaper
Training the raw recruits began in earnest. Beginning his training at Mytchett Camp in November 1914, Ronald moved to Eweshot and then Shorncliffe in Kent before, finally, being stationed at Bordon in Hampshire in May 1915 where he underwent specialist gunnery training on the nearby artillery ranges for the next two months. In August 1915, his division was finally deemed as ready for active service and forewarned for service overseas.
On 27 August 1915, Ronald landed at Boulogne and, after a few days preparation in the rest and training camps in the area, moved towards the frontline in the Armentieres sector near the French/Belgian border. For Ronald, his first taste of action was soon to follow when, after being temporarily attached to the 8th Division, the guns of his brigade were called into service on 25 September 1915 to assist the 8th Division in their assault in the Bois Grenier sector which was designed as a diversionary action to draw German reserves away from the main attack area during the ill-fated Battle of Loos.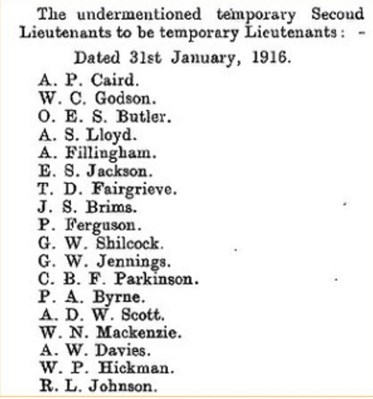 Image: Temporary Second Lieutenants
After return to the 23rd Division following this action, the next months were spent in the Bois Grenier sector in general 'trench holding' duties (responding to German raids, target elimination, wire-cutting, counter-battery fire and general harassment, etc). On 31 January 1916 Ronald was promoted to full Lieutenant and a move to the Carency sector (north of Arras and to the west of the (soon to be) famous Vimy Ridge). A relatively quiet time was spent in this sector with two exceptions. Ronald was in action between the period 21 - 24 May 1916 when the neighbouring 47th Division came under heavy German attack from Vimy Ridge and needed assistance from the 23rd Division artillery, and on 1 June 1916 when they were once again called in to support a 47th Division counter-attack. Relief from action came on 11 June 1916, however, and 103 Brigade was moved into the rear areas for rest, refit and intensive training at Chamblain Chatelain (known as 'Charley Chaplin' to the troops).
This period out of the line was only to be short respite, however, as by the end of June 1916, Ronald's battery was in action once again. This time he took part in the preliminary bombardment for the Battle of the Somme in the area of la Boiselle. Co-incidentally, Ronald's brother William, who was by now a Captain in the 16th Bn Manchester Regiment (the 'Manchester Pals'), was serving just a couple of miles to the east of these positions. William was to die in action on the second day of the battle, thereby making Ronald chairman of Messrs.Johnson, Clapham & Morris from 2 July 1916). After assisting in the 23rd Division's capture of Contalmaison on 9 July 1916, Ronald's brigade was in almost constant action for much of the remainder of the Somme battle (although there was a short period of rest in the 'quiet' Ploegsteert sector for a couple of weeks in August 1916). For Ronald, however, his battle was to be cut short for, on 19 September 1916, he was wounded by a rifle bullet to the left ear as he approached an artillery Observation Post near the ruins of the village of Martinpuich.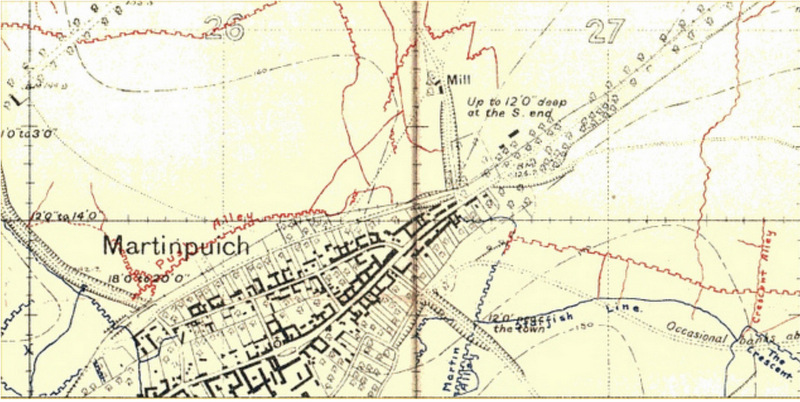 Image: Trench Map Martinpuich
After being treated at a local Advanced Dressing Station, he was removed from the line and sent to Nr 1 Red Cross Hospital at Le Touquet near Boulogne for further treatment. Here, it was decided that his injuries were severe enough to require his evacuation to the UK and, so on 24 September 1916, Ronald was returned to Dover on board the hospital ship H S Dieppe.
Whilst in the UK, Ronald was treated at Endsleigh Palace Hospital and Caxton Hall (both London) and  2nd Western Gen Hospital, Manchester but was struck down with facial boils and an abscess whilst undergoing treatment. This necessitated a further operation in October 1916 and he wasn't passed as fit for duty until 21 November 1916. After a short spell of leave, Ronald returned to duty and proceeded back to France (Southampton - Le Havre) on 11 December 1916.
By now, Ronald's brigade was serving in Belgium where they were covering the Zillebeke sector in the Ypres Salient. On 18 February 1917, he was promoted to Acting Captain (and Divisional Trench Mortar Officer, DTMO) and transferred from 103 Brigade to the HQ of the 23rd Divisional Trench Mortar Batteries.
After a short period of instruction at the Second Army Trench Mortar School at Leulinghem, Ronald returned to the 23rd Division's sector at Zillebeke where preparations had begun for the forthcoming Battle of  Messines. As DTMO of the 23rd Division, part of Ronald's responsibilities was to coordinate the targetting, fire-rate and positioning of the heavy Trench Mortar batteries of the divisional artillery with the lighter batteries of the infantry nearer the front: a particularly dangerous job in the run-up to a battle.
Image: Trench Map Valley Cottages
During May 1917, German artillery was especially active on parts of this front (Ronald's old brigade being hit particularly badly mid-month) and, on 29 May 1917, whilst travelling from the more exposed locations near Zillebeke Lake to inspect the mortar positions in the 'Hill 60' vicinity, Ronald was hit and mortally wounded by a German shell. He received immediate medical attention at the spot where he fell, but he died whilst in transit to a Field Hospital near Brandhoek. A small military funeral was conducted in the evening of 29 May and he was laid to rest next to one of his friends who had been killed several days earlier (one of the victims of the German bombardment on 103 Brigade). Ronald's mother was informed of his death the following day.
Image: Roll of Honour
For his services, Ronald's mother (in March 1922) received his medal entitlement of 1914-15 Star, British War Medal and Victory Medal. She was also to receive a commemorative 'Memorial Scroll' and Plaque (commonly known as the 'Death Penny'). Together with his grave at Brandhoek Military Cemetery, Belgium (Plot II, Row D, Grave 1),  Ronald is commemorated on the Dunham (St.Mark's) war memorial and the King's College Cambridge War Memorial. He is also mentioned in the Cambridge University Book of Honour and has a laboratory - the Johnson Chemicals Labs - named in his honour at Adelaide University, Australia. There are also, of course, the Ronald Johnson Playing Fields in Moston which were purchased on the behalf of (and with the agreement of) the workers of Johnson, Clapham & Morris in the stead of the distribution of shares that was requested in Ronald's will of 7 December 1916. The playing fields were opened on 17th June 1922.
It is expected that Ronald's memory will live on after the building of the new ground as there has been talk of erecting a plaque in his memory and retaining the memorial gates upon which he is named.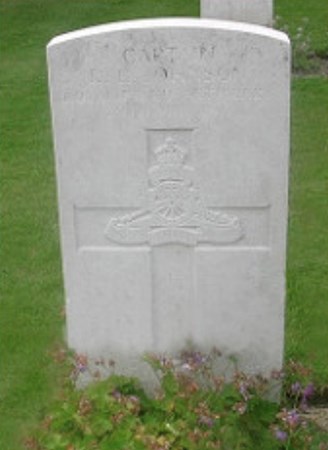 Image: Ronald Johnson's Headstone  
Timeline
Born: 24 Sept 1889, youngest son and sixth child of William Henry and Agnes Morton Johnson (née Brown)
Address: Woodleigh, Dunham Massey, Altrincham
Educated:  Summer Fields School, Eton (member of the Cadet Corps)
University: King's College, Cambridge. Admitted 14 Jan 1909, Classical Tripos. BA 1911 (member of OTC)
1912 - Went to Australia working in the Sydney Branch of  Messrs Johnson, Clapham & Morris
August 1914 - returned to UK to enlist (intending to join a cavalry regiment)
2 Oct 1914 - applied for commission
3 Oct 1914 - passed medical board in Manchester
5 Oct 1914 - accepted for commission
10 Oct 1914 - appointed Temp 2nd Lt in 23rd Division (New Army) (103 Bde RFA)
Nov 1914 - Based at  Mytchett Camp
Dec 1914 - Eweshot
Feb 1915 - Shornecliffe, Kent
May 1915 - Bordon, Hampshire
27 Aug  1915 - sent to France via Boulogne
5 Sept 1915 - moved to frontline in Armentieres sector
25 Sept 1915 - temporarily attached to 8th Div for Loos diversionary attack at Bois Grenier
31 Jan 1916 - promoted Lt
March 1916 - moved to area of Carency, near Vimy Ridge
21 - 24 May 1916 - in action in support of 47th Division under attack on Vimy Ridge
11 June 1916 - relieved and sent to Chamblain Chatelain for intensive training
June 1916 (final week) - moved to Somme battle and took part in preliminary bombardment in area of La Boiselle
2 July 1916 - became chairman of Messrs Johnson, Clapham & Morris (upon death of his brother)
9 July 1916 - 23rd Division captures Contalmaison
July - Sept 1916 - constant action in Somme battle (other than short respite in August in Ploegsteert sector)
19 Sept 1916 - wounded in action (GSW left ear whilst approaching frontline OP near Martinpuich)
21 Sept 1916 - Treated at No 1 Red Cross Hospital, Le Touquet
24 Sept  1916 - evacuated to UK (Calais to Dover on board the 'HS Dieppe')
Endsleigh Palace Hospital and Caxton Hall (both London) and 2nd Western Gen Hospital, Manchester
Oct 1916 - suffering from boils and abscess whilst in hospital necessitating small operation
21 Nov 1916 - passed 'fit for duty', Manchester
11 Dec 1916 - returned to France (Southampton - Le Havre)
18 Feb 1917 - appointed A/Capt. and DTMO (HQ Divisional TM Batteries, 23rd Div)
Dec 1916 - May 1917 - holding Zillebeke sector
29 May 1917 - killed in action near Zillebeke/Hill 60 during the build up for the Battle of Messines
Awarded posthumous MA, Cambridge 1917.
Medal entitlement: 1914/15 Star, BWM, Victory Medal
Buried: Brandhoek Military Cemetery, Belgium (Plot II, Row D, Grave I)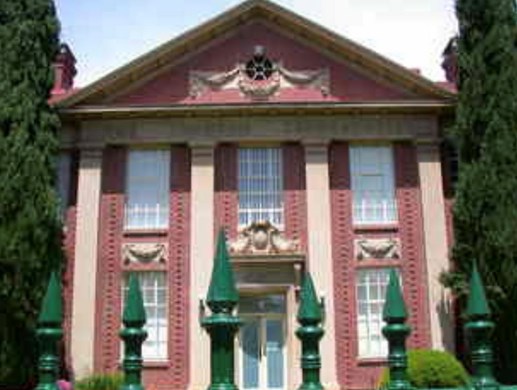 Image: Memorial Building in Cemetery
Commemorated: 
Dunham war memorial (St Mark's)

Kings College Cambridge War Memorial

Ronald Johnson Playing Fields, Moston

Johnson Chemical Laboratories, Adelaide

Cambridge University Book of Honour
Article by David O'Mara.