This article by Rob Kirk first appeared ten years ago in Bulletin 86 : Feb/March 2010 pp 11-12. Members receive Bulletin, the member magazine of The Western Front Association, three times a year. It is also available to Digital Members as a PDF. 
Deborah Tank Descendants Return : 92nd Anniversary of when the tank was knocked out 
Regular readers of The Bulletin/Stand To! are familiar with the story of Deborah D51, 'The Flesquieres Tank', the Mark IV machine destroyed during the Battle of Cambrai in 1917, buried on the battlefield and recovered in 1998. They will also know of the remarkable research project that has identified the five men who died and traced their families.
On November 20th, 2009, the 92nd anniversary of the day Deborah was knocked out, some of those relatives, and other descendants of men connected with Deborah, met for the first time in Flesquieres and this was to be a truly extraordinary weekend of high drama and raw emotion during which some moving events stood out.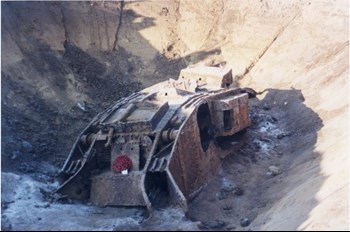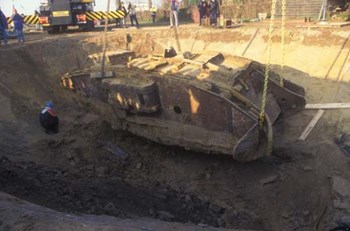 The first was after dark in Flesquieres Hill military cemetery in the countryside near Cambrai, lit only by flares and lamps. John Heap, the great grandson of 2/Lt Frank Heap MC, commander of Deborah D51, stood beside the headstone of one of the tank's dead crewmen, Lance-Corporal George Foot DCM. He read aloud the letter of condolence Frank wrote to George's family. Listening, only a metre away, was George's nephew, Charles Foot.
The words of 2/Lt Heap were as poignant on November 20th, 2009, as they were when he wrote them in pencil on the battlefield ninety-two years before.
"It is impossible that a soul like George's should not go on living. I feel convinced I shall meet him again".
And then, Heap's great grandson turned to George's nephew Charles and delivered "a few more halting words" a letter from John to Charles, who he had met only on that day the 92nd anniversary of the destruction of Deborah and the death of most of her crew.
John told how he had brought pupils from his school in Chester to Flesquieres, to see the tank and the graves. "They left with a sense, not just of sadness," he said, "but of that bond which neither time, nor war, nor death can ever blot out".
Later, at a crowded Salles des Fetes in Flesquieres village hall, Mike Tipping, the great grandson of another casualty, Gunner Frederick Tipping from Nottingham, presented Philippe Gorczynski, the man who unearthed Deborah from her battlefield grave and preserved her, with a frame containing Frederick's medals and death plaque, and the scroll from Buckingham Palace, still in its original cylinder. Philippe was visibly moved. It was an act of spectacular and selfless generosity.
Deborah D51 lay buried on the battlefield for 80 years before being discovered and recovered by Philippe. Within the last eighteen months, a team of researchers, Alan Hawkins, Rob Kirk, Vince McGarry and John Taylor, have helped Philippe establish that five of Deborah's men died in the attack in 1917, and they have traced the families of all five, Charles Foot, Frederick Tipping, Joseph Cheverton, William Galway and Walter Robinson.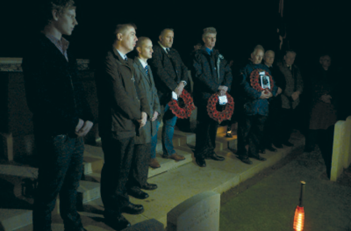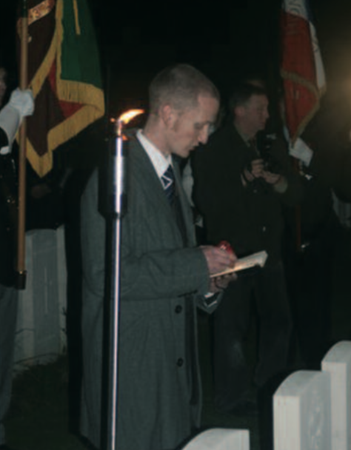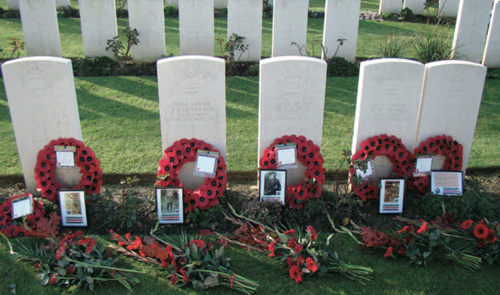 Families representing three of the dead men, Tipping, Foot and Cheverton, met for the first time on November 20th, on the 92nd anniversary of the attack on the Hindenburg Line. Only two were missing. William Galway's family couldn't make the journey from Belfast, and researchers only made contact with Walter Robinson's relatives in America in the very week of the anniversary, and acquired his portrait by email in the early hours of November 20th itself. 
The families of the dead were joined by descendants of five other men associated with Deborah D51, travelling from as far afield as New Zealand and South Africa. Nothing quite like it had happened before and nothing quite like it is ever likely to happen again. 
The full roll call of honour at the commemoration was:
2/Lt Frank Heap MC, Deborah's commander at Flesquieres (survived), from Blackpool, represented by grandsons Tim and Paul, and great grandson John. 

Lance-Corporal, George Foot DCM (killed), whose family lived in North London and Great Missenden in Buckinghamshire: represented by nephew Charles Foot.

Gunner Frederick Tipping, from Nottingham (killed): represented by great grandson Mike Tipping.

Gunner Joseph Cheverton, (killed), whose family lived at Cambrdige represented by great nephew John Summers.

Lance-Corporal David Marsden, (a likely survivor) from Cumbria: represented by grandsons David Melliar-Smith and Alan Shead and grand-daughter Deborah Palmer.

2/Lt George Macdonald MC (survived), from New Zealand, wounded at Ypres in August 1917: represented by his grandson Richard, who travelled from Bulgair, and great grandson James, from New Zealand.

Captain Alfred Enoch MC (survived) from Wolverhampton, a section commander who also wrote a letter of condolence to George Foot's family represented by his son William Russell Enoch.

Lt-Col Theodore Wenger MC (survived) from Staffordshire, responsible for burying Deborah - and therefore preserving her: represented by his great nephew and Godson, Ted Wenger, from South Africa.
These relatives were able to share the moment of seeing the tank in which their ancestors fought, and in some cases died, for the very first time. They were able to visit the battlefield, and trace the pace Deborah took on the morning of the attack. This included the 'start off' point, and the grave of Major ROC Ward, commander of 12th Company (to with Deborah was attached), killed very early in the morning of November 20th. Major Ward's nephew, Roland, was aware of the commemorations but unable to attend.
The families and around 20 other guests and villagers also shared other remarkable moments of commemoration.
In addition to the reading and presentations mentioned earlier, William Russell Enouch, professional actor, read a powerful version of Wilfred Owen's 'Anthem for Doomed Youth; by torchlight in the cemetery. The family representatives laid wreaths at the headstone of the men and stood with bowed heads.
The peace of the night was shattered by a 'Flame of Memory', unique to Flesquieres, a brilliant display of fireworks and flares which turned the black sky red with smoke and flashes evoked the sight and sound of battle. Peace was restored by a lone piper sounding Last Post.
The village church was packed for a prayer service, where the local choir sand, the priest spoke of peace and reconciliation, and the Lord's Prayer was delivered in French and in English.
And at the Salles de Fetes, where the villagers provided wonderful hospitality, family representatatives were presented with frames containg their ancestors' portraits - and a mounted rivet, taken from Deborah's remains. 
And there was another surprise for Philippe, a letter from Buckingham Palace, the home of the Colonel-in-Chief of the Royal Tank Regiment, 'I am to convey the Queen's warm good wishes to you,' said the letter 'and to all concerned for a most memorable gathering, as well as every success for the continuation of the project'.
And the project does indeed continue. The Deborah team are determined to find the 'eighth man' who survived (aling with Heap and Marsden), and the story will go on. If anyone has any further information that might help the project, please contact rhjkirk@hotmail.com Eventually, it is hoped all the material will be part of the Cambrai Battlefield Museum, centred on Deborah in Flesquieres.
As Philippe Gorzcynski put it: 'Deborah was for a time a terrible war machine; now she is an amazing 'weapon' of friendship. You can understand why I am eternally in debt to her for what she has given me, and what she has given us'. Rob Kirk